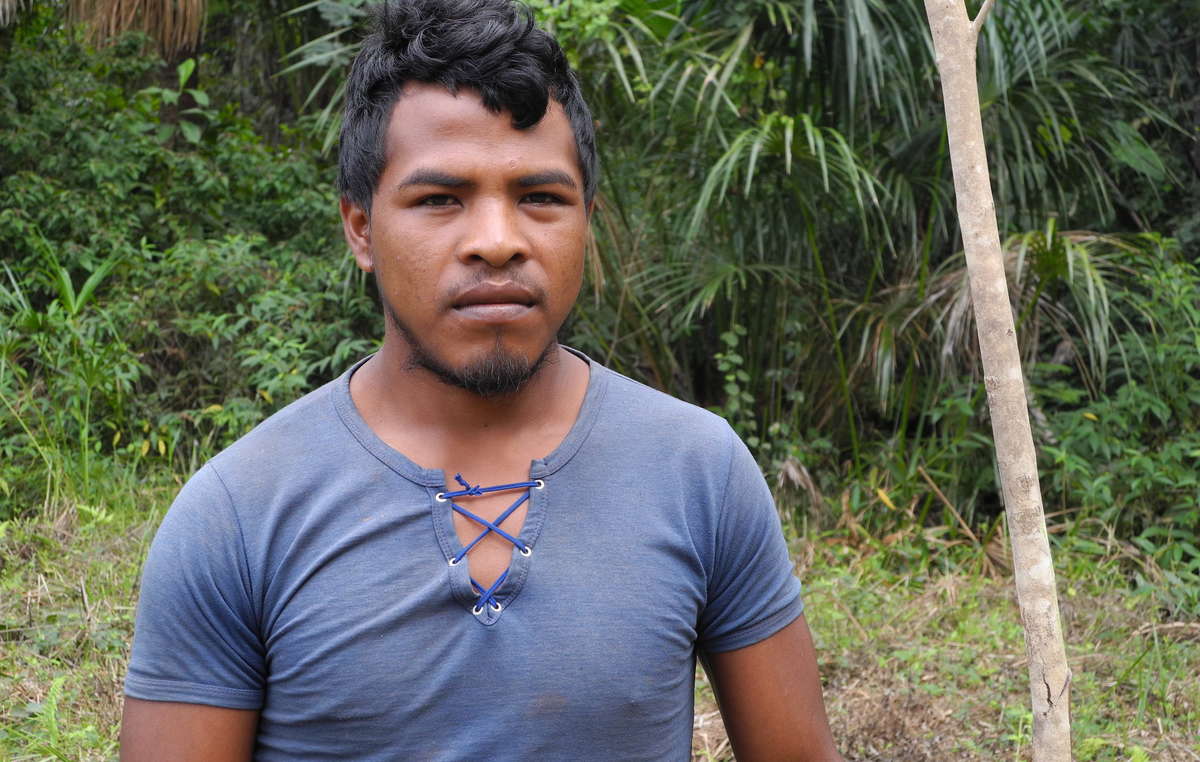 Murdered for Trying to Protect the World
Avazz
Dear friends: This is Paulo Guajajara. He stood in the way as loggers destroyed the Amazon — and was brutally murdered. He isn't alone: One earth defender is killed every 48 hours. But we can help. Avaaz is at the centre of talks to secure global protections for Indigenous peoples and their ancestral forests, grasslands and rivers that support life on Earth. Indigenous leaders are asking for our support — sign now, share, and let's deliver a deafening roar into the heart of the talks:
Here are some of the earth defenders murdered while protecting Earth's vanishing wilderness:
Paulo Guajajara Brazil | Noel Castillo Aguilar Mexico | Aluísio Sampaio dos Santos Brazil | Swami Gyan Swaroop Sanand India | Bronsel Impiel Philippines |Marcial Pattaguan Philippines | Alejandro Castro Chile | Haroldo Betcel Brazil |Rahmat Hakiminia Iran | Mohammad Pazhouhi Iran | Sharif Bajour Iran | Omid Kohnepoushi Iran | Ramón Rosario Venezuela | Pedro Vielma Venezuela | Reyes Orlando Parra Venezuela | Juvenil Martins Rodrigues Brazil | Eduardo Pereira dos Santos Brazil | Bakary Kujabi Gambia | Ismaila Bah Gambia | Francisco Munguia Guatemala | Dominador Lucas Philippines | Suresh Oraon India | Lando Perdicos Philippines | Florencio Pérez Nájera Guatemala | Alejandro Hernández García Guatemala | Katison de Souza Brazil | Ramón Choc Sacrab Guatemala |Adrián Tihuilit Mexico | Beverly Geronimo Philippines | Shanmugam India |Snowlin India | Tamilarasan India | Kanthiah India | Gladston India | Maniraj India |Antony Selvaraj India | Ranjith Kumar India | Jayaraman India | Karthick India | Jancy Rani India | Selvasekar India | Mateo Chaman Paau Guatemala | José Can Xol Guatemala | Luís Arturo Marroquín Guatemala | S Jegadish Dura India | Mark Ventura Philippines | Nazildo dos Santos Brito Brazil | Carlos Hernández Honduras |Barthelemie Kakule Mulewa DRC | Théodore Kasereka Prince DRC | Liévin Mumbere Kasumba DRC | Kananwa Sibomana DRC | Ila Muranda DRC |Moustapha Gueye Senegal | Faustin Biriko Nzabakurikiza DRC | Sandeep Sharma India | Agudo Quillio Philippines | Poipynhun Majaw India | Paulo Sérgio Almeida Nascimento Brazil | Ricardo Mayumi Philippines | Ronald Manlanat Philippines | Luis Fernando Ayala Honduras | Kavous Seyed Emami Iran |Yolanda Maturana Colombia | Héctor Manuel Choc Cuz Guatemala | Teurn Soknai Cambodia | Sek Wathana Cambodia | Thul Khna Cambodia | Evaldo Florentino Brazil | Ricky Olado Philippines | Márcio Matos Brazil | Quintín Salgado Salgado Mexico | Safeer Hussain Pakistan | Robert Kirotich Kenya | Guadalupe Campanur Mexico | Ronal David Barillas Díaz Guatemala | Valdemir Resplandes Brazil | Jomo Nyanguti Kenya
… the list goes on and on.

Indigenous people have protected ancient forests, rivers, and wetlands for centuries. But there's a deadly problem — ruthless governments aren't recognising their land rights, and as illegal loggers, poachers, and miners invade, they are being butchered.
They are the earth's last line of defense. We have to help.
Governments are negotiating a groundbreaking deal to save biodiversity and could give full land rights to these courageous communities if we put on enough pressure, protecting them against loggers, miners, and poachers. But greedy corporations and ruthless governments are going all out to block the plan!
Avaaz is already in the centre of these critical talks — so let's build and deliver a deafening call demanding governments protect the lands of indigenous and traditional communities everywhere!
Add your name and pass this on:
I'm standing with the Earth Defenders
Half the Earth's rainforests are now gone. 15 BILLION trees are chopped down every year, decimating our planet's rainforests, jungles, and mangroves. This environmental devastation is intimately tied to the theft and destruction of ancient indigenous lands, and the horrific violence that comes with it.
Defending the rights of these communities is a must for a global movement like ours — but is also central to stopping ecological annihilation. Combined, ancestral lands are home to 80% of the Earth's biodiversity and study after study has shown that their cultures and practices are most effective at protecting these precious, life-giving ecosystems, which in turn can help combat climate change.
But if this new global biodiversity agreement puts indigenous and traditional community rights at its heart, it could be a game-changer in the fight to save our living Earth. Let's make sure it happens!
ACTION: Sign the Petition:
To All World Leaders, Parties of the Three Rio Conventions,
and members of the International Union for Conservation of Nature (IUCN):
We call on you to ensure the community land rights of Indigenous people and local communities (IPLCs) are 100% recognised by 2025 in multilateral agreements as well as in your national legislations and land tenure processes. Recognising the community land rights of IPLCs and respecting their rights is key not only to ensuring their survival, but also one of the most effective ways to address the massive loss of biodiversity we are facing, and the climate disasters associated with it. It is time to correct the harm and injustices committed against the people who are putting their lives on the line to protect the planet.
Add your name now — Avaaz will deliver our voices inside the negotiations, standing with indigenous leaders from around the world
Our movement has stood up for Indigenous and traditional communities over and over again. From funding life-saving Covid equipment for people of the Amazon rainforest, to supporting the Maasai in Kenya, and helping indigenous leaders win huge legal battles in courts everywhere, our movement has shown up time and again. This is a golden opportunity to continue that tradition, helping to win this battle for the planet, and all the brave women and men defending it for future generations.
With fierce hope and determination,
Diego, Oscar, Mike, Marie, Laura, Luis, Anneke, Nell and the rest of the Avaaz team
• There's a Global Plan to Conserve Nature. Indigenous People Could Lead the Way (The New York Times)
• Protecting indigenous cultures is crucial for saving the world's biodiversity (The Conversation)
• Amazon-dwellers lived sustainably for 5,000 years (BBC)
• 'Guardian' of the Amazon Killed in Brazil by Illegal Loggers (The New York Times)
• Record 212 land and environment activists killed last year (The Guardian)
• To help the planet, help the forest protectors (Reuters – Opinion)
Avaaz is a 65-million-person global campaign network that works to ensure that the views and values of the world's people shape global decision-making. ("Avaaz" means "voice" or "song" in many languages.) Avaaz members live in every nation of the world; our team is spread across 18 countries on 6 continents and operates in 17 languages. Learn about some of Avaaz's biggest campaigns here, or follow us on Facebook, Twitter, or Instagram.