ACTION ALERT:
Still Time to Sign Ecosocialist Green New Deal Letter
The EcoAction Committee of the Green Party of the United States
(July 15, 2021) — There is still time for groups to sign on to the letter re a large Green New Deal (GND) proposal. The deadline remains July 19. We have now passed 80 groups; lets get to 100. While quite a few GP State parties have signed on, many more could — as well as local GP groups.
I have been sharing the letter with some key legislators, mainly Sen. Schumer's staff since he is from my state and I have had a series of meetings this year with him and his climate staff.
While the Democrats did announce their meager price tag yesterday ($3.5 trillion over a decade), the details are still far from worked out. Many groups have been pushing for a higher figure (e.g, Green New Deal Network pushes $1 trillion a year for ten years; others $4 trillion a year for 4 years).
Manchin is also still not on board, saying he needs to see the details especially how it helps fossil fuel companies. The Senate did recently pass — again — his $100 billion energy package which they authorized in January and it is expected that agreement (which includes billions for nukes and carbon capture technology) will be rolled into the climate / green infrastructure bill).
Senator Schumer plans to bring the small bi-partisan infrastructure bill up for a vote next Wednesday to see if that can get 60 votes in the Senate. If it does not, I would assume that it also gets rolled into the climate / green stimulus, which will be done though reconciaition which only needs 50 votes (i.e., Manchin and 2 others).
The EcoAction Committee of the Green Party of the United States has drafted a letter for organizations to send to President Biden and congressional leaders to urge them to fund a Green New Stimulus economic stimulus that is adequate to deal with the climate crisis and to recover from the COVID pandemic. Senator Schumer has stated that he expects the green economic stimulus to be introduced in July and that he will not move the weak compromise infrastructure package until the larger green stimulus bill is acted upon. The deadline for the sign-on letter is July 19.
EcoAction Committee of the Green Party of the US
To: President Joe Biden
Cc: Senate Majority Leader Charles Schumer, House Speaker Nancy Pelosi
Dear President Biden:
We urge you and Congress to immediately fund an ecosocialist Green New Deal with an annual $4.1 trillion investment for ten years to help prevent climate collapse while helping our country recover from COVID-19.
We call for a presidential declaration of a climate emergency with various executive orders to implement it. We must — as a coalition of hundreds of groups representing millions of people across the country fighting for climate, racial and economic justice have called for — Build Back Fossil Free.
We are facing a climate emergency that threatens the future of humanity. The recently leaked study by the International Panel on Climate Change (IPCC) warns that we must immediately take radical, comprehensive action to avoid catastrophic global warming. The situation is much worse than the IPCC stated two years ago when it called for urgent action. The study warns of a series of thresholds, such as at the melting of polar ice sheets and the loss of the Amazon rainforest, beyond which recovery from climate breakdown may become impossible: "Life on Earth can recover from a drastic climate shift by evolving into new species and creating new ecosystems … humans cannot."
The acceleration of extreme weather throughout the planet — wildfires on the West Coast and Australia, unprecedented heat waves worldwide, flooding, droughts — shows that we have already squandered far too much time .
We support an annual $2.7-trillion investment in climate action, including the rapid expansion of clean, renewable energy such as solar, wind (offshore as well as land-based), geothermal, and battery storage, as well as conservation. This expansion needs to be accomplished by targeting the funds to municipal utilities, rural electric cooperatives, and community and worker-owned companies. We support a sustainable, regenerative agriculture system and other natural processes to capture carbon. We must avoid the mistake of funding false climate solutions such as carbon capture technology, "renewable" gas, biomass and nuclear.
An additional $1.4 trillion annually should be invested in an Economic Bill of Rights, helping America recover from the COVID crisis. This includes finally making health care a universal right through an improved and expanded Medicare for All program. We should guarantee everyone a living wage job and a minimum income. We also need to make access to college education and quality, energy efficient housing a human right.
The green infrastructure proposal should focus on public ownership and democratic control — rather than private profit — since the capitalist system and reliance on market forces created the climate crisis.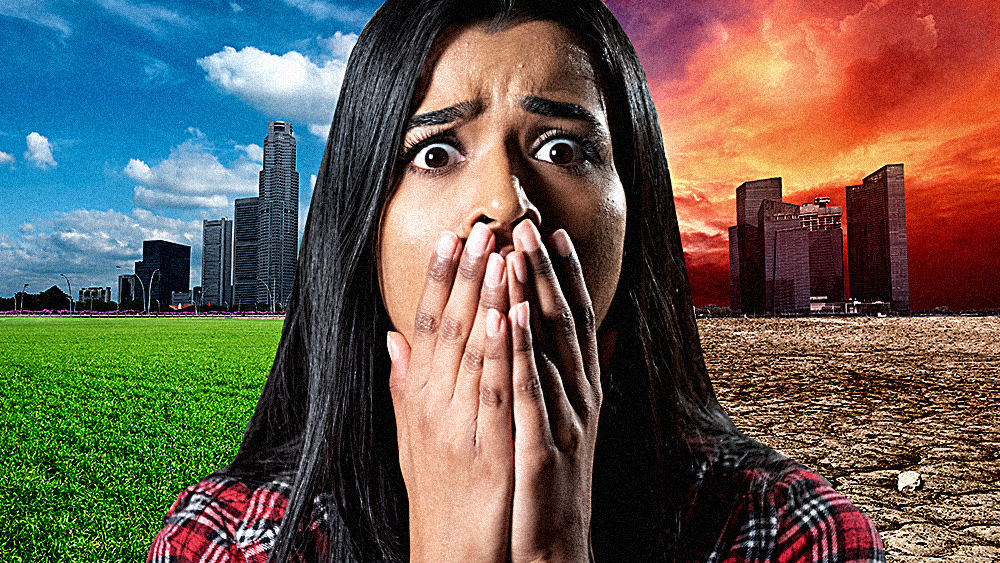 The federal government should plan and manage the construction of publicly owned energy systems and manufacturing, coordinating the transformation of our manufacturing, agricultural, and transportation systems for environmental sustainability. Such efforts have been used in prior national emergencies such as after Pearl Harbor to ensure that all of our nation's resources are marshaled to solve the crisis. The public enterprises created in this new program must remain under social ownership as public utilities and community worker cooperatives, unlike after World War II when they were turned over to the wealthy and their giant corporations,
Public ownership would help ensure community residents get to determine the siting for such large-scale renewable energy projects, speeding up the construction process.
The green stimulus program should have a goal of slashing greenhouse emissions as rapidly as possible (e.g., zero by 2030). Not only must we immediately halt any expansion of, or development of new fossil, fuel infrastructure, including fracking and oil and gas pipelines, but we must also rapidly phase out existing uses altogether. This includes funding a transition from heating and cooling by gas to clean renewable energy such as geothermal and heat pumps. We must invest in energy efficiency, including a massive investment to retrofit existing homes and buildings while requiring new buildings to be zero emission structures.
The climate action program needs to be based on the concept of a Just Transition. We need to guarantee wages, benefits and jobs for up to five years for workers and communities presently dependent on fossil fuels, ensuring all Americans prosper from the green transformation. At least 40% of the funds must go to the communities most harmed by pollution and climate change.
We should pay for the stimulus through higher taxes on the wealthy (and cracking down on their tax evasion), at least a 50% cut in the Pentagon budget, a robust carbon tax based on the principle of polluters pay and borrowing. Over time, the program will cover its costs, including borrowed funds, out of revenues from public enterprises, including public power fees, public transit fares, and public housing rents.
We oppose the proposal to fund the bipartisan infrastructure deal by privatizing infrastructure that should be public assets. For example, the deal would facilitate a Wall Street takeover of public services like water, which we absolutely oppose.
This is America's last opportunity to avoid climate chaos. President Biden, we need bold leadership from you and Congress that puts the needs of the many ahead of the wealth of the few. A Green New Deal is the path to jobs, peace and a livable future.