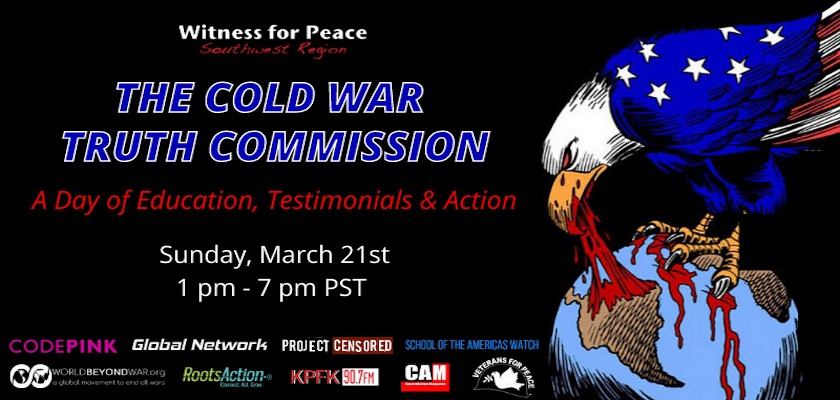 This Newest Version of: "The Cold War Truth Commission: March 21st, 2021 " 
was assembled by Emily Dorrel of CODEPINK
A collection of 54 Video presentations — Updated with Individual YouTube Links
Opening Remarks by Rachel Bruhnke and Frank Dorrel
1.Plutocracy: Wealth Governs This Country:
Former Attorney General of the United States, Ramsey Clark. 8-minute Talk from 1998.
2. Why We Need This Truth Commission to Expose 'Cold War' Lies — Jim Lafferty
3. Henry Wallace and the Cold War's Beginning — Peter Kuznick & Clip from Oliver Stone's: "The Untold History of The United States".
4. The Role of the Military Industrial Congressional Complex — Daniel Ellsberg
5. Excerpt From 'The Second Bill of Rights' State of the Union Speech 1944′ — Read by Madison Tang, CODEPINK Youth Peace Collective
6. Anti Communism As a Weapon Against Progress — Rossana Cambron
7. Cold War Revisionism — Michael Meeropol
8. The US Cold War As a Self Inflicted Wound — Gerald Horne — Read by Genesis Mora, PSL
9. The Red Baiting of Abolitionists in 1850 — Carolfrances Likens
10. The Pro-Fascist Nature of US Anti-Communism — Rick Fellows
11. Is the Fear of "Communists" a Big Deal in Europe A Green's Perspective — Mike Feinstein
12. A Sequence of Lies, the US Cold War and Today — Jeremy Kuzmarov
13. Lesson from my Father, Phil Agee, and the CIA — Chris Agee
14. The White Supremacist Nature of the US Cold War — Michael Novick
15. Historical and Current US Cold War Against Russia — Alice Slater
16. Why So Many Progressives Bought Into the 'Russiagate' Frenzy — Norman Solomon
Song — "Work For Peace" by Gil Scott-Heron
17. Citizens' Commission to Investigate the FBI — Written by Mumia Abul-Jamal & Stephen Vittoria — Read by Alexis Green
18. What HUAC Did to My Father — Susan Gossman
19. McCarthyism's Effect on American Workers Case Study — Gregory Godels
20. How the American People Lost the Cold War — Richard Moser
21. Censoring of the Truth During The US Cold War to Today — Mickey Huff
22. The Housing Crisis, Land Accumulation and Cold War Ideology — Chris Venn
23. The Cost of US Militarism in the US Cold War to Today — Carley Towne
24. Weaponizing Space in the US Cold War to Today — Bruce Gagnon
25. There Was Nothing 'COLD' About the Cold War — David Vine
26. War Resistance In the 1980's As Foundation for 1991 Iraq War Resistance — Kathy Kelly
27. Combatting the Lies of the US Cold War Today — David Swanson
28. US News Media: The Enduring Cold War Legacy — Jeff Cohen
30. The US Cold War Against Liberation Theology — Peter McLaren
31. Lucius Walker: The Legacy of a Visionary Pastor for Peace — Gail Walker
32. "Resist War! A Message to Today's Youth — Gerry Condon —
33. TikTok: A Warning on American Hypocrisy — Emily Dorrel
34. The Pledge of Allegiance, "God" and the US Cold War — Alma Bruhnke
35. The Cold War in the US Classroom — Marcy Winograd
36. Combating Anti-Communism in the 1960s — Eric Mann
37. The Environmental Catastrophe of Militarism and the US Cold War — Carl Boggs
 Song — "Is It For Freedom" by Sara Thomsen
38. School of Assassins — Father Roy Bourgeois — Video
39. Cover Up Behind the Iran Contra Affair & THE PANAMA DECEPTION — By Barbara Trent & David Kasper
40. The US Cold War vs African Liberation Struggles — Medea Benjamin
41. Origins of US Iranian Tension — Nuri Ronaghy
42. The NSA and CIA Protects Concentrated Global Capitalism — Peter Phillips
43. Afghanistan as a Pawn in the US Cold War — Matthew Hoh
44. Inside and Outside the Military Industrial Complex — Ann Wright
45. Historical and Current US Cold War Against China — Jodie Evans
46. The Cold War and Continued Conflict With Syria — John Parker
47. The Ongoing US Cold War Against Honduras — Miguel Angel
48. The U.S. Cold War Against El Salvador and Its Aftermath — Alicia Rivera
49. The Dirty War in Argentina — Alicia Jrapko– Read by Brenda Lopez, LA Cuba Coalition
Song — "Lives In The Balance" by Jackson Browne
50. US Involvement in Creating and Sustaining the Cold War Against Korea — Written by S. Brian Willson — Read by Emily Dorrel of CODEPINK
S. Brian Willson Short Video: "We Are Not Worth More, They Are Not Worth Less" — www.youtube.com/watch?v=R6ljl3q9nT0
51. The Rise of Aerial Bombardment Throughout the Cold War — Joel Andreas
52. CIA Intrigue, the 1965 Coup Against Indonesia — Nadya Williams
53. HUAC, the Hollywood Blacklist and McCarthyism — Ed Rampell
54. The US Cold War and the Murder of 'Communal' Values — Video by John Hankey