Seven Steps to Avert Global Climate Change Disaster
David Knowles / Senior Editor Yahoo News
(August 9, 2021) — Monday's release of the latest grim assessment from the United Nations Intergovernmental Panel on Climate Change makes clear that global warming will continue to intensify over the coming decades and that, as a result of human inaction to curb greenhouse gas emissions, extreme weather events will continue to worsen.
In a year that has already seen deadly heat waves, raging wildfires and unprecedented flash flooding that have all been linked to rising global temperatures, there's been ample evidence to back up the IPCC's conclusions. The landmark new assessment, however, was compiled by 234 scientists and based on more than 14,000 recent studies. It concludes that human activity is largely at fault for a rise in average global temperatures of 1.1 degrees Celsius.
But humankind still has the power to keep the mercury from rising even further if a concerted effort is undertaken at once.
"If we reduce emissions to net zero by 2050, we can keep temperatures close to 1.5C," climate scientist Valérie Masson-Delmotte said during a Monday press conference.
Other IPCC members were also quick to note that time is running out.
"Unless we make immediate, rapid and large-scale reductions in greenhouse gas emissions, limiting warming to 1.5C will be beyond reach," Ko Barrett, a senior adviser for climate at the National Oceanic and Atmospheric Administration and vice chair of the IPCC, said in a statement. "Each bit of warming will intensify the impacts we are likely to see."
While those "large-scale reductions" require a concerted government plan to curb emissions, the report also stresses that individual actions are needed, as well as a shift in the global mindset about the challenges that scientists and activists have long warned lie ahead.
"We can still avoid the worst consequences, but not if we continue like today, and not without treating the crisis like a crisis," climate activist Greta Thunberg tweeted Monday.
While it is easy to slip into climate despair, there are steps to be taken that, though insufficient to solve the problems posed by climate change, attempt to keep the worst consequences at bay.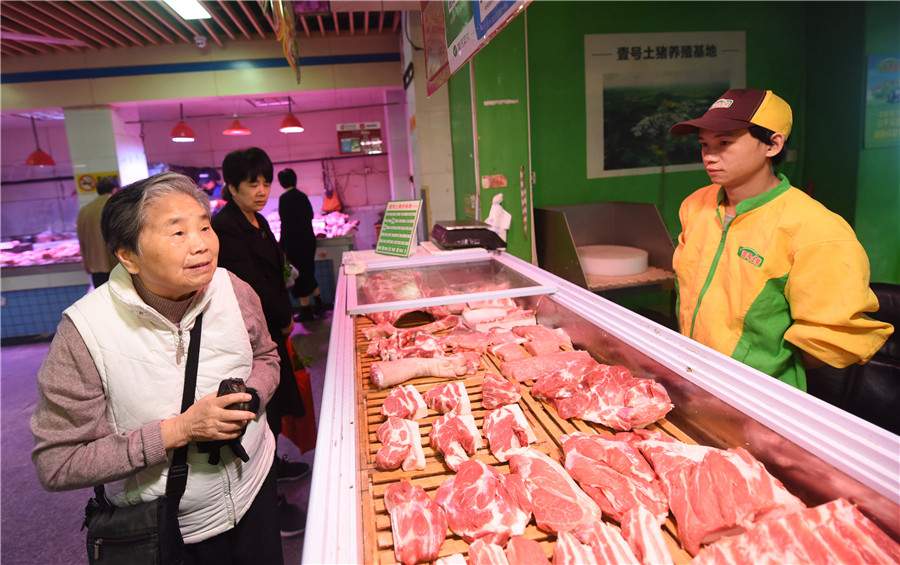 Meat for sale at a supermarket in China.
Eat Less Meat
In a 2019 report, the IPCC recommended that human beings switch to less meat-based diets in order to help forestall the worst impacts of climate change. That's largely because deforestation to accommodate cattle grazing exacerbates the amount of carbon dioxide emitted into the atmosphere. Cows also produce methane, another potent greenhouse gas that is contributing to climate change.
"We don't want to tell people what to eat. But it would indeed be beneficial, for both climate and human health, if people in many rich countries consumed less meat, and if politics would create appropriate incentives to that effect," Hans-Otto Pörtner, an ecologist who co-chairs the IPCC's working groups, said of the report.
A switch to a more balanced, plant-based diet, researchers found, could reduce global carbon emissions by up to 8 billion metric tons per year. 
Reduce Food Waste
Roughly one-third of all food produced in the world today is wasted, according to a report from the World Wildlife Fund. In addition to all the emissions caused by food production, when the waste ends up in landfills, it produces methane gas. Dramatically cutting down on that waste could reduce greenhouse gas emissions by an estimated 6 to 8 percent. In the United States alone, that wasted food "generates the equivalent of 32.6 million cars' worth of greenhouse gas emissions."
"Municipal solid waste landfills are the third-largest source of human-related methane emissions in the United States, accounting for approximately 14.1 percent of these emissions in 2017," the USDA says on its website. 
Adopt Clean Energy Alternatives
A growing number of fossil fuel alternatives have become available in recent years for those lucky enough to be able to afford them. These include wind turbines, solar panels and electric vehicles, renewables that the Environmental Protection Agency says are "considered environmentally preferable to conventional sources and, when replacing fossil fuels, have significant potential to reduce greenhouse gas emissions."
As state and local governments have begun to help subsidize the costs of sources of alternative energy, the number of people who are switching over continues to grow. "Renewable energy is the fastest-growing energy source in the United States, increasing 100 percent from 2000 to 2018," the Center for Climate and Energy Solutions said in a report published in April.
Detroit's big three automakers said last week that they hoped electric vehicles would make up 50 percent of their new car sales by 2030. 
Plant a Lot of Trees
The Amazon rainforest, bordered by deforested land prepared for the planting of soybeans, in western Brazil. (Paulo Whitaker/Reuters/TPX Images of the Day)
Because trees help remove excess carbon dioxide from the atmosphere by the process of photosynthesis, it is imperative that people reverse deforestation in places like the Amazon, and plant more trees.
A 2019 study by the Crowther Lab at ETH University in Zurich found that humans could avert the worst ravages of climate change by planting a forest roughly double the size of the United States. While an effort of that magnitude would require governmental coordination, every new tree planted by individuals can be seen as a step along the way, just as each additional acre of deforestation worsens that particular climate feedback loop. 
Cut Down on Flying
While plane travel currently accounts for upwards of 4 percent of US greenhouse gas emissions, the United Nations projects that carbon emissions from airplanes will triple worldwide by 2050.
Citing statistics such as the fact that a one-way flight from New York to London emits 1 ton of carbon dioxide per passenger, more than citizens of many countries emit over an entire year, climate activists like Thunberg are urging people to use other means of travel.
While most US airlines have pledged to achieve net-zero carbon emissions by 2050, getting to that goal will be tricky, absent new technological breakthroughs.
Experts say that if you must fly, the following steps can help reduce your carbon footprint: Fly economy so as to maximize efficiency, take direct flights to minimize excessive emissions during takeoff and landing, and book daytime flights to cut down on creating heat-trapping contrail and cirrus clouds at night. 
Weatherize Your Home
According to the US Department of Energy, 25 to 30 percent of home heating and cooling is lost through faulty home windows. Drafty doors, leaky roofs, poor insulation and other deficiencies also account for energy loss that adds up over time. Fixing those problems, while potentially expensive initially, can end up saving money — as well as cut down on emissions — over the long term.
"The use of energy-efficient materials and other flexible, durable upgrades — including weatherization — can reduce climate risks and costs," a recent report from the Brookings Institution found. "Doing so can also promote a safer, more equitable environment, particularly for lower-income households and communities of color who are often most vulnerable to climate change."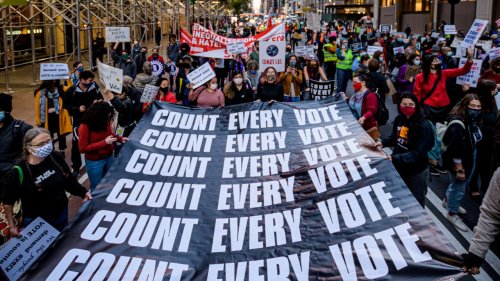 Vote with Climate Change in Mind
Protesters attempt to confront attendees of the 2019 UN Climate Change Conference COP25 in Madrid. (Marcos del Mazo/LightRocket via Getty Images)
The climate crisis didn't happen overnight. It came about thanks to more than a century of human beings adding greenhouse gases to the Earth's atmosphere. Since a single carbon atom can last in the atmosphere for up to 1,000 years, the problem won't be easy to fix.
Participatory governments create the opportunity to elect leaders who take the threat of climate change seriously. A 2021 report from the bipartisan Center for American Progress found that "there are still 139 elected officials in the 117th Congress, including 109 representatives and 30 senators, who refuse to acknowledge the scientific evidence of human-caused climate change."
While a partisan divide on climate change remains evident, a growing number of Republicans, such as those on the newly launched Conservative Climate Caucus, are attempting to educate members of their party on the need to take action
Step 8: Support Groups Working to Save the Planet
Stop Fossil Fuels: Build 100% Renewables
Wenonah Hauter / Food & Water Watch
(August 12, 2021) — The UN's Intergovernmental Panel on Climate Change (IPCC) released a milestone report this week that confirms what we already knew: Climate change is NOW.
This is a wake up call. The impacts of climate change are widespread and severe — from drought and wildfires to extreme storms and flooding — and they will only get worse if we don't change course now.
To avoid the extreme impacts of climate change, our political leaders must act immediately to stop all forms of fossil fuel extraction, and make massive, necessary investments in clean, renewable energy. In the absence of any real climate leadership, we need to rise up and fight like we live here.
The urgency to pressure our elected leaders — at all levels of office — to limit warming to 1.5°C and save millions of lives is more dire than ever. It's imperative that we hold the line at 1.5°C of warming. Impacts will escalate to unimaginable proportions as we approach warming of 2°C — twice as much as current warming.
Recent disasters represent the cost of continuing to delay climate action — from drying rivers and reservoirs in the West to historic flooding in Detroit to the deep freeze of Winter Storm Uri, which caused widespread power outages in Texas. These events will get more frequent and more severe if we don't act now.
This is scary, but more than that, it's a call to action for us to push our elected leaders to get their acts together and be bold on climate!
Food & Water Watch is a national leader in the fight to ban fracking and stop fossil fuel infrastructure projects. Ten years ago, we were the first national organization to call for a ban on fracking everywhere. As just part of our long list of milestone victories, we've banned fracking in New York, Maryland and Washington State, and we've stopped dangerous oil and gas infrastructure in states across the country.
Our approach has always been bold, uncompromising and hard-hitting because we know we can't take shortcuts on the biggest challenge humanity has ever faced.
[Join us] so we can keep pressuring elected leaders at the local, state and federal levels to go bigger and bolder in order to save millions of lives.
Wenonah Hauter is the founder and Executive Director of Food & Water Watch
Stand up to the Fossil Fuel Industry:
Stop Coal, Oil and Gas Projects;
Build a Clean Energy Future for All
(August 10, 2021) — You might have noticed that the Intergovernmental Panel on Climate Change (IPCC) just released a new landmark report on global heating and the science of the climate crisis. It's not pretty, but there's some hope. Here are a few points to break it down for you, starting with the bad, then the ugly, then the good.
A few data points to start:
– Carbon dioxide concentration is the highest in TWO MILLION YEARS
– The last decade was hotter than any period in 125,000 YEARS
– Sea level rise is the fastest in 3000 YEARS
– Arctic ice level is the lowest level in 1000 YEARS
IPCC scientists say that it's "indisputable" that human activities are causing climate change, and that almost all emissions of greenhouse gases come specifically from the extraction, transport and use of fossil fuels as well as agriculture and farm animals.
Carbon dioxide is bad, but methane is the worst, at least in the short term. Methane (fossil gas) is 88 times more climate altering than carbon dioxide in the short term. Fossil gas is what fuels a lot of our boilers, but it's also what fracking and gas pipelines leak – all the time.
We need to do all the homework and some more in order to stay under 1.5C of warming. If emissions don't decrease sharply we'll burn through our carbon budget of 500 GtCO2 within the next 13 years.  There is no way to fix this that does not involve stopping fossil fuels now.
Sea levels are likely to keep rising under all scenarios. Minimum rise projected at 2100 is 0.5 meters, maximum is 1 meter. But the IPCC does not rule out sea level rise of over 15 meters by 2300 with high emissions.
Are we doing anything to reverse or at least slow this down? Well, current emissions trajectories put us at above 3°C, and national climate plans (if implemented) would get us somewhere around 2.4°C. You can see more warming projections associated with different climate plans here.
But what about the infrastructure bill, Next Generation EU, recovery funds? The truth is that only 2% of recovery money has so far gone into a green transition. It's almost as if a powerful lobby had captured our democracies and were preventing real action…
The fossil fuel industry has known about this for decades. They swept the information under the rug, lied to us and invested billions of dollars in lobbying and advertising to confuse, seed doubts about the science, and delay real action.
The climate crisis didn't come from nowhere and its progression is not inevitable. Half of the carbon dioxide currently in the Earth's atmosphere was emitted over the last 30 years. We've known about it since the 1980s. The fossil fuel industry has been wasting our time with misinformation, just to make profits at the expense of peoples lives.
Now, to the Good Part:
Can we stop it from getting considerably worse? Yes. In fact, if we decarbonize rapidly and bring methane down to zero too, there's a good chance that most climate impacts will go away fairly rapidly. We have all the tools to accelerate a rapid and just transition. Renewable energy has never been cheaper, energy storage has never been more reliable, and innovation keeps breaking the barrier of what is doable.
So, what do we do now? Well, let's start by saying that we refuse to let the world burn. We can stop the fossil fuel industry within this decade. Starting by stopping all fossil fuel finance and all new fossil fuel projects. Anywhere. And in re-imagine a new way forward without fossil fuels, we follow the lead of indigenous and frontline communities that have been put our planet and climate first for centuries.
In less than three months, countries will meet for COP26. They need to hear that a climate plan that doesn't include phasing out fossil fuels is not a real climate plan. "Net zero" pledges are not going to get the job done, we need real zero.