In 2018, Senator Jim Inhofe bought as much as $100,000
in Raytheon stock after voting to increase Pentagon spending.
Congressional Reps Have as Much $8 Million
Invested in Companies Like Lockheed and Raytheon
David Moore/ Sludge: "Relentlessly Uncovering Corruption"
(August 23, 2021) — Since US military actions in Afghanistan were authorized in September 2001, the stocks of the top five defense companies have risen in value by an average of nearly 900%, strongly outperforming the S&P 500 index.
Among those who have benefitted from investments in the stocks are nearly four dozen members of Congress, the people who approve funding for the contracts that make up the bulk of the companies' revenues.
At least 47 members of Congress and their spouses hold between $2 million and $6.7 million worth of stock in companies that are among the top 100 defense contractors, a Sludge analysis of financial disclosures found.
The war in Afghanistan has caused an estimated up to 174,000 direct war deaths, according to the Costs of War Project, with economic costs reaching over $2.26 trillion there and in Pakistan. The total cost of post-9/11 wars including Iraq and other operations has surpassed $6.4 trillion through last year.
At least 11 US senators hold up to $1.7 million in defense industry stocks and at least 36 US representatives hold a maximum value of over $5 million. Congress only reports its investments in broad ranges, so it's not possible to know exactly how much their stocks are worth. Members of Congress have at least 108 investments in 16 major defense contractors, including all of the top 10 companies by defense revenue.
Sheldon Whitehouse, a Democrat, tops list of Senate arms investors.
US Senators Invested in Defense Company Stocks
Sludge analysis of financial disclosures as of Aug. 22, 2021. Stocks are held by the senators, their spouses, or jointly.
Source: Senate Office of Public Records Get the data Created with Datawrapper
Of the 36 House members who hold stock in military contractors like Lockheed Martin and Raytheon, 20 are Republicans and 16 are Democrats. The total value of defense stocks held by House Democrats is as much as about $2 million, while the total value held by House Republicans is as much as about $3 million.
House Republican Kevin Hern has more that $1 million invested in war
US House Members Invested in Defense Company Stocks
Sludge review of financial disclosures as of Aug. 22, 2021. Stocks are owned by the House members, their spouses, or jointly. [Multiple pages, available from original posting — EAW.]
Congress' Top Defense Stock Investments
Sludge review of range of value of members of Congress' combined holdings of stock in top defense contractors as of Aug. 2021. (In dollars.)
The second-highest amount of stock owned appears to be in Raytheon at a maximum value of over $1 million, with about half that amount held by Senate Democrats John Hickenlooper of Colorado and Sheldon Whitehouse of Rhode Island, at a maximum of $250,000 apiece.
The third-highest amount held is likely in Lockheed Martin, by far the largest government contractor overall, with as much as $765,000 of its stock owned by federal lawmakers. Virtually all of Lockheed's revenue comes from contracts with the Department of Defense, and with Raytheon it combined for over $104 billion in defense revenue last year.
Aerospace giant Boeing comes in fourth for 2020, at up to $570,000 in stock held by at least 11 members of Congress. Boeing was the third-largest defense contractor last year, bringing in about half of its $58 billion in total revenue from the Department of Defense and international military customers. During the economic crunch from the coronavirus pandemic last year, the company initially lobbied the federal government for a $60 billion bailout for the aerospace manufacturing industry, before instead completing an April 2020 bond sale that raised $25 billion with backing from the Federal Reserve.
"A Profound Conflict of Interest"
"It is a profound conflict of interest, and shameful moral failing, that those who profit off of war hold any influence in our political system at all, much less that they are sometimes the very people that decide whether or not to bomb another country," said Erica Fein, senior Washington director of the advocacy group Win Without War. "To be able to vote to go to war, and then turn around and profit personally from that war, is, frankly, absurd."
The maximum value of the investments held by federal lawmakers in the "Big Five" contractors — Lockheed Martin, Raytheon, Boeing, Northrop Grumman, and General Dynamics — is over $2.6 million, making up nearly 39% of the total stock holdings identified. From compiling General Services Administration data, defense analyst Stephen Semler found that the Big Five have received over $2 trillion since the start of the Afghanistan invasion, including $119 billion more in US contracts awarded in 2020 than they did in 2001. Lockheed Martin received the highest value of contracts last year, increasing its contracting haul from $18 billion in 2001 to $78.6 billion in 2020.
"The rapid collapse of the Afghan security forces is all the more evidence that there was not, nor could there have been, a military solution in Afghanistan," Win Without War's Fein told Sludge. "Spending trillions of dollars on endless war and occupation simply does not bring sustainable peace. What it does do is enrich arms manufacturers and their shareholders. A clear-eyed look at events in Afghanistan would quickly reveal to members of Congress that it's time to reevaluate the policy of endless war and the bloated Pentagon budget that fuels it."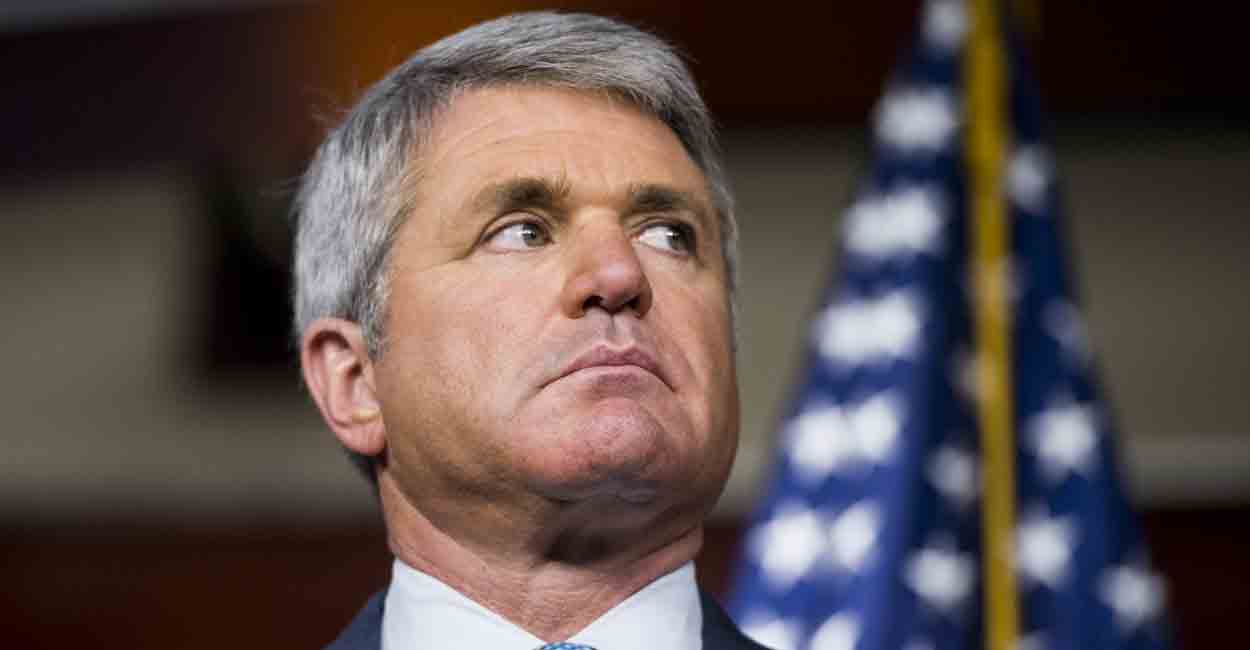 Texas Republican Rep. Michael McCaul is a top weapons investor.
Top Defense Investors
The member of Congress with the highest amount invested in defense stocks as of 2020 is second-term Rep. Kevin Hern (R-Okla.), who owns up to $880,000 in Honeywell stock, including up to $600,000 worth of securities he purchased in May and June of this year. Hern also reports holding up to $80,000 each in Boeing and Raytheon, and as much as $30,000 in Lockheed Martin stock.
The congressman is chair of the Republican Study Committee's Budget & Spending Task Force, which in May put forward a conservative budget blueprint that claims it would cut outlays by $14.4 trillion over 10 years while it would "Immediately increase the national security budget by instituting a 3% real growth boost." Three percent of the 2021 national security budget of $740.5 billion would be over $22 billion more on military spending next year.
The second-largest congressional investor in the defense industry is eight-term Rep. Michael McCaul (R-Texas) with a total investment of up to $635,000, including up to nearly half a million dollars in Honeywell stock and as much as $150,000 in shipbuilder Huntington Ingalls. McCaul, who represents a district stretching between Austin and Houston, has a net worth estimated at nearly $97 million as of 2017, likely placing him in the top 5% of wealthiest House members. He sits on the House Committee on Foreign Affairs and the Committee on Homeland Security.
Sen. Sheldon Whitehouse (D-R.I.) has up to $500,000 invested in defense stocks, including up to $250,000 in Raytheon, $200,000 in Honeywell, and up to $50,000 in Lockheed Martin. In his 2018 report, Whitehouse's stakes in each of the three companies were valued at $50,000 apiece at most, but by the next year, the maximum value of his holdings in Honeywell and Raytheon had doubled — and then, in 2020, their maximum value had doubled again, the Raytheon securities even more.
Longtime House Democrat Gerry Connolly owns a stake worth as much as $498,000 in Leidos, the IT contractor whose headquarters is located in his district in McLean, Virginia. (Connolly sold off small amounts of Leidos stock, between $1,000 and $15,000 worth, in January and April of this year.)
Michigan Democrat Debbie Dingell, co-chair of the House Democratic Policy and Communications Committee, has holdings of up to $450,000 in Honeywell and up to $50,000 in Raytheon.
Rep. Fred Upton (R-Mich.) owns up to $295,000 worth of defense industry stocks, led by up to $250,000 in consulting firm Booz Allen Hamilton, the 22nd-highest defense contractor last year by revenue, as well as up to $30,000 in Raytheon. Upton is the second most senior Republican on the House Energy and Commerce Committee and the ranking member of the Energy Subcommittee, whose jurisdiction includes ​​energy security and cybersecurity for all generated power.
Missouri Republican Sen. Roy Blunt's spouse holds a stake of up to $250,000 in Lockheed Martin while the second-term senator is a member of the Defense Subcommittee of the Appropriations Committee. Acquisition costs for the chronically delayed Lockheed-led F-35 joint strike fighter have more than doubled to well over $428 billion since initial estimates in 2001. In recent years, Blunt has shared promotional videos from Lockheed on Twitter and co-authored a 2019 op-ed with Republican colleagues calling for Congress to "provide regular funding through the federal appropriations process to ensure our region's aerospace and defense industries," including for exports. Blunt's 2020 disclosure includes a filer comment for the Lockheed asset, "Gift from my parents more than 15 years ago," which would have put the senator in his mid-50s. He is retiring from the Senate next year with a net worth estimated for 2018 at over $5.7 million.
Sen. John Hickenlooper (D-Colo.) owns stock worth as much as $250,000 in Raytheon, the second-largest defense contractor last year with $42 billion in defense revenue.
Conflicts of Interest
Sen. Gary Peters (D-Mich.) is a member of the Armed Services Committee, which authorizes the Pentagon's funding levels annually. Last month, the committee voted to boost the Department of Defense's budget by $25 billion more than Biden had requested, from $715 billion to $740 billion. Peters also chairs the Homeland Security Committee while he holds up to $15,000 worth of stock in Raytheon, which has contracts from the Department of Homeland Security, and he recently touted provisions he secured in the bipartisan infrastructure bill to bolster cybersecurity.
Among the Senate Republicans invested in weapons makers, Tommy Tuberville of Alabama sits on the Armed Services Committee while holding up to $50,000 each in Honeywell and Lockheed Martin, and up to $15,000 each in General Dynamics and Raytheon. In April, Tuberville called to increase defense spending, saying, "In order to keep our country safe, and protect democratic allies from Chinese aggression, we must stay well ahead in both weapons and technological advances." In July, a press release from his office touted military spending he secured that included an upgrade for Alabama's Dannelly Field as the fighter wing stationed there transitions to Lockheed's troubled F-35 fighter jet.
On the Defense Appropriations Subcommittee, Sen. Blunt is joined by Sen. John Boozman (R-Ark.), who is invested in General Dynamics and Honeywell. Overall, five GOP senators who are invested in Pentagon contractors sit on the Appropriations Committee.
On the House side, freshman Rep. Blake Moore (R-Utah) sits on the Armed Services Committee while holding up to $100,000 in Boeing and Raytheon securities. The spouse of Rep. Ro Khanna (D-Calif.) continues to hold up to $100,000 in Honeywell shares and up to $50,000 in Leidos shares, despite their claims to have divested from weapons makers. Ro Khanna, who has been at the forefront of recent progressive efforts to cut the Pentagon budget, sits on the Armed Services Committee. Longtime Rep. Hal Rogers (R-Ky.) is a member of the Appropriations Subcommittee on Defense while holding nearly $40,000 in Northrop Grumman stock.
"The weapons lobby still has major, bipartisan influence on Congress," Fein said. "If we are to fix our broken foreign policy, and start spending our resources where they are actually needed — on climate action, healthcare, education, and more — we must make it harder for members of Congress to so readily open their doors to the war industry. Any member of Congress serious about the needs of the people should voluntarily divest from the war industry. More importantly, they should be compelled by law to do so."
Earlier this year, five Republican House members who hold stock in Lockheed Martin signed a bipartisan letter arguing that the company's dysfunctional F-35 aircraft program must keep its high level of funding next year: Reps. John Curtis, Diana Harshbarger, Kevin Hern, Daniel Meuser, and Pete Sessions. Their combined shares in Lockheed Martin are worth as much as $184,000, as the giant Defense contractor has delivered an annualized return of nearly 14% to investors over the past two decades.
The House member invested in the most defense companies is first-term Rep. Diana Harshbarger (R-Tenn.), who holds stock in six defense companies while sitting on the Homeland Security Subcommittee on Cybersecurity, Infrastructure Protection & Innovation. Her top defense industry investment is up to $45,000 in IT contractor L3Harris Technologies.
Divestments
Six sitting senators reported that they no longer hold defense industry investments that they held in December 2019, the end date of Sludge's previous analysis of congressional defense stock investments.
Dianne Feinstein no longer reports holding between half a million and $1 million dollars of Boeing stock.
Rick Scott no longer reports holding up to $100,000 in Lockheed Martin and Raytheon.
Republicans Bill Cassidy, John Hoeven, and Jerry Moran no longer report holding a combined stock total of up to $315,000 in defense companies including Boeing, Honeywell, and United Technologies, which completed a merger with Raytheon in April 2020.
Mitt Romney no longer reports small stock holdings in "pure-play" contractors including Northrop Grumman and Raytheon.
On the House side, the top holder of defense investments in Sludge's previous analysis, Steve Cohen, no longer reports holding hundreds of thousands of dollars in Boeing and Northrop Grumman stock, just holding on to up to $50,000 in Raytheon securities. Rep. Khanna's spouse divested from a half-dozen defense stocks in December 2020, but their financial reports have since disclosed purchases in Honeywell stock as an investment for a dependent child. Rep. Kathleen Clark (D-Mass.), the assistant speaker of the House, no longer holds up to $30,000 in Honeywell, and Rep. Mikie Sherrill (D-N.J.), a former US Navy helicopter pilot, no longer reports up to $45,000 in multiple aerospace contractor investments.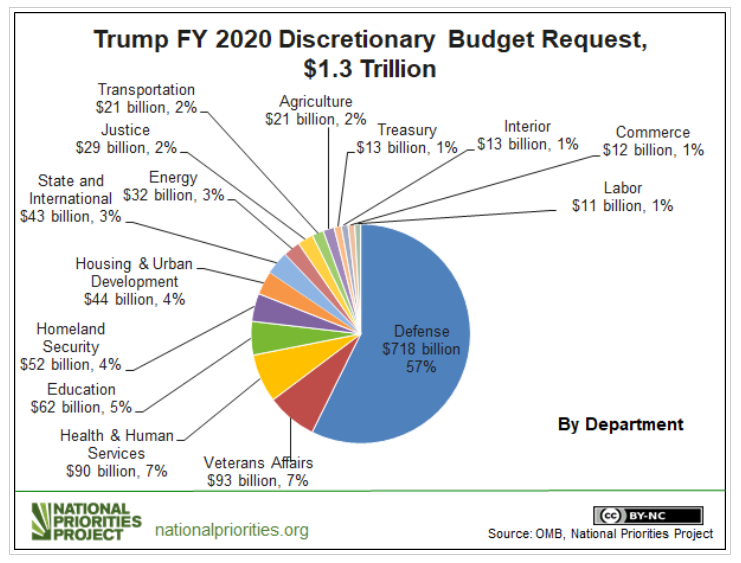 Defense Contractors Get About a Quarter of Discretionary Budget
National security spending — which includes the enormous Department of Defense budget and some Department of Energy programs on nuclear weapons — has averaged 49.4% of federal discretionary budget authority from 2017-2021, according to Sludge's calculations using spending data from the Security Policy Reform Institute.
More than half of the defense budget, in turn, goes to contractors, according to a study released last year by Boston University and Brown University. The research found that in 2019, the Pentagon spent $370 billion on contracting, "a whopping 164% higher than its spending on contractors in 2001."
Forty-five percent of the Pentagon's contracts in 2019 were classified as "non-competitive," according to economist Heidi Peltier, who attributes much of high defense contracting costs to monopoly issues. Many are 'cost-type" contracts, meaning that the government pays all labor costs, including the costs of overruns. Peltier found that from 2001-2019, military contractor spending increased about 20% more than personnel spending.
A wider definition of national security spending, one that includes the vast expenses of the Departments of Homeland Security and Veterans Affairs, as well as State Department military aid and government funding to law enforcement, would total $1.2 trillion every year, according to defense analyst Stephen Semler.
In 2019, longtime Pentagon watchdog William Hartung found in a report co-authored with Mandy Smithberger, the director of the Straus Military Reform Project at the Project On Government Oversight (POGO), that the "final annual tally for war, preparations for war, and the impact of war comes to more than $1.25 trillion, more than double the Pentagon's base budget."
Methodology
This analysis counts stocks in companies among the top 100 defense contractors in 2021, according to Defense News, excluding companies with less than 10% of their revenues coming from defense. Stock holdings and value ranges were disclosed in 2020 annual financial disclosures and new filer disclosures published by the House and Senate, and, for representatives and senators whose annual disclosures included defense stocks, periodic transaction reports published between Jan. 1, 2021 and the date of publication.
The analysis does not include an examination of periodic transaction reports for senators and representatives who did not have defense stocks as of the end of 2020, so it is possible that additional members of Congress have invested in defense companies in 2021 who are not mentioned in this article. At least 14 House members, by Sludge's tally, do not have 2020 annual disclosure reports posted online from the Office of the Clerk.
ACTION ALERT: Ban Politicians from Owning Weapons Stocks
John Sellers / Other98
The war in Afghanistan is finally over — but we still need to end war profiteering. 
According to a new report from Sludge, at least 11 Senators and 36 members of Congress and their spouses own millions in defense contractor stocks. Obviously, this is a massive conflict of interest.
And this isn't a partisan issue. These 47 members are both Democrats and Republicans.
It's really simple: members of Congress shouldn't be allowed to own stocks — especially from major defense contractors like Lockheed Martin and Raytheon. 
Defense contractors make most of their money from the US government and they got massive returns for themselves and their shareholders.
It's a moral failure for war — and all the unnecessary death and suffering that comes with it — to be profitable for elected officials. 
The American people (and the world) deserve a lot better. We need leaders acting in our interest, not in the interest of their own wallets.
ACTION: Add your name to urge Congress to ban Senators and Representatives from owning personal stocks by making the Ban Conflicted Trading Act law.
In solidarity, 
John Sellers / Other98
Related Reading
For more muckraking reporting, get the free Sludge newsletter
Posted in accordance with Title 17, Section 107, US Code, for noncommercial, educational purposes.