US Hands Big Oil $20 Billion a Year to Spew Greenhouse Gases.
Congress Needs to Cut Off the Tap
Ro Khanna and Earl Blumenauer / The San Francisco Chronicle
(September 29, 2021) — Each year, Big Oil receives more than $20.5 billion a year in federal and state subsidies. Many of these subsidies are holdovers from another century, enacted when the industry was first getting on its feet. One of the largest, a tax deduction for drilling oil wells, dates to 1913. Then there's the tar sands loophole, which gives a tax break to companies that import or produce tar sands oil, which is one of the dirtiest fuels on Earth.
Yes, you read that right. The US gives the fossil fuel industry a special deduction to help make the planet hotter.
Unlike when they were first created, these giveaways no longer create jobs. Instead, they pad the profits of a malign industry. A recent study found that 96% of federal fossil fuel subsidies increase profits for oil and gas companies over and above the investment hurdles needed to begin new projects.
Even more dismaying, this is an industry that has spent the past four decades carefully researching the human impacts of climate change, while publicly denying its existence or that it is a problem, and continuing to spew planet-altering greenhouse gases into the atmosphere.
Why are we rewarding them with taxpayer money for this behavior?
On Earth Day this year, a senior official from a fossil fuel industry trade group claimed, under oath at a congressional hearing, that "if you want to take the entire tax code and treat the oil and gas industry as every other industry, we're happy to do that."
We should be taking him up on this offer.
President Biden called for eliminating "billions of dollars in subsidies, loopholes, and special foreign tax credits for the fossil fuel industry" as a key policy to help pay for his American Jobs Plan. However, the current version of the Build Back Better Act moving through the House is missing most of the domestic fossil fuel subsidies repeal passed by the Senate Finance Committee earlier this year.
The reason?
Despite its platitudes that it is "certainly fine being treated like every other industry," the very same trade group has been out in full force lobbying against eliminating its lucrative subsidies. Recycling old strategies for influencing the climate debate, the American Petroleum Institute and groups like the US Chamber of Commerce, and the American Exploration and Production Council have been running a coordinated and expensive campaign of mass corporate influence.
Over the past several weeks, the fossil fuel industry wroteletters to congressional leaders and lobbied our House and Senate colleagues directly. It placed op-eds in the local newspapers of key oil and gas states like Pennsylvania, West Virginia and Oklahoma, as well as national outlets like the Hill and the Washington Examiner.
Most insidiously, through a faux grassroots group called "Energy Citizens," the American Petroleum Institute spent millions of dollars running television and Facebook advertisements in key swing states and congressional districts with fearmongering messages.
Meanwhile, California and other states are suffering from out-of-control wildfires and their noxious smoke, tens of thousands of Louisianans were left without power for over two weeks after Hurricane Ida, and the 17th tropical storm of the season earlier this month in the Atlantic, an unusually high number for this time of year.
The fossil fuel industry is overwhelmingly responsible for the climate crisis. A 2017 report found that since 1988, active fossil fuel producers, including American companies ExxonMobil, Chevron, ConocoPhillips, Marathon Petroleum and Occidental Petroleum, are linked to 71% of all industrial greenhouse gas emissions.
At a time when even an international oil regulatory agency declared we must end all new oil and gas exploration today to have any hope of limiting devastating global warming, and when renewables are set to become a greater share of the US energy mix than natural gas by 2050, we know that the only people arguing for padding the pockets of oil executives are the oil executives themselves.
Right now, Congress has the power to call the industry's bluff. We can end special privileges for one of our most polluting and badly behaved industries and instead support the clean energy sources of the future. It's time to reject bad-faith industry arguments intended to block climate legislation and preserve shareholder profits. Our colleagues in Congress need to summon the moral courage to fight for just that.
Arms-Biz Cash Swirls around House Votes Blocking Pentagon Cuts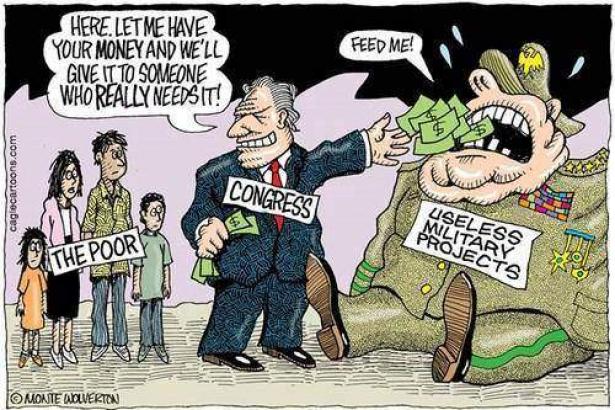 Many who opposed cuts to DOD's bloated coffers
have been underwritten by the weapons industry
David Saveliev / The Quincy Institute for Responsible Statecraft
(September 28, 2021) — The weapons industry contributed large sums of money to many of the House members who voted against two proposals last week that would have made relatively small cuts to the Pentagon's budget.
While President Biden already requested a whopping $715 billion for the Pentagon, earlier this month, the House Armed Services Committee decided to add a $23.9 billion-sized cherry on top during the FY2022 National Defense Authorization Act markup process.
Reps. Mark Pocan (D-Wis.) and Alexandria Ocasia-Cortez (D-N.Y.) led on an amendment to the NDAA that would have to cut the Pentagon's approved topline by 10 percent, while the other, led by Reps. Barbara Lee (D-Calif.) and Sara Jacobs (D-Calif), would have eliminated the aforementioned $23.9 billion increase.
Before the vote, nearly 50 organizations (including the Quincy Institute) from across the United States signed a letter urging lawmakers to support the amendments, but ultimately they failed by large bipartisan margins.
Indeed, the war industry got a great return on its investment. In the 2020 cycle alone, the weapons sector poured $15,584,937 into House members. On lobbying overall, arms profiteers spent $103.96 million in 2020 alone. The weapons industry has poured millions into both parties, but since 2012 it has favored Republicans. Not a single GOP lawmaker supported either amendment. Among Democrats, an overwhelming majority voted against the $24.9 billion increase. However, only 86 voted to reduce the Pentagon budget by 10 percent.
Among those voting against these proposals to rein in the Pentagon budget, Rep. Mike Rogers (R-Ala.), who introduced the $23.9 billion bonus in the Armed Services Committee, received $1,564,990 from the weapons industry since 2002.
Rep. Mike Turner (R-OH), who is also on the Armed Services Committee, has received$1,410,845 from defense industries. In April 2019, conservative group Citizens Against Government Waste crowned Turner as the "Porker of the Month" for "leading the effort to spend more taxpayer dollars on the most expensive weapons system in US history, the F-35.
Rep. Kay Granger (R-TX) has been the number one recipient of the weapons industry's funds for two electoral cycles in a row. In the 2020 cycle alone she received a total of $550,823, with her top contributors being Lockheed Martin corporate PACs and employees.
Another top recipient is Rep. Jim Banks (R-Ind.) who received a total of $381,041 over his career from corporate PACs affiliated with and employees of weapons manufacturers like Raytheon and Lockheed Martin.
But pushing for extra war money is a bipartisan business.
The first of 14 Democrats to break the party line in the Armed Services Committee and begin pushing for the $24.9 billion budget increase was the committee's vice chair — Rep. Elaine Luria (D-Va.). She received $113,004 from the weapons industry since coming to Congress in 2018. Rep. Luria was the only Democrat to vote against repealing the Authorization for Use of Military Force Against Iraq Resolution of 2002. She voted no to both amendments.
Adam Smith (D-Wash), the current chair of the Armed Services Committee, supported the amendment to cancel out the $23.9 billion bonus but said no to cutting the overall topline by 10 percent. Smith has been critical of Pentagon waste — he called the F-35 program a "rathole" — but his ties to the weapons industry are deep. Over his career he received a total of $1,614,970 from corporate PACs and employees of arms manufacturers.
The other high-ranking Democrats who opposed cutting the budget by 10 percent include Homeland Security Committee chair Bennie Thompson (Miss.) and Majority Leader Steny Hoyer (Md.). Hoyer voted in support only of removing the $23.9 billion bonus and Thompson voted against both amendments. Both representatives receivedhundreds of thousands of dollars from the weapons industry. Raytheon affiliated contributions to Hoyer, for instance, totaled $147,500 since 2006.
Among House Democratic leadership, only two supported both amendments — Caucus Chair Hakeem Jeffries (D-NY) and Assistant Speaker Katherine Clarke (D-Mass.). Neither received a cent from the arms industry, according to OpenSecrets.org.
However, campaign contributions aren't the only form of influence.
In a conversation with Responsible Statecraft, William D. Hartung, the director of the Arms and Security Program at Center for International Policy, identified four key ways the weapons industry impacts decision-making in Congress. Aside from campaign contributions and lobbying, they donate to think tanks and spread defense industry jobs throughout the country so that they impact as many congressional districts as possible. Additionally, the revolving door between the weapons industry and the Pentagon remains unchecked on Capitol Hill and beyond.
House members also often hold their money in weapons industry stock, which Hartung called "an outrage and a conflict of interest." In the House, 20 Republicans and 16 Democrats hold stock in the defense industry with a total value of about $5 million.
Hartung said that the practice of war industry influencing politicians goes back "decades.""[The contributions] reinforce the status quo." he said, referring to the connection between campaign contributions and the NDAA vote. "People like Turner and Rogers have been on the industry's side probably their whole careers. And these contributions solidify those relationships and make it much less likely that they'll consider any alternatives. On the other hand, Rogers' Alabama has a flood of defence money coming in […] so you have the contracts and the jobs reinforcing the contributions."
Hartung concluded that "for people on the cutting edge of the defense spending, it's really about reinforcing the existing relationship and making sure they have the help to get reelected."
Posted in accordance with Title 17, Section 107, US Code, for noncommercial, educational purposes.