Greenpeace Calls for End to Carbon Offsets
Alessandra Prentice / Reuters & The Energy Mix
(October 6, 2021) — Carbon offsets are allowing the world's biggest polluters to forge ahead with business plans that are threatening global climate goals, the head of Greenpeace International said in an interview.
The model allows polluting companies to offset their emissions by buying credits from projects that reduce or avoid the release of climate-warming CO2 elsewhere, such as mass tree plantings or solar power farms — which could be worth $50 billion by 2030 according to a task force created to scale up the market. read more
Environmental advocates such as Greenpeace say this is allowing big emitters like oil majors to put off cutting their own emissions and avoid divesting from hydrocarbons, a primary source of greenhouse gases that cause global warming. read more
"There's no time for offsets. We are in a climate emergency and we need phasing out of fossil fuels," Greenpeace's Executive Director Jennifer Morgan said at the Reuters Impact conference.
She said one issue with planting trees as offsets was that it takes 20 years for trees to grow and offset emissions happening right now. In the interim wildfires could destroy the chance of reductions.
"These offsetting schemes … are pure 'greenwash' so that the companies, oil companies, can continue to do what they've been doing and make a profit," she said.
There have also been issues with how the credits are counted.
In April CarbonPlan, a group that researches the integrity of programmes designed to offset emissions, said that 29% of the forest carbon offsets it analysed in a $2 billion programme in California overestimated the amount of emissions they were offsetting, totalling 30 million tonnes or about $410 million. read more
Greenpeace's warning comes at a decisive moment for the voluntary carbon market, whose proponents acknowledge the need to become more transparent and accountable. read more
Delegates at the U.N. climate conference next month are expected to work on designing a market to channel money into offset and emissions removal projects in the fight to reach net zero greenhouse gas emissions by 2050 and avoid the most devastating impacts of climate change.
However companies will need to stop investing in any new oil, gas and coal supply projects if the world wants to achieve net zero on schedule, the International Energy Agency (IEA) said in April — the global watchdog's starkest warning yet to curb fossil fuels. read more
To watch the Reuters Impact conference please register here https://reutersevents.com/events/impact/
$11 Million Per Minute in Fossil Subsidies
'Add Fuel to the Fire,' IMF Study Shows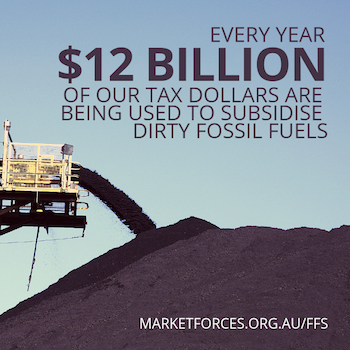 (October 7, 2021) — The coal, oil, and gas industries received US $5.9 trillion in worldwide subsidies in 2020 — a mind-bending $11.2 million per minute, every minute of every hour of every day in the year — the International Monetary Fund (IMF) revealed in an analysis released this week. An independent analyst said the report shows the subsidies "adding fuel to the fire" of the climate emergency, The Guardian reports, with not a single country pricing fossil energy in a way that reflects its full supply and environmental costs.
"Explicit subsidies that cut fuel prices accounted for 8% of the total and tax breaks another 6%," the paper writes, citing the IMF. "The biggest factors were failing to make polluters pay for the deaths and poor health caused by air pollution (42%) and for the heat waves and other impacts of global heating (29%)." Pricing fossil fuel prices to reflect their fully-loaded cost would be enough on its own to reduce global carbon dioxide emissions by more than one-third, the analysts concluded.
"This would be a big step towards meeting the internationally agreed 1.5°C target," The Guardian says. Along with that overarching target, "agreeing rules for carbon markets, which enable the proper pricing of pollution, is another COP 26 goal."
"There would be enormous benefits from reform, so there's an enormous amount at stake," said lead author Ian Parry, the IMF's Principal Environmental Fiscal Policy Expert. "Some countries are reluctant to raise energy prices because they think it will harm the poor. But holding down fossil fuel prices is a highly inefficient way to help the poor, because most of the benefits accrue to wealthier households. It would be better to target resources towards helping poor and vulnerable people directly."
This isn't the first time the usually staid IMF has shone a light on global fossil fuel subsidies, placing the total at $5.3 trillion in 2015 and $5.7 trillion in 2017. Since the Fund's last report in 2019, the pace of the climate emergency has quickened, as have the community response and the official analysis charting a course to faster, deeper emission cuts.
But by 2020, the latest numbers show, the governments setting the subsidies had yet to get the memo. With 50 countries committed to net-zero targets by mid-century and 60 carbon pricing regimes in effect around the world, "we're still just scratching the surface really, and there's an awfully long way to go," Parry said. Five countries — China, the U.S., Russia, India, and Japan — accounted for two-thirds of the subsidies, the IMF found, with the annual total on track to hit $6.4 trillion by 2025 without action to bring subsidies under control.
"To stabilize global temperatures, we must urgently move away from fossil fuels instead of adding fuel to the fire," said Carbon Tracker Senior Analyst Mike Coffin. "It's critical that governments stop propping up an industry that is in decline and look to accelerate the low-carbon energy transition, and our future, instead." He added that the United Kingdom, as host of next month's United Nations climate conference, COP 26, "could play an important global leadership role by ending all subsidies for fossil fuels," instead of sanctioning new oil and gas drilling licences in the North Sea.
"Proper pricing for fossil fuels would cut emissions by, for example, encouraging electricity generators to switch from coal to renewable energy and making electric cars an even cheaper option for motorists," The Guardian explains. "International cooperation is important, Parry said, to allay fears that countries could lose competitiveness if their fossil fuel prices were higher."
 The Guardian has commentary pointing to the G20 summit at the end of this month as the place to clear a major stumbling block to decarbonization. "It is maddening to realize the much-needed change could start happening now, if not for governments' entanglement with the fossil fuels industry in so many major economies," said E3G Senior Policy Advisor Maria Pastukhova.
Posted in accordance with Title 17, Section 107, US Code, for noncommercial, educational purposes.