Jim McIlroy / Green Left (Issue 1321)
AUSTRALIA (October 10, 2021) — A webinar organized as part of the International Peace Bureau (IPB) World Peace Conference on October 8 drew more than 100 people from across the world who condemned the new Australia-United Kingdom-United States (AUKUS) alliance.
AUKUS was announced recently by Australian Prime Minister Scott Morrison, British PM Boris Johnson and United States President Joe Biden.
Hannah Middleton, from the Australian Anti-Bases Campaign Coalition, criticized AUKUS for "tying Australia into nuclear submarines and the nuclear industry". She said it meant that Australia would become host to more US bases and US military.
"The primary purpose of AUKUS is to reassert US military control over the Indo-Pacific region. It is both a nuclear and a military pact.
"The peace movement is finding new energy in response to this aggressive pact. We will be building our anti-war coalition stronger in the future.
"We are asking for solidarity from around the world, including boycotting Australian goods. We will fight to remain nuclear-free and against all aspects of the AUKUS military alliance."
Peter Ong, Queensland secretary of the Electrical Trades Union, said ETU members are angry hearing the PM's AUKUS decision. "[The union] opposes mining uranium and the establishment of a nuclear industry."
He said workers also feel betrayed because most of the construction of nuclear submarines will be done overseas. "Proponents of a nuclear industry have been emboldened," Ong said, even though "the subs are likely to be made obsolete before they are even built". We must "work hard together" to make this becomes a major issue, he said.
Pacific Outreach Officer at the Edmund Rice Centre in Sydney Maria Tiimon Chi-Fang said the AUKUS pact continues the legacy of colonialism in the Pacific. A Kiribati resident, Tiimon Chi-Fang said: "Pacific Islanders are fighting for our survival in the face of military threats and the dangerous impact of climate change. The AUKUS decision is a disaster, which may lead to war in our region."
Dave Webb, chairperson of the Campaign for Nuclear Disarmament (CND) and a vice-president of the IPB, said the British government and its allies are provoking China with their AUKUS pact.
"The nuclear submarines being bought by Australia run on uranium enriched to a level of 95%," Webb said. "This is a weapons-grade fuel, which poses the risk of the proliferation of nuclear weaponry in the region."
He said British trade unions are divided on whether or not to support the nuclear industry. "But we are campaigning to build opposition to any expansion of nuclear power and weaponry."
Walden Bello, chairperson of the Philippines Laban ng Masa (People's Struggle) said the AUKUS military alliance represented "a significant escalation of the arms race in the Asia-Pacific region".
"AUKUS means the US is pressuring its allies to become more active as military forces in the region. Australia has been pushed to adopt nuclear-powered, instead of diesel submarines, as a step toward obtaining nuclear weapons. AUKUS accentuates the naval superiority of the US over China. The US has never renounced its nuclear First Strike capacity.
"The pact re-emphasizes Australia's role as a gendarme for the US in the region. The US military will also increase its use of Australia for military training and exercises.
"AUKUS is a white, Anglo-Saxon alliance: this adds a racial dimension to this conflict, Bello said, arguing that the struggle has to be both on "the racial and anti-war fronts".
Achin Vanaik, retired professor, writer and activist with the CND and Peace India, AUKUS had already led to nuclear proliferation. "Iran is now considering nuclear-powered submarines … There are also reactions from both India and Pakistan." Vanaik said the demand for a South Asian Nuclear Free Zone must be raised.
Joseph Gerson, chairperson of the US Campaign for Peace, Disarmament and Common Security and a vice-president of the IPB, described AUKUS as "an instrument for maintaining US power in the Asian region".
There is consensus now among the US elite on the need to contain China at any cost, he said. "AUKUS undermines the prospect of US-China cooperation, which is essential to seriously tackling climate change."
He said the peace movement in the US is beginning to make the transition from its focus on the Middle East to "confronting the US threat of war in Asia". He said the international peace movement needs to unite to fight AUKUS and "prepare for the next stage of the US-led war drive".
Global Peace Conference: Streaming Video October 15-17
The International Peace Bureau is hosting a three-day world peace conference in Barcelona this Friday through Sunday. You can check out the agenda and tune into sessions that most engages you at https://www.ipb2021.barcelona/
International Peace Movements'
Perspectives on the AUKUS Military Pact
IPB International Peace Bureau
The US crafted trilateral security partnership with Australia and UK-AUKUS is an escalation and call to arms in the Indo Pacific directly confrontational in targeting China. This security partnership:
(i) Further exacerbates the Indo-Pacific as a major theatre of US militarism and sets the goal for the nuclearization of the high seas.
(ii) It threatens the international nonproliferation regime and encourages many countries to enhance nuclear capabilities.
(iii) Centres Australia in US plans in potential warfare with China.
(iv) Takes a step of making Australia a nuclear country, something which Australia had escaped even during the Cold War period.
(v) Destabilizes the countries of Southeast Asia, the Pacific and Indian Ocean Island countries who will be forced to choose sides between major powers, undermining their sovereignty and independence.
(vi) Extends the existing conflicts into this region. (vii) Will elicit equal and militarist responses from countries identified as targets of such containment policies.
(viii) Links with the earlier military alliances like the QUAD partnership of the US, Japan, India, Australia, that are engaged in military exercises in the region.
(ix) The military carbon boot print will further endanger climate change.
Of equal importance are the concerns of the Australian and other peace movements that point to:
(i) Costs — which mean billions of dollars to the Australian exchequer at the cost to social expenditure.
(ii) China is a major trade partner for Australia, exceeding all others. This deal can jeopardise the Australian economy.
(iii) In the event of war or accidental nuclear or even conventional fall out in this region, Australia alone will have to bear the consequences.
(iv) Nuclear powered submarines that the partnership proposes will have irreversible consequences to Australian, Indo-Pacific seas and overall environment.
(v) the independent foreign policy followed by Australia and the regional countries is jeopardised. Representatives of peace movements from the countries directly impacted as well as others internationally will have a conversation on all these issues in this webinar. Objectives and Questions:
To discuss and strategize on this AUKUS, QUAD partnership and its implications for:
(i) Peace and security in the Indo Pacific region and beyond.
(ii) To analyse the implications of militarism and nuclearization in the region.
(iii) To analyse the objectives and motives of the US and other major powers in these alliances.
(iv) To evaluate the social and ecological costs of such militarization.
(v) To build a coalition that will track these developments and work with trade unions, and local peace movements to inform civil society and social movements on these issues.
(vi) What recommendations can peace movements make?
Organizations that are supporting are:
1. Asia Europe Peoples Forum
2. International Peace Bureau
3. Independent and Peaceful Australia Network
4. Campaign for Peace Disarmament and Common Security
5. Campaign for Nuclear Disarmament UK 6. Campaign for Nuclear Disarmament & Peace India
7. Australian Anti Bases Campaign Coalition
8. Committee for a Sane U.S.~China Policy
9. Laban ng Masa Philippines
10. US Peace Action Coordination: Cora Fabros (Philippines) IPB & AEPF More info: http://www.ipb.org www.facebook.com/ipb1910
Let's Talk about Submarines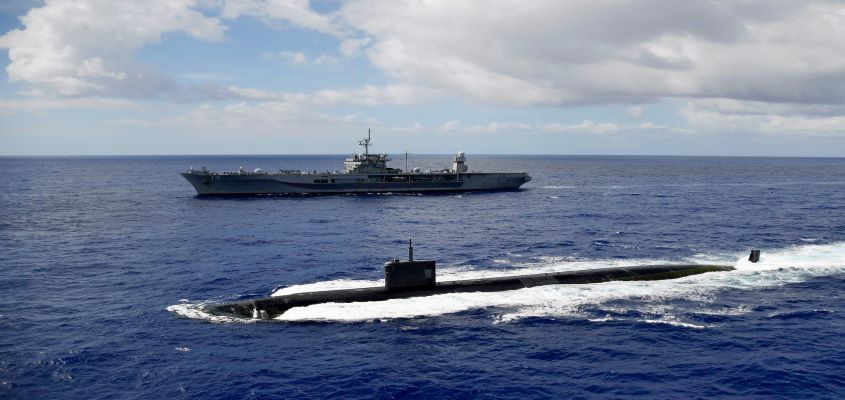 International Campaign to Abolish Nuclear Weapons, Australia
(October 12, 2021) — Last night, ICAN Australia hosted a fantastic forum on the proposed AUKUS nuclear submarine deal with perspectives from Indonesia, Aotearoa New Zealand, Fiji and Australia. The speakers are listed below and the recording is now online:
https://www.youtube.com/watch?v=QvyhStmydqU
Please retweet this tweet to disseminate the recording and ensuing thread of quotes.
We've also published a short briefing note highlighting our concerns with the deal and our call for Australia to assure it will not acquire, host or assist with the use of nuclear weapons by joining the Treaty on the Prohibition of Nuclear Weapons: https://icanw.org.au/nuclear-powered-submarines-briefing-note/
While the deal is deeply sinister, it has enraged and activated the peace and anti-nuclear movements in Australia with a flurry of statements, petitions, and new campaign alliances kicking off. There are also many people we wouldn't usually agree with slamming the deal, including former Prime Ministers (Liberal and Labor) and defense officials.
During the event last night, Professor Steven Ratuva said: "It's time for the revival of the Nuclear-Free and Independent Pacific movement. I am heartened. This is not an Australian issue, it is a global issue."
Let's Talk about Subs — Speakers:
Muhadi Sugiono, lecturer at the Department of International Relations, Gadjah Mada University, Indonesia.
Reverend James Bhagwan, General Secretary of the Pacific Conference of Churches
Professor Marianne Hanson, Associate Professor of International Relations at the University of Queensland and Co-Chair of ICAN Australia.
Professor Richard Tanter, Senior Research Associate, Nautilus Institute, and Honorary Professor in the School of Political and Social Sciences at the University of Melbourne.
Professor Steven Ratuva, Director of the Macmillan Brown Centre for Pacific Studies at the University of Canterbury, Aotearoa New Zealand.
Facilitation: Dimity Hawkins AM, ICAN co-founder.