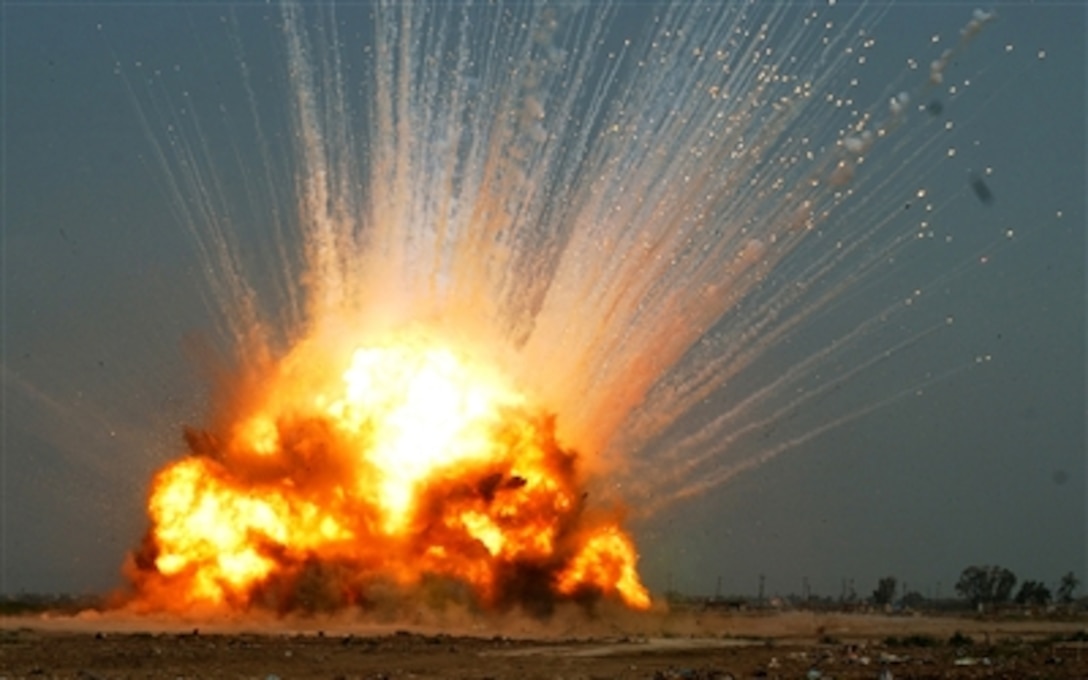 Living among Explosive Weapons in Iraq: Special Report
Humanity & Inclusion
(October 12, 2021) — Can you imagine fearing each step you and your loved ones take? Worrying as you walk to the store? As your children head out to school? As you work to support your family?
That is the terrifying reality for 8.5 million Iraqis — even four years after armed conflict ended. Explosive remnants of war are everywhere: buried in the rubble of destroyed homes and mosques, in pastures and along walking paths, hidden in household items and stuffed into children's toys.
Parents fear for their children.
"We do not allow our children to go to school on their own," explains a father living in Mosul. "We are scared that they may play with explosive ordnance." He adds that they fear there may be unexploded weapons lurking within the school's walls.
A young girl from Sinjar lost her vision when a weapon exploded. "I used to visit my friends, but now I can't because I can't walk or see very well, which makes it difficult for me to visit them," she says. "So, I spend most of my time at home."
A man living in Sinjar faced a difficult decision: to provide for his family, he would need to frequent pastures he knew to be dangerous. "Yes, I knew that [the Islamic State] has placed mines everywhere, but I am a shepherd and had to take care of my cattle." He survived an explosion.
Earlier today, Humanity & Inclusion published an important report titled, "No Safe Recovery: The Impact of Explosive Ordnance Contamination on Affected Populations in Iraq." In its pages, community members and explosive ordnance survivors share how contamination continues to affect their lives and livelihoods, posing a constant threat to themselves and their neighbors. And explosive weapons experts describe the unique challenges to restoring safety and rebuilding communities.
In Iraq, more than 1,235 square miles of land remain contaminated, much of that in densely populated areas. Weapons clearance in cities takes eight times longer and is six times more expensive than in rural areas. That's due to the layers of weapons and rubble around destroyed buildings, and the dangers posed to nearby residents. A high level of contamination, lack of funding and a shortage of specially trained weapons clearance teams means that explosive remnants of a past war could pose threats to generations to come.
Several Ways to Make a Difference:
• Uplift the voices of people impacted by these explosive devices. Share our new report with your friends via email or social media.
• Sign our petition calling on all States to stop bombing civilians. Join Humanity & Inclusion in advocating for a political declaration that will end the use of explosive weapons in populated areas, support weapons clearance efforts and provide assistance to survivors and the families of civilians killed during and after conflict.
• Make a gift that will save lives. $50 can help clear approximately 43 square feet of contaminated land and $100 can help 32 students learn to spot, avoid and report the weapons they encounter.
No Safe Recovery: The Impact of Explosive Ordnance
Contamination on Affected Populations in Iraq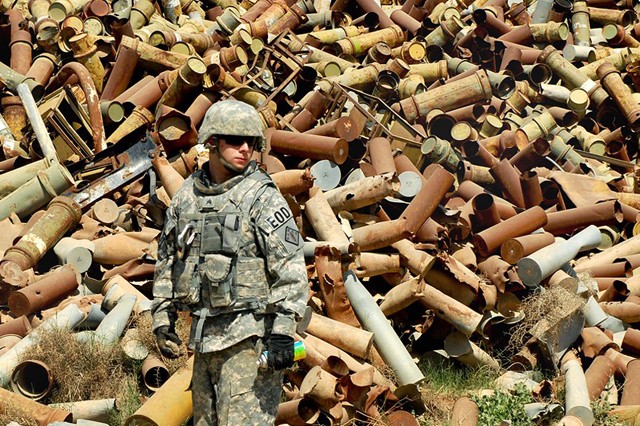 Executive Summary
"The level of contamination is high in the areas contaminated with explosive ordnance. The contamination is dangerous and deadly and needs to be fully cleared out, in order for people to live peacefully in the area. We cannot access services due to the presence of explosive ordnance."
— Community Member, Mosul
When explosive weapons, including air and artillery strikes, rocket and heavy mortars, are used in populated areas, they kill, injure, traumatise, and displace the population, destroy civilian infrastructure, and impede access to humanitarian aid, both during the conflict and for years or decades to come. As their design and use are inherently inaccurate, many explosive weapons fail to explode upon impact, contaminating the land with Explosive Ordnance (EO).
Prohibited weapons, such as landmines, including those of an improvised nature, also contribute to contaminating large swathes of land. The term "Explosive Ordnance" herein, therefore encompasses Mines, Cluster Munitions, Unexploded Ordnance, Abandoned Ordnance, Booby traps, other devices (as defined by CCW APII) and Improvised Explosive Devices.
Weapons that fail to explode when launched or dropped, as well as other unexploded ordnances designed to be activated by victims, remain an ongoing threat to civilians in the long term.With the potential to cause death, injury or permanent impairment, EO contamination negatively impacts access to services that civilians depend on, such as health, education, water and sanitation, transportation, and telecommunication. It also restricts
the movement and return of the displaced population.If left unaddressed, the threat of contamination can persist for generations, hindering peace and development efforts.
Based on desk review and qualitative interviews with land release operators, local and international humanitarian actors, government representatives, community leaders, survivors and members of their families and communities, this report identifies and describes the negative impact of EO contamination on affected communities in the Ninewa governorate, Iraq.
Explosive Ordnance continues to pose a threat to people's lives, their safety, and their access to land and other resources and services in contaminated areas in Ninewa. It also hampers the efforts of humanitarian and development actors.Moreover, certain groups, such as women and persons with disabilities are likely to be more vulnerable to the reverberating effects of EO contamination.
As urban warfare has become a common pattern of violence in modern conflicts, the example of the Ninewa governorate highlights the vital importance of ensuring that the future political declaration on explosive weapons includes clear language on the long-term impact of EO contamination and on commitments regarding inclusive and conflict-sensitive land release, EORE, victim assistance, principled humanitarian access, as well as gender, age and disability disaggregated data, to minimize the impact.
Map of EO contamination in Iraq
The Use of Explosive Weapons in Populated Areas
Generates Widespread Contamination
Despite a lack of accurate data on EO contamination in the country, Iraq is estimated to be one of the most heavily Explosive Ordnance (EO) contaminated countries in the world. A total of 3,225 km2 of land is reported to be contaminated, putting 8.5 million people at risk. Areas within Iraq that were retaken from the Islamic State (IS), including the Ninewa governorate, have particularly high levels of contamination.
In Iraq, EO contamination can be divided into 'legacy' contamination, referring to contamination that occurred before 2014, and 'new' contamination, referring to contamination stemming from the 2014-2017 conflict between the Islamic State (IS) and pro-government forces. The latter is mainly found in urban and semi- rural areas: IS manufactured and deployed Improvised Explosive Devices (IED) on an unprecedented quasi-industrial scale, while pro-government forces used large quantities of explosive weapons, especially those with wide-area effects, including air and artillery strikes, rocket attacks and heavy mortars. The resulting EO has been used and could potentially be re-used in the future by armed groups, including IS, to manufacture more IEDs, perpetuating the threat of contamination.
Contamination in populated areas is complex in nature and often referred to as "three-dimensional", meaning that it can be found anywhere: buried
in the ground, attached to refrigerators, doors, windows, concealed inside rubble, children's toys, domestic appliances, etc. This, together with the high levels of destruction, poses serious obstacles to safe access, including for armed violence reduction activities in populated areas.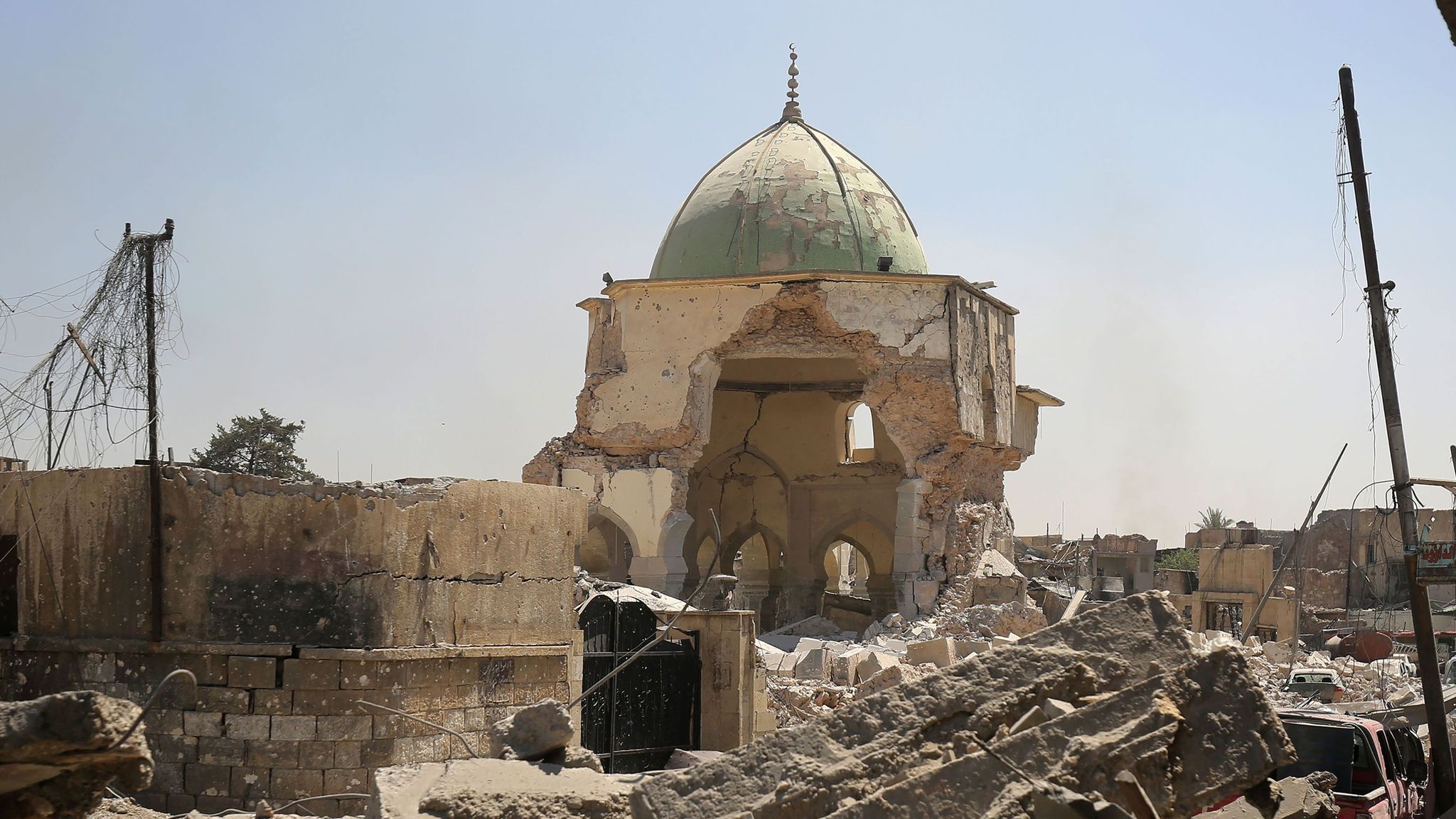 Remains of Iraq's Nuri Mosque.
Land Release in Populated Areas Is Challenging
EO land release is among the most time-, effort- and economic resource-consuming pillars of Humanitarian Mine Action (HMA) in Iraq and globally. This holds even more true when land release is conducted in populated areas, where the challenges faced by operators are much greater.
The complexity of the environment in populated areas often requires specific equipment, machinery and expertise, which cannot always be easily procured. Moreover, procedures regarding housing, land and property pose additional obstacles to land release implementation, as the process of identifying property owners is not only complex and time-consuming but also fraught with potential conflict triggers.
However, as well as preventing future EO casualties, land release, along with EORE, victim assistance and conflict transformation activities, plays a key role within the so-called 'triple nexus' that links the humanitarian, peace, and development sectors. As such, effective land release is paramount to delivering the United Nations 2030 Agenda.
In Iraq, most mine action operators perceive land release as the core focus of their activities, without necessarily registering the potential of monitoring and evaluating activities to help understand, demonstrate and spread the developmental benefits stemming from mine action by implementing a more comprehensive model that integrates not only land release, EORE and VA, but also con ict transformation. These interventions should be designed and evaluated to include age, gender and disability-inclusive indicators that measure outcomes, instead of the traditionally used output-based indicators(i.e. number of devices cleared, and number of square metres cleared), to effectively measure the impact on affected people's lives, such as the level of income generated, number of meals per day, safe access to water, or whether girls now also attend school, to name just a few.
Explosive Ordnance Risk Education is effective when adapted to risk-taking behaviours in the affected population
The effectiveness of Explosive Ordnance Risk Education (EORE) in Ninewa was found to vary depending on the target group. Generally, EORE was reported to be effective for those who lack knowledge regarding the existing hazards, including children and recent returnees. However, EORE does not appear to provide a solution for those who display forced risk- taking behaviours driven by a lack of alternative livelihoods or housing, or those who have been living in a contaminated area for a longer period.
Furthermore, the materials used in EORE activities are sometimes ill-adapted to the local situation in terms of language and contexts (e.g. type of  contamination addressed) and tend not to be accessible to persons with different types of impairments.
Massive damage destroyed vast stretched of the Old City of Mosul.
Victim Assistance-related efforts allow individuals and communities affected by EO to enjoy their rights and meet their needs
Victim assistance requires an integrated approachinvolving actions by both the mine action sector, as well as other sectors such as health, social welfare, labour and education, to meet the needs of survivors and their families, the families of those injured and/or killed, and the affected communities and to uphold their rights.
However, data show that victims lack access to basic services. Ninewa is the most severely affected governorate in terms of damage to the healthcare sector due to the conflict. Many of the healthcare facilities destroyed have not yet been rebuilt. Where medical facilities have been rehabilitated, contamination prevents people from accessing health services. Furthermore, the multiple risks of exclusion created by the intersection of disability, gender and age factors mean that, access to health services is likely to be more limited for certain groups, including women and persons with disabilities. Other factors limiting access to healthcare were also identified, including the poor quality of the services and the inability to pay medical costs.
In Ninewa, access to education has been severely affected as many schools were destroyed during the con ict and some schools, as well as roads to schools, remain contaminated by EO. This can be a driving factor in school drop-out rates, because parents do not want their children to travel long distances to the nearest operational school, or because they fear that their children may encounter or play with EO on the way to school. For children, this fear leads to reduced willingness and motivation to attend school.
"Since the place became contaminated, we do not allow our children to go to school on their own. This is because we are scared that they may play with explosive ordnance. Moreover, we are also scared that there might be explosive ordnance inside the school."
— Community Member, Mosul
Iraqi deminer in Baghdad.
General recommendations to the international community, including the Government of Iraq and other States, donors and Mine Action operators:
■ Recommendation 1: Support the development of a strong political declaration to avoid the use of explosive weapons with wide-area effect in populated areas, which includes firm commitments on land release, risk education and victim assistance.
■ Recommendation 2: In line with the Oslo and Lausanne Action Plan, do not use landmines and cluster munitions, clear contaminated areas, deliver EORE, and provide assistance to individuals and affected communities.
■ Recommendation 3: Recognize that humanitarian mine action is a prerequisite to any immediate or long-term recovery, and continue to stress the humanitarian nature of mine action activities.
■ Recommendation 4: Commit humanitarian funding to significantly scale up humanitarian mine action activities, in line with International Mine Action Standards and humanitarian principles.
■  Recommendation 5: Encourage the use of a comprehensive approach to Armed Violence Reduction, including land release, stockpile destruction, EORE, victim assistance, advocacy and conflict transformation which mainstreams a gender, age, and disability perspective in an intersectional manner.
Munitions left behind in Iraq.
The Context in Iraq
Iraq is one of the most heavily Explosive Ordnance (EO) contaminated countries in the world. EO covers a broadly defined category, encompassing landmines, cluster munitions, explosive remnants of war (ERW), booby traps, Improvised Explosive Devices (IEDs), as well as other explosive devices.
While the full extent of EO contamination in Iraq is unknown due to a lack of available data, it is estimated that 3,225 km2 of land is contaminated and an estimated 8.5 million people are at risk due to the contamination. In terms of cluster munitions contamination, Iraq is considered the fourth most contaminated country, with at least 178 km2 affected in Federal Iraq alone.
Finally, mine contamination, comprising both 'legacy' contamination and 'new' contamination (including land EDs) is estimated to cover a total of 1,866 km2 of 'Legacy' contamination refers to contamination that occurred before 2014, including contamination stemming from the 1980-1988 war with Iran, clashes between Kurdish armed groups and Saddam Hussein's regime, as well as the First and Second Gulf Wars in 1991 and 2003, respectively.
This type of contamination is mainly found in remote areas near Iraq's border with Iran, Kuwait, and Saudi Arabia. 'New' contamination, on the other hand, refers to contamination stemming from the 2014-2017 conflict between the Islamic State (IS) and pro-government forces aiming to defeat IS. This type of contamination is primarily found in urban and semi-rural areas in Anbar, Ninewa, Salah al-Din, and Kirkuk governorates.
During the conflict, IS manufactured and deployed IEDs on an unprecedented quasi-industrial scale, while pro-government forces used large amounts of explosive weapons, especially those with wide- area effects, including air and artillery strikes, rocket attacks and heavy mortars.
The extensive use of explosive weapons by both IS and pro-government forces between 2014-2017 resulted in a high number of casualties, although the exact numbers differ between sources. This is due to the lack of systematic data collection which, along with the extent of the conflict, has made it very dif cult to obtain reliable statistics.
Information provided by iMMAP puts the number of explosive hazard incidents for the period between 2014-2017 at 43,843, killing a total of 121,593 people and injuring a further 44,629 people.
Action on Armed Violence reports that the number of accidents due to the use of explosive weapons between 2014 and 2017 was 2,006, killing 39,734 people, of whom 10,492 were civilians. Finally, Iraq Body Count reports 21,011 civilian casualties caused by explosive weapons during the same period.
In December 2017, the Iraqi government declared that its war against IS was over. This triggered a new phase in the humanitarian crisis in Iraq as Internally Displaced Persons (IDPs) started to return to their homes and mine action operators started work to reduce the social, economic and environmental impact of EO contamination. However, contamination has remained a challenge ever since with around one-in-twelve IDPs reporting that the presence of EO is a barrier to their return.
Read the Full Report at this link.
Posted in accordance with Title 17, Section 107, US Code, for noncommercial, educational purposes.