US Out of Africa: Voices from the Struggle
AFRICOM Watch Bulletin / Black Alliance for Peace
(October 14, 2021) — October 1, 2021, marked 13 years since the United States Africa Command (AFRICOM) was established. Please join us in our International Month of Action Against AFRICOM to demand the complete withdrawal of US forces from Africa, the demilitarization of the African continent, and the closure of US bases throughout the world. We urge the Congressional Black Caucus (CBC) to oppose AFRICOM and support hearings on AFRICOM's impact on the African continent.
The US Out of Africa Network (USOAN) is the organizational arm of the Black Alliance for Peace's US Out of Africa: Shut Down AFRICOM campaign which is designed to educate the public about the destructive US hybrid war and imperialist policies perpetrated by AFRICOM. The USOAN aims to raise the public's awareness about the US military's existence in Africa, and how the presence of US forces exacerbates violence and instability throughout the continent.
BAP and the USOAN take a resolute anti-colonial, anti-imperialist position that links the international role of the US empire, which is an empire based on war, aggression and exploitation, to the domestic war against poor and working class Black people in the United States. This Month of Action is a contribution to the effort to build a popular movement for demilitarization and anti-imperialism in Africa. Visit the Black Alliance for Peace website for additional resources, like a Toolkit to Shut Down AFRICOM, and to learn more about how to get involved.
US Out of Africa: Voices from the Struggle
AFRICOM Watch Bulletin speaks with Tunde Osazua, the Coordinator of the US Out of Africa Network, a member of the Black Alliance for Peace's Africa Team, and a member of the team that produces the AFRICOM Watch Bulletin. 
AFRICOM Watch Bulletin: How has US military involvement on the African continent changed with AFRICOM?
Tunde Osazua: US military presence in Africa did not begin with AFRICOM. However, AFRICOM now formalizes that presence with better coordination and strategic focus for realizing the long term geopolitical goals of US imperialism in Africa. According to a US Congressional Research Service Study published in November 2010, Washington has dispatched anywhere between hundreds and several thousand combat troops, dozens of fighter planes and warships to buttress client dictatorships or to unseat adversarial regimes in dozens of countries, almost on a yearly basis. The record shows US armed forces intervened in Africa forty-eight times. The countries receiving one or more US military intervention include both Congos, Libya, Chad, Sierra Leone, Somalia, Rwanda, Liberia, Central African Republic, Gabon, Guinea-Bissau, Kenya, Tanzania, Sudan, Ivory Coast, Ethiopia, Djibouti and Eritrea.
Between the mid-1950's to the end of the 1970's, only four overt military operations were recorded, though large scale proxy and clandestine military operations were pervasive. Under Reagan-Bush Sr. (1980-1991) military intervention accelerated, rising to eight, not counting the large-scale clandestine 'special forces' and proxy wars in Southern Africa. Under the Clinton regime, US militarized intervention in Africa took off. Between 1992 and 2000, seventeen armed incursions took place, including a large-scale invasion of Somalia and military backing for the Rwandan Kagame regime. Clinton intervened in Liberia, Gabon, Congo and Sierra Leone to prop up long-standing troubled regimes. He bombed Sudan and dispatched military personnel to Kenya and Ethiopia to back proxy clients assaulting Somalia. Under Bush Jr. fifteen US military interventions took place, mainly in Central and East Africa.
AFRICOM defines its responsibilities as military-to-military partnerships to improve the capacity and operability of African armed forces, assisting other US agencies in fulfilling their tasks in Africa and, where necessary, undertaking military activities in Africa to protect America's national interests. As a result, the main thrust of AFRICOM programs involves the training and equipping of local forces. It engages in regular exercises with African armies, including African Lion Exercise, Cutlass Express Exercise, Phoenix Express, Obangame Express, Justified Accord, and Flintlock.
Most of these involve working alongside and mentoring local allies. Flintlock, for instance, the showcase effort of the Special Operations Command Africa (SOCAFRICA), is an annual training exercise in Mauritania and Senegal involving elite US, European, and African forces, which provides the command with a plethora of publicity. More than 1,600 military personnel from 30-plus nations took part in Flintlock 2020. There are a wide range of programs in addition to the US participation in various UN programs like AMISOM in Somalia.
Most of the US's African outreach these days is built on military links to neo-colonial military officers. The Pentagon has military ties with fifty-three African countries. The Bush Administration announced in 2002 that Africa was a "strategic priority in fighting terrorism". Henceforth, US foreign policy strategists, with bipartisan backing, moved to centralize and coordinate a military policy on a continent-wide basis forming AFRICOM and SOCAFRICA. These structures work with African armies, in arrangements euphemistically called "co-operative partnerships," to support anti-terrorist activities in the continent. US special operations teams are now deployed to over twenty-three African countries, and the US operates bases across the continent.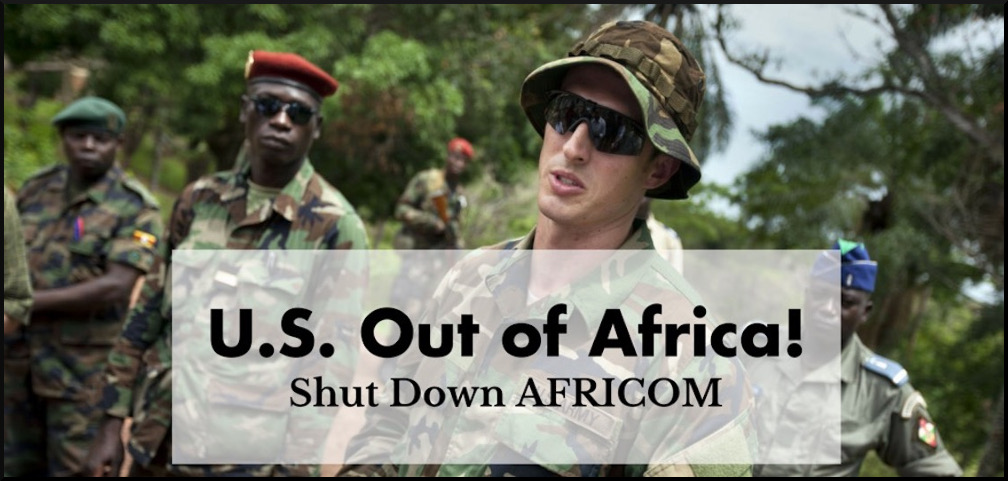 AWB: How has the US "war on terror" in Africa been impacted by US military presence?
TO: Before 9/11, Africa seemed to be free of transnational terror threats, according to the US government. Since then, US military efforts on the continent have grown in every conceivable way, from funding and manpower to missions and outposts, while at the same time the number of transnational terror groups has increased in linear fashion, according to the military. The reasons for this are multiple.
There is spillover from the war on terror in the Middle East and Central Asia. In early 2002, a senior Pentagon official speaking on background told reporters that the US invasion of Afghanistan might drive "terrorists" out of that state and onto the African continent. This spillover has contributed to the rise of groups like ISIS and Al-Qaeda on the continent. US operations are helping to spawn and spread terror groups. The war on terror actually acts as a recruitment agent for folks joining extremist organizations, which produces further terror attacks, which leave the states involved more dependent on US military support.
The Pentagon is also inflating the terror threat for its own gain. Of the 54 countries in Africa, Islamist extremists are active in less than ten. These places cannot be the entire story. There are 44 other countries in Africa. It is not that we do not perceive threats of the military, but the point needs to be made that many of these threats are exaggerated. One can distinguish between the forecasts of military planners who want a full scale external military intervention on the continent and those from entities that are planning for the large market that will be provided by Africans.
The rise of these terrorist organizations is also due to myriad local factors, including a lack of socio-economic opportunities; marginalization and discrimination; poor governance, violations of human rights; and prolonged and unresolved conflicts. By ensuring the spread of terror groups across the region, the western powers created a demand for their military assistance which hitherto did not exist. They created a protection racket for Africa that served as a justification for the presence of AFRICOM.
AWB: How has economic competition with China contributed to US militarization of the continent?
TO: AFRICOM is the US response to economic competition with China, and its increased influence on the continent. Chinese trade with Africa has surpassed that of the United States, and it is noteworthy that Chinese trade with Africa is skewed toward the African side, compared to the trade that the US and other western countries engage in. Since 2008, China has had a $5 billion deficit as a result of trade with Africa. These trade and aid relations are made more appealing to African states by the fact that Chinese aid is broadly non-conditional and is a result of historical south-south solidarity.
The response to these developments from the US and the west, of course, has been a military one. Economic dependence on the US and the west – rapidly being shattered by China – has been replaced by a new military dependence. If African countries would no longer come begging for western loans, export markets, and investment finance, they would have to be put in a position where they would come begging for western military aid in order to maintain the neo-colonial imperialist order.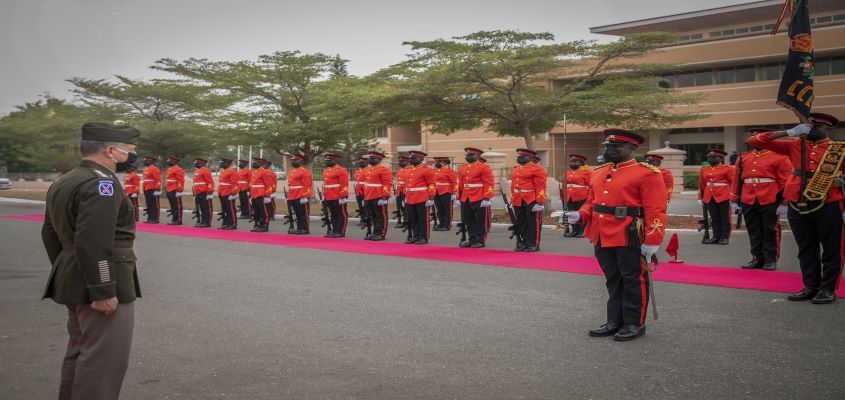 AWB: How does AFRICOM use development to mask its true purpose?
TO: AFRICOM has a developmental component, with over thirty officials from other US agencies – including the US Department of State (DOS) and the US Agency for International Development (USAID) – as part of its structure. Further, one of its deputy commanders is a senior state department official. The official reason for this is to synchronize AFRICOM's activities with US development activities. However, it has been criticised by the DOS for ensuring that military activities come before development and diplomacy.
The development programs that AFRICOM engages in are methods by which capital and capitalism are internationalized. They ensure that markets and resources are secured and that a climate conducive to world wide private investment is created and strengthened. Capitalist development programs in colonized countries often stunt economic growth by perpetuating corruption and bad policy in recipient nations, even as the aid is used to manipulate developing countries in the interest of developed countries and their favored industries. AFRICOM's developmental mask attempts to create the illusion that US actions on the continent are altruistic and not part of the new scramble for Africa.
AWB: How does US militarism through AFRICOM relate to struggles in the US?
TO: As Erica Caines responded in Bulletin #27, "Black people in the US have a colonial relationship with the larger society—a relationship characterized by over-policing and institutional racism. Police are used to enforce the status quo of white ruling-class power and colonial control over the lives of Black, Brown, and other oppressed nations of people.
This relationship is a mirror image of the imperial relationship between the US and the continent. These similarities are most evident when we examine the use of the 1033 program and so-called wars against drugs.
Imperialism should not only be understood as a global matter manifested through US military occupation. Imperialism is a domestic issue manifested through the occupation of our communities by militarized police forces. Just as the demand for #USOutOfAfrica and self-determination is key to the struggles on the continent, ending federal police programs like the 1033 program and community control (of police) are key factors in how we fight back. Neither can be done, however, without organized struggle."
AWB: Thank you for your time and analysis!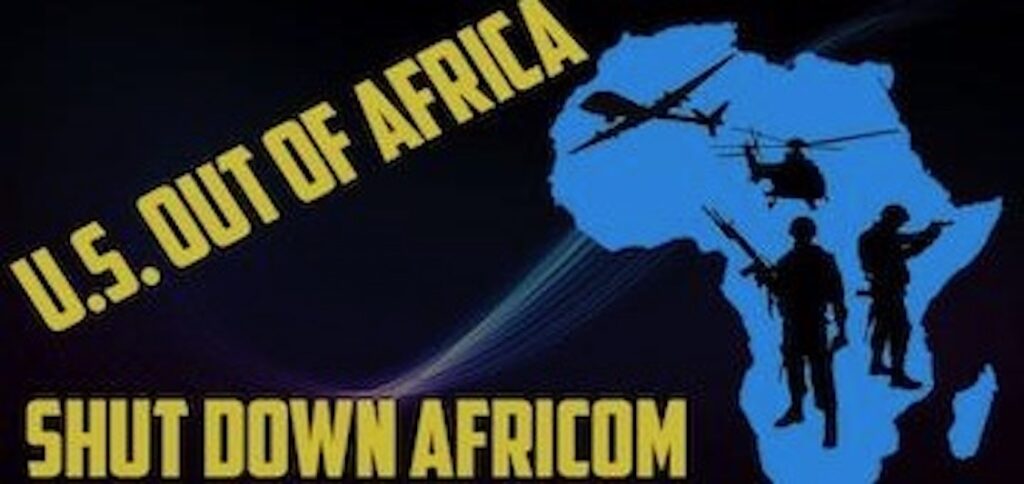 News and Analysis
US imperialism and AFRICOM w/ Abayomi Azikiwe
October 12, 2021 by Black Agenda Report Presents: The Left Lens
The founder of Pan-African Newswire, Abayomi Azikiwe, joins the Left Lens to discuss the role of USimperialism in shaping the political direction on the African continent.
Building the Movement to Shut Down AFRICOM and End US Imperialism
October 11, 2021 by Clearing the FOG with Margaret Flowers
A discussion about the harm the US is doing on the continent such as the increase in violence and terrorist acts against the people and supporting coups.
AFRICOM: An extension of US-European colonialism and genocide
October 8, 2021 by Gloria Verdieu and John Parker
We in the US have to work towards exposing and dismantling AFRICOM – which requires principled unity, solidarity and struggle – just as our comrades in Africa are determined to keep pushing forward.
Weekly Pan-African News: US Out of Africa, the Movement to Shutdown AFRICOM
October 7, 2021 by AAPRP New Mexico
A conversation about what USimperialism is doing in Africa and why we must build a movement to shutdown AFRICOM. This is part of AAPRP New Mexico's contribution to the month of action against AFRICOM.
Imperialism and the Horn of Africa
October 6, 2021 by Salome Ayuak
This is a condensed version of a speech given at the International Month of Action Against AFRICOM launch event – "AFRICOM at 13: Building the Popular Movement Towards Demilitarization and Anti-Imperialism in Africa."
AFRICOM at 13: Building the Popular Movement for Demilitarization and Anti-Imperialism in Africa
October 1, 2021 by The Black Alliance for Peace
This webinar launched BAP's international month of action to intensify the global opposition to US/NATO/Israeli militarism in Africa and construct a geostrategic vision for demilitarization and anti-imperialism on the African continent.
Join the US Out of Africa Network to get the AFRICOM Watch Bulletin in your inbox.