A History of the North Korea "Nuclear Crisis"
Hyun Lee /NJ/NY Korea Peace Now Grassroots
(October 15, 2021) — Here is a video of Hyun Lee's Presentation on History of the North Korea Nuclear Crisis to the New Jersey/New York Korea Peace Now Grassroots group. It is a 30-minute history lesson & Q&A worth listening to. It includes the Q&A afterwards. Please share!
Origin of the Nuclear Crisis in Korea
● US threat to use nuclear weapons during the Korean War
○ July 1950: CIA Director Roscoe Hillenkoetter and Gen Douglas MacArthur recommended the use of atomic weapons in Korea.
○ Nov 1950: President Truman publicly confirmed, "There has always been active consideration" of their use.
○ Throughout the Korean War, Truman deployed nuclear-configured aircraft to the region and granted authority to the UNC Commander-in-Chief to use nuclear weapons
● US deployment of tactical nuclear weapons in S Korea
○ Jan 1958: In a repudiation of Paragraph 13(d) of the Armistice, the United States introduced tactical nuclear weapons to South Korea
○ For the next three decades, the US deployed hundreds more nuclear weapons to the South, maintaining as many as 950 nuclear warheads at one point
History of US-DPRK nuclear negotiations
Clinton
● Collapse of the USSR
● Early 1990s: N Korea was accused of developing nuclear weapons
● North Korea called for talks with the US to normalize relations. US refused.
● 1994: Clinton came very close to launching a military attack on N Korea.
● War was only averted when Jimmy Carter, against the desire of Clinton, went to NK to met Kim Il Sung and negotiated the Agreed Framework.
● Agreed Framework:
○ NK would freeze and eventually dismantle its nuclear infrastructure
○ US would provide energy aid and two light water nuclear reactors
○ Both parties would normalize relations
● 1994 to 2002: NK froze its plutonium program and allowed IAEA to observe all its nuclear fuel
● The US didn't keep its promise
○ Didn't maintain regular deliveries of fuel
○ Didn't build the new reactors
○ Took only limited steps to normalize relations.
History of US-DPRK Nuclear Negotiations under Bush
● 2002: Declared NK part of the "axis of evil"
● "Bush doctrine": asserted US right to preemptively attack any nation that had weapons of mass destruction
● Openly talked about implementing a naval blockade of North Korea and seizing its ships — an act of war
● Bush accused NK of uranium enrichment and cancelled the Agreed Framework
● 2003: NK withdrew from NPT, kicked out IAEA inspectors and restarted its plutonium program.
● 2003-2005: Six-party talks led by China
● Sep 2005: Six party talks agreement
● June 2008: NK provided a detailed report of its nuclear activities
● US introduced new demands, not part of the agreement
● 2009: NK ended its compliance and tested a nuclear weapon.
● US responded by tightening sanctions.
History of US-DPRK nuclear negotiations
Under Obama
● Strategic patience
○ = Sanctions and preparing for NK's collapse
● US conducted massive war-games that include practicing preemptive attacks on North Korean military targets, including nuclear attacks, and decapitation of the North Korean leadership.
**US threats of war, including nuclear attack, against NK, has been bipartisan.
Under Trump
● Maximum pressure
● Singapore agreement
○ 'Establish new relations'
○ Establish peace regime
○ Denuclearize the peninsula
● Breakdown of talks in Hanoi
○ Bolton demands NK's unilateral disarmament
● Back to maximum pressure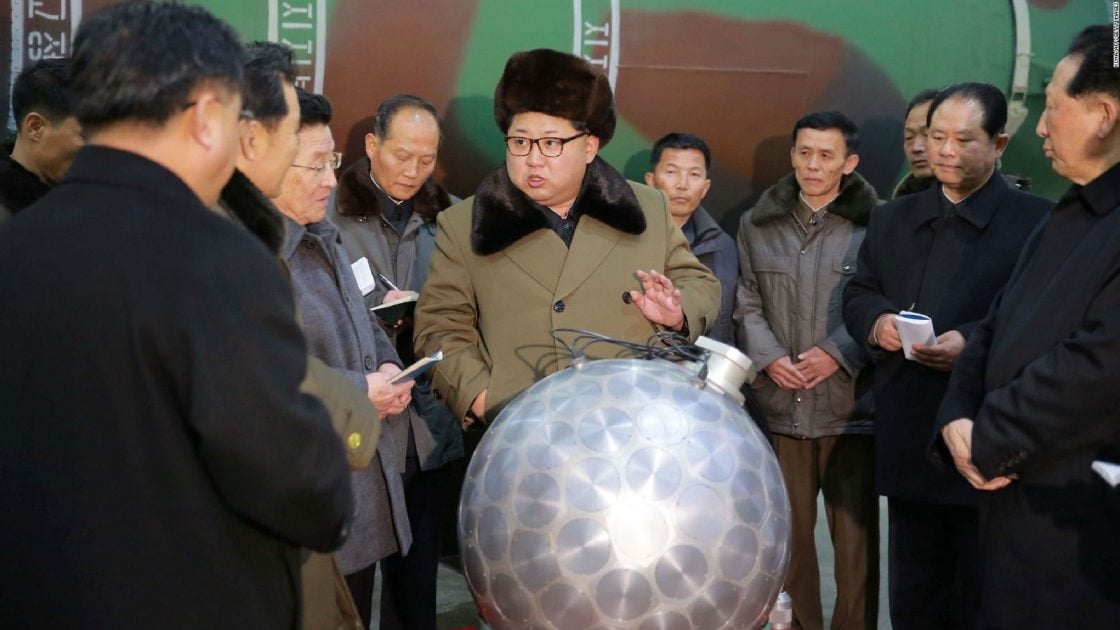 The Current Stalemate The Path to Peace
● N Korea: We will only meet with the US if it drops its hostile policy
● US: We're willing to meet with N Korea without preconditions
● But is the US willing to drop its hostile policy and follow through on past agreements?
1. Formally ending the Korean War is key to de-escalating the nuclear standoff and creating space for a negotiated resolution
2. A peace agreement would reduce the risk of an intentional or accidental nuclear escalation
3. A peace agreement does not imply recognition of North Korea as a nuclear weapons state — as the NPT only recognizes those states that detonated a nuclear weapon prior to 1967
Resources
1. "Path to Peace: The Case for a Peace Agreement to End the Korean War"
○ https://koreapeacenow.org/wp-content/uploads/2021/02/Path-to-Peace-WEB.pdf
2. "Brief: Implications for a Peace Agreement for Denuclearization"
○ https://koreapeacenow.org/wp-content/uploads/2021/03/02-The-Implications-Peace-Agreement-Denuclearization.pdf
3. "Frequently Asked Questions on Peace in Korea"
○ https://www.womencrossdmz.org/wp-content/uploads/2019/09/FAQ_11X17_V2-2.pdf
ACTION ALERT: Korea Peace Advocacy Week November 1-4!
Please plan on joining us for Korea Peace Advocacy Week November 1-4!
From Nov. 1-4, we will urge members of Congress to support legislation for peace in Korea:
• H.R.3446 – Peace on the Korean Peninsula Act
• H.R.1504 – Enhancing North Korea Humanitarian Assistance Act – House
• S.690 – Enhancing North Korea Humanitarian Assistance Act – Senate
• S.2688 – Korean War Divided Families Reunification Act
How it will work:
• From Nov. 1-4, we will hold two daily Zoom calls (one during the day and one in the evening). You may join one call or participate as much as you'd like!
• Before Saturday, Oct. 31, register for the call here. Indicate which date(s) and time(s) you'd like to attend. Once you register, you'll be sent a Zoom link.
• At each session, we will hold an optional mini-training session on how to call and/or email your member of Congress. We will also provide a script for the phone call and a template for the email.
• During the Zoom call, everyone will place themselves on mute while they call and/or email their member of Congress to ask them to support legislation for Korea peace.
That's it!
Help spread the word: Please ask your friends and neighbors to participate. No prior experience is necessary! We need as many people in your district as possible to participate in the national action to maximize our impact. You can also use our social media toolkit to share our action on social media.
Register here. Registration ends on October 31, 2021.