ACTION ALERT:
Protect Indigenous Indonesian
Lands from US Military Destruction!
Alex McAdams / World BEYOND War
CHARLOTTESVILLE, VA (November 3, 2021) — World BEYOND War has been helping to promote and support an advocacy campaign led by indigenous communities in rural Tambrauw, West Papua, in opposition to the Indonesian government's plan to build a military base there without the communities' permission. The base would cause serious harm, and its construction is likely illegal due to its role in protecting mining interests as opposed to international "defense." But people need help if they are going to stop it.
ACTION: With your help, we can prevent this base construction!
With 90% of the residents being farmers and fishermen, they rely on natural resources — all of which would be compromised with the development of a military base.
Military bases around the world have left a legacy of irreparable environmental damage including poisoning the soil and water, which in turn destroys food supplies and wildlife around them. Local activists are also calling for an end to the violence which they say they've experienced since their lands were rezoned in 2008 and the military moved in. Building a military base will only exacerbate this violence and disrupt the lives of otherwise peaceful people.
With your support, we can help ensure that the people in Tambrauw remain safe and free from violence. All donations will cover costs related to closing military bases including supporting the Indigenous Tambrauw Community Conference. These specific expenses include transportation of elders coming from distributed remote areas to express their opposition and strategize action plans, food, printing and photocopying of materials, rental of a projector and sound system, and other overhead costs.
"We, the people of Tambrauw, reject the construction of the Kodim [base] and all its supporting units because we don't want any more military violence against our citizens, we also don't want the presence of the military to facilitate the arrival of investment in our area that can steal our natural resources and destroy the forests where we live." 
— Yohanis Mambrasar, a resident of Tambrauw and lawyer appointed to represent the Indigenous landowners.
Thank you for protecting indigenous communities and their land.
In solidarity.
Alex McAdams is the Development Director for World BEYOND War. WBW is a global network of volunteers, chapters, and affiliated organizations advocating for the abolition of the institution of war.
"We Need Your Help to
Stop the Militarism in Our Homeland"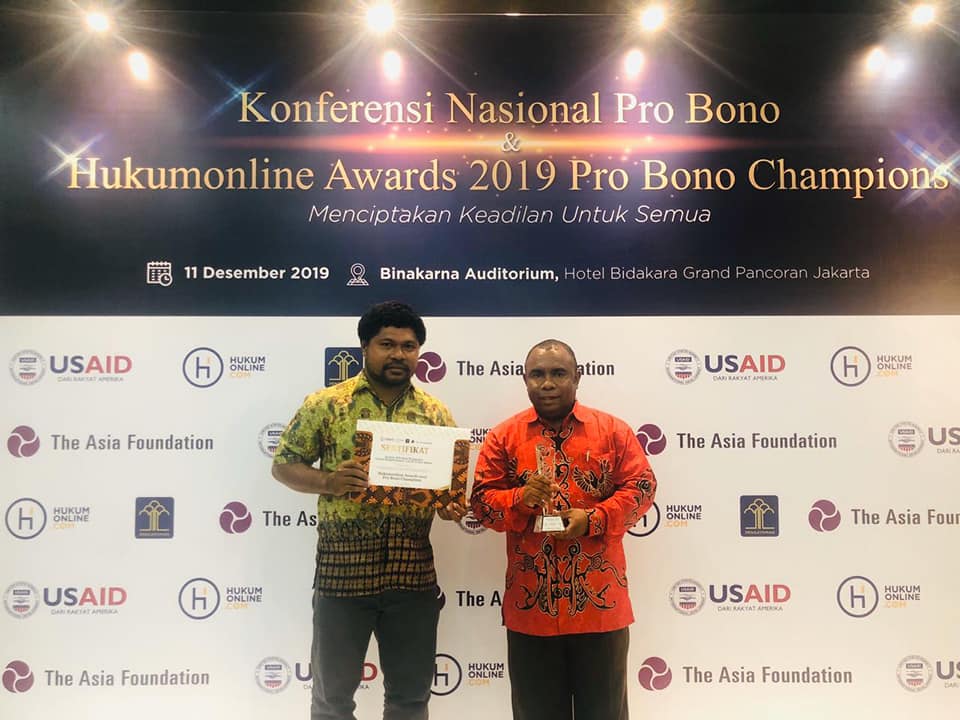 TAMBRAUW, West Papua (July 14, 2021) — The government of Indonesia is continuing to move forward with building a military base (KODIM 1810) in the rural area of Tambrauw West Papua without consultation or permission from the Indigenous landowners who call this ancestral land their home.
More than 90% of Tambrauw residents are traditional farmers and fishermen who depend on the land and environment for their survival, and the development of the military base would increase militarism against community members and threaten their long-term health and sustainability.
In this email below, local lawyer and resident of Tambrauw, Yohanis Mambrasar, tells us firsthand what is happening in Tambrauw and how we can help end the militarism devastating their otherwise peaceful and safe community:
"My name is Yohanis Mambrasar, I am a lawyer and a resident of Tambrauw, West Papua. The people of Tambrauw appointed me as their legal counsel when we began our protest against the construction of a new military base Kodim in Tambrauw.
"The people of Tambrauw have long experienced military violence from the TNI (Indonesian National Army). I experienced military violence first hand in 2012, while my parents experienced TNI violence in the 1960s-1980s when Papua was designated as a military operation area.
 "In 2008 our homeland was re-zoned and named Tambrauw Regency. This is when military violence against us began again. Under Indonesian rule the military is deeply involved in development and other civilian affairs, to the point of creating policies that regulate and suppress citizens who are demanding their rights.
"The involvement of the military in regulating and limiting civil rights in society frequently leads to violence against the people. In the last four years alone we have recorded 31 cases of military violence against civilians in just 5 districts.
"Currently, the TNI and the Government are planning to build a new military base, the 1810 Tambrauw Kodim, and the TNI has mobilized hundreds of troops to Tambrauw.
"We, the residents of Tambrauw, do not agree with the presence of the TNI in Tambrauw. We held a consultation among community leaders — Traditional Leaders, Church Leaders, Women Leaders, Youth and Students — and we are united in our rejection of the construction of the 1810 Kodim and all its supporting units. We have even submitted our decision directly to TNI and the government, but TNI insists on building the Kodim and its supporting units.
"We don't want any more military violence against our citizens. We also don't want the presence of the military to facilitate the arrival of investment in our area that can steal our natural resources and destroy the forests where we live.
"We Tambrauw people want to live in peace on our ancestral land. We have a culture of social relations and rules of life that govern our lives in an orderly and peaceful manner. The culture and rules of life that we adhere to have proven to create a harmonious and balanced life for us Tambrauw people and the natural environment in which we live.
"We need your help to stop this militarisation of our homeland. Please lend your support to help the people of Tambrauw stop the construction of a new military base, and get the military out of Tambrauw."