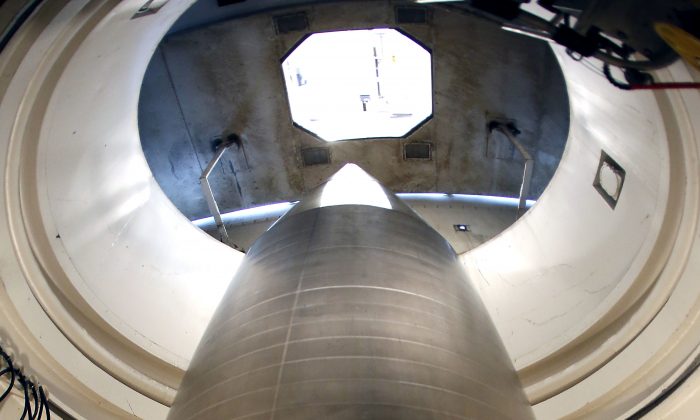 Biden Administration Considers
Adjusting Rationale for US Nuclear Arsenal
Paul Sonne and John Hudson / The Washington Post
(November 2, 2021) — The White House is planning meetings this month to discuss whether to declare the "sole purpose" of the US nuclear arsenal is to deter or retaliate against a nuclear attack — a change in policy supported by President Biden and arms control advocates but opposed by key US allies and GOP lawmakers.
The meetings at the National Security Council are part of the administration's broader effort to hammer out a new nuclear weapons policy by early next year. Any decision would be announced then, according to officials familiar with the discussions, who spoke on the condition of anonymity to describe internal deliberations.
The process is freighted with multiple issues, including whether to roll back a vast, multi-decade modernization of US nuclear systems, scrap new nuclear capabilities that the Trump administration approved and change the policy on when the United States would use a nuclear weapon.
Biden has publicly supported modifying the rationale for the US arsenal.
In a January 2017 speech, delivered days before he left office as vice president, Biden said it would be "hard to envision a plausible scenario in which the first use of nuclear weapons by the United States would be necessary. Or make sense."
The Obama administration at its outset had rolled out a nuclear weapons policy that stopped short of naming deterrence as the "sole purpose" of US nuclear weapons, conceding that the arsenal could play a role in deterring a conventional or chemical weapons attack in a "narrow range of contingencies."
While it wasn't prepared to make a "sole purpose" declaration at the time, the Obama administration pledged to "work to establish conditions under which such a policy could be safely adopted."
By 2017, Biden said he felt confident that sufficient progress had been made to adopt the policy and declare "that deterring — and if necessary, retaliating against — a nuclear attack should be the sole purpose of the US nuclear arsenal."
Still, the Obama administration considered and ultimately declined to make such a declaration in its waning days.
On his campaign website in 2020, Biden reiterated his belief in a "sole purpose" declaration and said as president he would "work to put that belief into practice, in consultation with our allies and military."
Progressive lawmakers have been pushing for the United States to go even further and declare a "no first use" policy, under which United States would pledge not to use a nuclear weapon unless attacked with one first.
Rep. Adam Smith (D-Wash.), chairman of the House Armed Services Committee, and Sen. Elizabeth Warren (D-Mass.), a member of the Senate Armed Services Committee, earlier this year reintroduced legislation that would make that policy law.
"Threatening to use nuclear weapons first makes America less safe because it increases the chances of a miscalculation or an accident," Warren said at the time. "There are no winners in a nuclear war, and the US should never start one."
But people tracking the issue believe such a "no first use" pledge is unlikely, primarily because it would upset US allies and rankle the military by constraining planning and strike options. Biden also hasn't voiced support for a "no first use" pledge.
One US official with knowledge of the matter said the agenda item for the White House meetings on nuclear policy this month is whether to make a "sole purpose" declaration, not a "no first use" pledge. A "sole purpose" declaration, depending on its wording, wouldn't necessarily constrain US strike options for nuclear weapons.
GOP lawmakers have vocally opposed either a "no first use" or "sole purpose" declaration.
Sen. James E. Risch (R-Idaho), the top Republican on the Senate Foreign Relations Committee, argued such a pronouncement would embolden China and Russia, which are both expanding their nuclear capabilities, and destabilize the international system by alienating allies. Risch, writing in Defense News, said the United States benefits from some ambiguity about when the president might launch a nuclear weapon.
He denounced a "sole purpose" declaration as "another name for a 'no first use' policy." "Declaring that the United States will never be the first to use a nuclear weapon represents the worst in potential policy," Risch said. "It scares our friends, encourages our adversaries and damages the very nonproliferation goals it claims to advance."
In a July 31 letter to the White House, 23 GOP members of the House Armed Services Committee warned that either policy would increase the risk of nuclear war and undermine allies who rely on the US nuclear arsenal to deter not only nuclear attacks but also massive nonnuclear attacks.
Allies have also pushed against the prospect of a change.
British Secretary of State for Defense Ben Wallace, in comments to the American Enterprise Institute in July, said the U.K. government wouldn't want to see either a "no first use" or "sole purpose" declaration by the United States.
"We're not in favor of that change of doctrine," Wallace said, noting that British doctrine reserves the right to deploy nuclear weapons "as we must."
In testimony to Congress, top Pentagon leaders, including Gen. Mark A. Milley, chairman of the Joint Chiefs of Staff, and Deputy Defense Secretary Kathleen Hicks, have said they don't support a "no first use" declaration, because it would take away options or potentially beneficial ambiguity for the president in a crisis.
In anticipation of the review at the White House this month, the Biden administration sent out a survey to key US allies notifying them that the United States was considering revising its nuclear deterrence policy, said western officials familiar with the matter. The survey was first reported by the Financial Times. France also expressed opposition to the United States announcing a "no first use" policy or making a "sole purpose" declaration, with at least one key ally calling it a gift to Russia or China, according to a western official.
A senior Biden administration official said in a statement that the White House would take the perspective of US allies into account, while renewing American leadership in nonproliferation and addressing the existential threat of nuclear weapons.
"The US will continue to maintain a safe, secure, and effective strategic deterrent while ensuring our extended deterrence commitments to allies and partners remain strong and credible," the senior official said, reiterating the administration's commitment to further consultations with allies.
In its nuclear weapons policy released in 2018, the Trump administration explicitly stated that deterring a nuclear attack is "not the sole purpose of nuclear weapons" and made no pledge to work toward such a policy.
The Trump administration also explicitly rejected the prospect of a "no first use" policy, saying it remained the policy of the United States to purposefully "retain some ambiguity regarding the precise circumstances that might lead to a US nuclear response."
Anti-nuclear advocates say such ambiguity creates a risk of miscalculation.
Jon Wolfsthal, a former top White House adviser on nuclear weapons and senior adviser to the anti-nuclear nonprofit Global Zero, said he believes Biden continues to support a change and is working to balance nervousness among allies with risks of relying too heavily on nuclear weapons. "What remains to be seen is how he balances those issues," said Wolfsthal, who supports a declaration that the United States won't start a nuclear war to reduce the risk of an accidental conflict or an unintended escalation with nuclear weapons.
Joshua Pollack, a nuclear expert at the Middlebury Institute of International Studies, said he would be surprised if the Biden administration were seriously considering a "no first use" policy and suspected opponents were raising the idea to scupper a more moderate "sole purpose" declaration.
"Nuclear 'no first use' has dropped out of policy debates some time ago only to bubble back up when it's conflated with a 'sole purpose' declaration as a way of criticizing them both," Pollack said.
He noted that a "sole purpose" declaration "doesn't pledge anything" and is "not a statement about when nuclear weapons would appear on the battlefield." Rather, he said, it is "simply an explanation" for the country's current nuclear weapons posture.
Further Reading
•  "Sensors add to accuracy and power of US nuclear weapons but may create new security perils," The Washington Post, October 28, 2021.
Posted in accordance with Title 17, Section 107, US Code, for noncommercial, educational purposes.