Anti-War Group Blocks Entrance to Raytheon Facility
to Protest US Killing of Civilians Worldwide
Jake Johnson / Common Dreams
(August 12, 2021) — A group of anti-war activists blockaded the entrances to a Raytheon facility in Portsmouth, Rhode Island on Thursday morning to protest the role the weapons-maker plays in the killing of civilians in Yemen, the occupied Palestinian territories, and elsewhere around the world.
The demonstration was organized and live-streamed on Facebook by Resist and Abolish the Military Industrial Complex (RAM INC) and The FANG Collective, a direct-action organization based in Pawtucket, Rhode Island. Watch the stream here.
In a statement, The FANG Collective pointed to a 2018 CNN report revealing that Raytheon—the second-largest military contractor in the world and the largest producer of guided missiles—manufactured bombs and other munitions that the US-backed, Saudi-led coalition used to kill dozens of women, children, and other civilians in Yemen. [See excerpt from CNN investigation below — EAW]
"Raytheon also has close ties to the Israeli military and supplies them with missiles, bombs, and other equipment, including the 'Iron Dome' system," the group said. "These weapons have been linked to dozens of attacks that have killed and injured civilians."
Two protestors at the Portsmouth facility attached themselves to cars to obstruct the entrances as others chanted "Shame on Raytheon!" and held banners that read "Raytheon Profits From Genocide."
Police officers soon arrived on the scene and extracted at least one of the protesters from a car, towing it away.
"Raytheon profits from the killing of civilians, families, and children in Palestine, Yemen, and elsewhere," one of the demonstrators said. "We can't sit idly by while Raytheon engineers new and more destructive ways of killing innocent people. Raytheon must be stopped and held accountable."
Common Dreams articles are licensed under Creative Commons (CC BY-NC-ND 3.0). Feel free to republish and share widely.
Exclusive Report: Made in America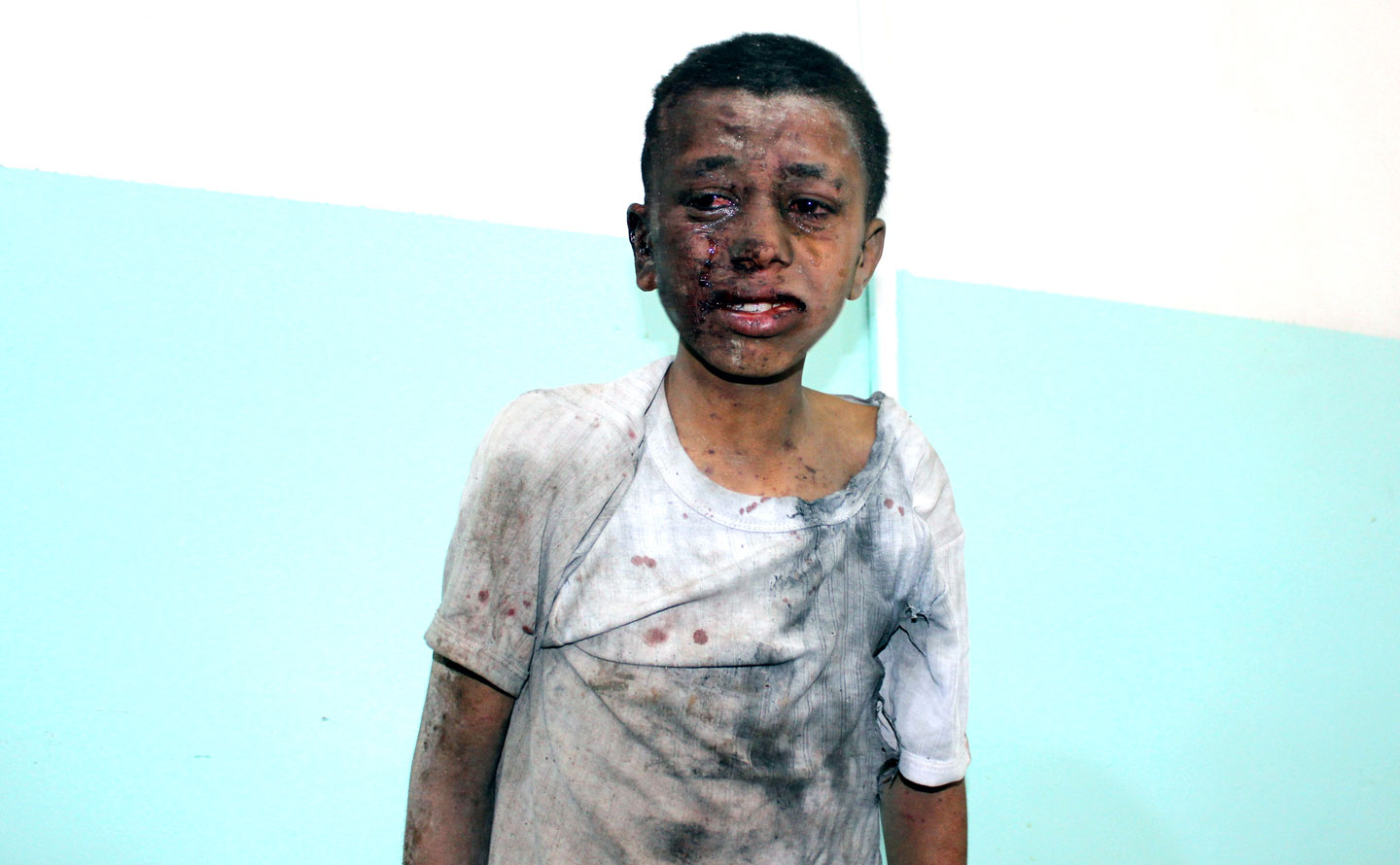 Shrapnel Found in Yemen Ties US Bombs to string of
Civilian Deaths Over Course of Bloody Civil War
Nima Elbagir, Salma Abdelaziz, and Laura Smith-Spark / CNN
(September 2018) — Last month, a CNN investigation found the remnants of a US-made bomb at the scene of an airstrike that left dozens of schoolboys dead. Now, an independent Yemen-based human rights group called Mwatana has given CNN exclusive access to a trove of documents that show fragments of US-manufactured bombs at the scene of a string of other incidents since 2015, when the civil war began. In each of those cases, civilians were either killed or put at risk.
Mwatana, which documents violations by all parties in Yemen's conflict, used its network of trained field researchers to photograph evidence at the scene of strikes. The group consulted weapons experts to identify the weapons used from serial numbers found on the fragments. Mwatana was recognized last month with an award by US body Human Rights First.
While CNN was not on the ground, we have made our own checks using image metadata and publicly available government websites linking each of these incidents to a US manufacturer. An internationally renowned weapons expert also analyzed each image for CNN.
The incidents give a snapshot of US involvement in Yemen's conflict through its support for the Saudi-led coalition that is battling a Houthi-led rebel insurgency. The United States says it does not make targeting decisions for the coalition. But it does support its operations through billions of dollars in arms sales, the refueling of Saudi combat aircraft and some sharing of intelligence.
"Raytheon profits from the killing of civilians, families, and children
in Palestine, Yemen, and elsewhere. We can't sit idly by while Raytheon
engineers new and more destructive ways of killing innocent people."
Video: US-made Weapons Linked to Yemen Deaths 
Mwatana's chairwoman, Radhya al-Mutawakel, told CNN that the US bore a "legal and moral responsibility for selling weapons to the Saudi-led coalition" that are worsening the conflict in Yemen.
"In more than one way and during more than one incident, remnants of American weapons have been found at the site of airstrikes that killed civilians," she told CNN from Geneva, Switzerland. "Yemeni civilians are dying every day because of this war and you (America) are fueling this war, so stop fueling this war. It is a shame that financial interests are worth more than the blood of innocent people."
Cdr. Rebecca Rebarich, a spokeswoman for the Pentagon, told CNN that "the final decisions on the conduct of operations in the campaign are made by the members of the Saudi-led coalition, not the United States." Rebarich called "upon all parties to take all feasible precautions to avoid harm to civilians" and said the US took "all credible accounts of civilian casualties seriously."
Col. Turki al-Malki, the Saudi-led coalition spokesman, told CNN that the coalition would investigate. The "coalition takes any allegations of incidents very seriously" and "targeting operations are carried out in conformity to the rules of engagement, which resemble the highest international standards," he added.
US defense contractor Raytheon has not yet responded to a CNN request for comment.
Recorded Cases
APRIL 30, 2015
YEMEN: Strike on home kills one, injures six
MAY 26, 2015; OCTOBER 9, 2015
YEMEN: Airstrikes hit a school
AUGUST 10, 2015
YEMEN: Cluster bombs hit farmer's home, kill 10 civilians
AUGUST 28, 2015
YEMEN: Strike on two houses kills 8 people
SEPTEMBER 15, 2015
YEMEN: Two hurt in bombing of home
JANUARY 6, 2016
YEMEN: Factory burns for three days
FEBRUARY 2, 2016
YEMEN: Missile strike kills 1 civilian, injures 8
SEPTEMBER 20, 2016
YEMEN: Strike on vehicle kills 15 members of one family
SEPTEMBER 24, 2016
YEMEN: Apartment bombing kills 6
OCTOBER 5, 2016
YEMEN: Man killed in cluster bomb strike on fishing boat
APRIL 22, 2018
YEMEN: Strike on wedding kills 21, including children
Posted in accordance with Title 17, Section 107, US Code, for noncommercial, educational purposes.