As US Troops and Families Go Hungry,
They Don't Trust the Pentagon for Help
Konstantin Toropin / Military.com
(November 19, 2021) — Angela, an enlisted sailor, saw her baby daughter as a miracle when she was born two years ago. The little girl quickly took over her life, and the child's love of "Frozen" means that Angela can recite both movies from memory.
Now, as a single mother on active duty, she's fighting to put food on their table, doing battle with her chain of command.
The need to overdraft her bank account for baby formula, living off only chicken and rice, or applying for civilian low-income assistance, only to be rejected — it all feels like a broken promise by the Navy, Angela, who has served for a decade, told Military.com in an interview. 
"I have called my dad crying because I didn't even have money to buy bread or peanut butter and jelly because I was so broke," said Angela, whose name has been changed to protect her identity due to concerns about retaliation.
But she says the Navy has offered little assistance. Instead, leaders have intensified her struggles and insisted she find some way to make do.
"I've pretty much figured out that the Navy is not here to help you," she said.
Angela is among thousands of service members on active duty who struggle daily with hunger related to financial hardship, though the true scope of the problem is not fully known. It's a stark reality that some troops cannot feed their families while serving in America's all-volunteer force, despite its commitments to welfare, support services and benefits.
The gap in support means some service members are forced to rely on outside help like food pantries and relief organizations like the Navy-Marine Corps Relief Society.
About 14% of enlisted active-duty families reported "low" or "very low" food security in an annual 2020 survey, according to Denise Hollywood, the chief community and programs officer for Blue Star Families.
Enlisted troops appear to be suffering the most. A total of 29% of the most junior enlisted ranks of E1-E4, a segment that includes more than 570,000 people and more than half of all enlisted in the military, reported facing hunger over the past year, according to the advocacy group Feeding America, the largest hunger relief organization in the US.
In all, 160,000 service members struggled to provide food for themselves or their families, the group recently reported. A pair of Army studies found the problem was made worse by the COVID-19 pandemic. One of those studiesfound that on one Army base, one in three reported being food insecure in 2019.
The second study, done at a different Army base, saw that out of a sample of nearly 5,000 soldiers, the COVID-19 pandemic caused the percentage of food-insecure troops to almost double from 16% to 31%.
The term food-insecure means a person or family finds themselves unable to reliably get enough affordable and nutritious food.
Of the 199 food banks Feeding America has across the U.S., 74 have a specific food assistance program for active-duty military families, and 34 are near a base and regularly help service members.
Military.com spoke with two other service members for this story who were struggling with hunger. Both are single mothers – one stationed in Maryland and the other in Hawaii — who said they did not trust their chain of command to help with their problems.
"I get told you need to buckle up and bear with it, you need to figure it out yourself," the Maryland service member said.
She said senior enlisted and officers would berate her with expletives wanting to know why she was complaining about her struggles. "Why are you making me look bad?" she said they would ask.
All three mothers said they were forced to seek mental health help as a result of their financial struggles. Two said they considered suicide.
Data collected by nonprofit organizations going back to at least 2012 has documented the problem with hunger. However, historically the Pentagon hasnot been forthcoming with its own figures on the issue.
"The Navy is aware of the ongoing economic challenges that Sailors face, many of which have been exacerbated by the pandemic and inflationary trends in the economy," Priscilla Rodriguez, a spokeswoman for the service, told Military.com.
Angela's financial struggles began after the birth of her daughter while she was stationed in Texas.
"There was a time when she was first born that I was overdrafting my account every single pay period because of diapers," she explained.
The struggle to feed her child came quickly. Her daughter, who is lactose intolerant, required a specific type of baby formula, because Angela was unable to produce enough breast milk due to long work hours. That was a $40 expense every week or two, she said.
Angela tried applying for WIC — the government program aimed to help low-income parents feed their children — but "they told me that I made $1,000 too much." 
"We ran out of formula and I was overdrafted," Angela recalled. "I had to make do with what I had, and I had to early start her on applesauce … that way, she was satiated enough."
Eventually, Angela transferred to California, partly in an effort to be close to her daughter's father who was also stationed on the West Coast. The cost of living there only made things worse.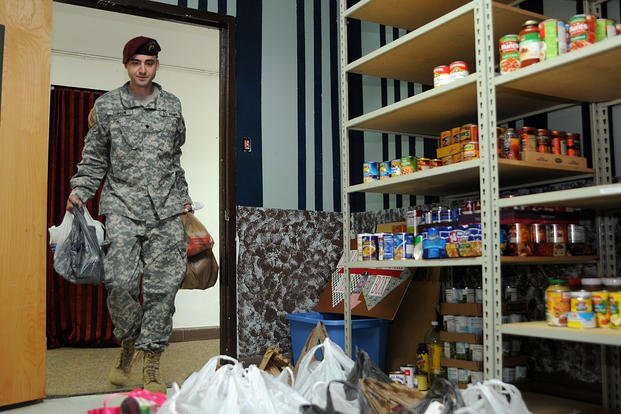 A soldier helps stock the Paratrooper Assistance Pantry
with food and child-care supplies. (US Army photo)
Paycheck to Paycheck
Feeding America says there isn't one cause of hunger among military families, with low salaries for enlisted members, high rates of unemployment for military spouses, and high costs of child care contributing to the broader problem. For many families, causes stack up, weaving a web of hardship that is difficult to escape.
But the cost of housing plays an outsized role, Vince Hall, Feeding America's head of government relations, told Military.com in a phone interview.
"It's shocking to see military families lining up for food assistance because they are often stationed in some of the nation's most expensive housing markets but lack the compensation necessary to live in those markets," Hall said.
That allowance, known as the Basic Allowance for Housing, or BAH, is designed to cover costs of rent and utilities and it varies based on what region troops are stationed.
"In a community like San Diego, [the BAH] is often insufficient to find housing because the cost of living is 40% higher than the national average," Hall said.
Angela, who is stationed in southern California, said she also worries about two single, pregnant sailors she oversees who live on base in barracks.
Navy policies don't allow families to stay in the barracks. Once they deliver their babies, "they're going to receive BAH, but they're not going to receive enough BAH to help themselves," she said.
BAH is also a double-edged sword because while officially an entitlement and not considered taxable income, it counts as gross income when calculating eligibility for the Supplemental Nutrition Assistance Program, or SNAP, which is more widely known as food stamps.
Parents like Angela also face costs for child care and transportation to and from daycare that strain finances. Angela also lives almost half an hour from her base — a location she chose for its better schools — but the cost of the commute eats into her paycheck. 
"I am physically paycheck to paycheck to support myself, my child and the Navy's mission," she said.
A single grocery trip can run Angela about $180, but she's learned to make the food last up to three weeks for her and her daughter. "That way she's completely nourished, and I'm not taking anything from her mouth," she said.
However, it means her own nutrition suffers.
"I literally just eat chicken thighs and white rice," she said. "If I'm trying to splurge, I will get yellow rice and a rotisserie chicken, and I will mix them together and I will have a large pot that will last me the entire week."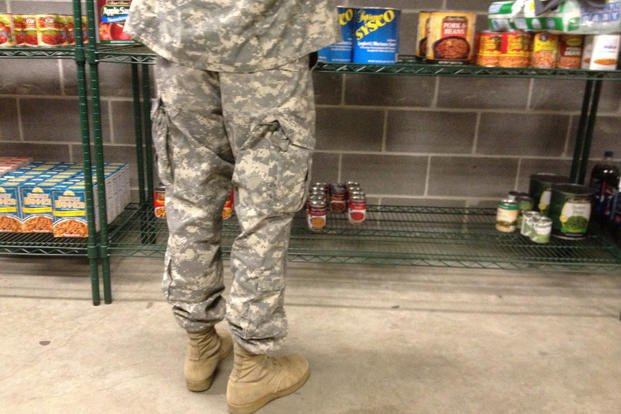 A soldier shops food pantry shelves at the
Kansas City armory. (National Guard photo)
Nobody to Trust
The issue of military hunger has recently become more visible and openly discussed, especially in Washington, D.C.  "It feels like there's more honesty and acceptance of the problem," Hall said. 
Both the House and Senate versions of Congress' annual defense policy bill have provisions for a new "basic needs allowance." It would be an additional stipend paid to service members with families near the federal poverty level. First lady Jill Biden has advocated for passage of that measure, as well as other legislation aimed at curbing hunger in the ranks.
Defense Secretary Lloyd Austin announced Wednesday that he ordered his department to come up with a new strategy within three months to help hungry service members and their dependents. The secretary's plan also calls for an unspecified, yet temporary increase in BAH for areas that have had more than a 10% increase in rental costs.
Angela isn't holding out hope, however. "I'll believe it when I see it," she said in reaction to the announcement. Her experience feels like a failure of the military to live up to its commitment to take care of its people.
The sentiment, she said, comes from treatment by toxic and unsupportive leaders. Her mentions of hardship or needing help came with threats of separation. Her status as a single mother who is struggling does not earn her any consideration with her superiors.
"You're a sailor first — your child was not assigned to you in a seabag…. Those are the things that get said to us on repeat," Angela said. As a result, announcements like Austin's efforts can fall on deaf ears. 
"There's a complete disconnect between what Big Navy says, what a CO might say and then what the actual chain of command says," Angela said. "If you don't have a chain of command that you can trust, I guarantee no matter what, these sailors will suffer in silence."
Outside groups agree. Abby Leibman, the leader of MAZON, said that while they "appreciate the Department of Defense's long-overdue acknowledgment of the problem, directing military families to food banks is not a solution — it is an abdication of the government's responsibility to care for our service members."
One of the "immediate" solutions Austin's plan offers is to "connect service members to additional resources and support programs addressed to alleviate food insecurity."
Priscilla Rodriguez said that the service's "top priority is taking care of our personnel," when asked for a reaction to the story and noted that "food insecurity is a humanitarian issue and readiness challenge that we do not take lightly."
"While we work with the DoD to find long-term solutions, we encourage Sailors and their families who are experiencing food insecurity and other financial challenges to seek assistance," Rodriguez said in a statement.
"We also expect leaders to be aware of these challenges and support our Sailors and families in accessing the resources they need," she added.
A drumbeat for change in policy circles may be rising around the issue of military hunger, but for the women who spoke to Military.com, the damage has been done, and Angela is through seeking help from the Navy.
"I have actually decided that I will not be relisting," Angela said. "I can't do it."
She said she has a year of service left. Afterward, she hopes to go to Florida or Texas where she has family and relatives that can help support her and her daughter.
"Out here, where I have nothing … it's just fighting for air," she said.
Related: More Housing Money Coming as Pentagon Ponders Fix for Military Family Hunger
Konstantin Toropin can be reached at konstantin.toropin@military.com. Follow him on Twitter @ktoropin. Copyright 2021 Military.com. All rights reserved.
Posted in accordance with Title 17, Section 107, US Code, for noncommercial, educational purposes.