Yurii Sheliazhenko / World BEYOND War – Ukraine
KYIV, Ukraine (December 2, 2021) — Here is some info on the ugliness of war in Ukraine amidst dangerous escalatory Kyiv/NATO/Kremlin rhetorics.
Yurii Sheliazhenko is the Executive secretary of the Ukrainian Pacifist Movement
OSCE Special Monitoring Mission to Ukraine (SMM)
Daily Report 265/2021 issued on 11 November 2021
Organization for Security and Co-operation in Europe
Summary
KYIV, Ukraine (November 11, 2021) — Based on information from the Monitoring Teams as of 19:30 10 November 2021. All times are in Eastern European Time.
• In Donetsk region, the SMM recorded 399 ceasefire violations, including 26 explosions. In the previous reporting period, it recorded 343 ceasefire violations in the region.
• In Luhansk region, the Mission recorded four ceasefire violations (no explosions). In the previous reporting period, it recorded 29 ceasefire violations in the region.
• The SMM corroborated three civilian casualties in Holmivskyi, Donetsk region.
• The Mission lost spatial control over its mini-unmanned aerial vehicle (UAV) near Perevalsk, Luhansk region.
• The SMM continued monitoring the disengagement areas near Stanytsia Luhanska, Zolote and Petrivske.
• The Mission spotted two recent trench systems and fortifications to an existing trench on both sides of the river Kalmius near Hranitne, Donetsk region.
• The Mission facilitated and monitored adherence to localized ceasefires to enable the operation and repair of critical civilian infrastructure.
• The SMM continued following up on the situation of civilians, including at four entry-exit checkpoints and four corresponding checkpoints of the armed formations in Donetsk and Luhansk regions.
•  The Mission's freedom of movement continued to be restricted, including at two checkpoints of the armed formations in Donetsk region, as well as in and close to the disengagement areas near Stanytsia Luhanska and Zolote, Luhansk region. Its UAVs again experienced instances of jamming and probable jamming. *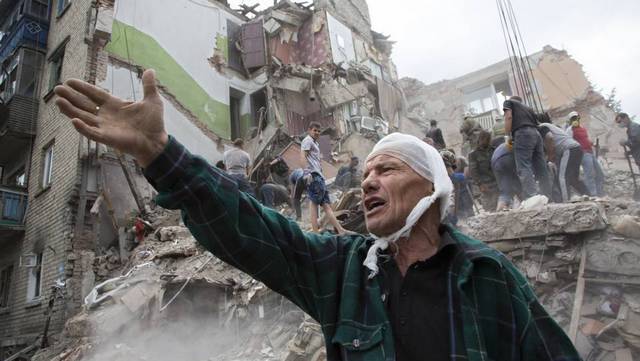 OSCE SMM Chief Monitor Addresses the Permanent Council
Organization for Security and Co-operation in Europe
KYIV, Ukraine (July 9, 2021) — "The security situation in eastern Ukraine is not improving and challenges are becoming acute," said Ambassador Y. Halit Çevik, the Chief Monitor of the OSCE Special Monitoring Mission (SMM) to Ukraine, in his address to the OSCE Permanent Council yesterday. He underlined that ceasefire violations, hardship faced by civilians and restrictions to the Mission's freedom of movement, especially the intense and continuous jamming of the Mission's unmanned aerial vehicles, had become more severe.
"The Mission has observed a threefold increase in ceasefire violations since my last report," said Çevik. Fighting has taken place in more locations along the contact line, and there has been a noticeable rise in the use of more lethal and destructive weapons, and with it greater damage to civilian infrastructure. The Chief Monitor also stressed that the deterioration of the security situation in two disengagement areas was particularly regrettable, as these were symbols of the sides' commitments to peaceful resolution.
Furthermore, Çevik drew the Council's attention to the fact that 25 civilian casualties had been recorded by the SMM between 21 March and 6 June 2021. He added that nearly 75% of those casualties were due to mines, UXO and other explosive objects, noting that the sides needed "to make urgent progress on commitments related to mine action".
The Chief Monitor reminded that the freedom of movement of civilians continued to be severely restricted across the contact line and called for the opening of all corresponding checkpoints, including those at the new crossing points at Zolote and Shchastia.
The Chief Monitor underlined that 80% of the Mission's long-range UAV flights have been affected by jamming, which had recently led to the crash of another aircraft.
In closing, the SMM's Chief Monitor called on the sides to return to a constructive approach, both on the ground and in the Working Group on Security Issues of Trilateral Contact Group, emphasizing that progress could be made only if they took ownership and rose to their responsibilities.
Families suffer as Russia-Ukraine border tensions rise. The standoff in eastern Ukraine is making it more difficult for people to access basic services. Trips that used to take less than an hour can now take an entire day or longer, Al Jazeera reports:
Civilians caught up in eastern Ukraine fighting. Russia says its recent buildup of troops near the Ukrainian border poses no threat. But fighting between Ukraine's military and Russian-backed separatists in eastern Ukraine has been getting worse, as more villagers are forced to flee their destroyed homes:
NATO foreign ministers say there will be a high price to pay for any new military aggression against Ukraine. Russian President Putin calls NATO expansion in Ukraine a 'red line' as tension rises. But Moscow dismisses as "inflammatory" any suggestions it's preparing for an attack. The US secretary of state Blinken says any Russian aggression in Ukraine will trigger "serious consequences".
Read more about civilian casualties and fatalities (hugely caused by Armed Forces of Ukraine, while NATO countries provide Ukraine military aid and tolerate non-compliance with Minsk agreements) in the conflict-affected regions of eastern Ukraine in the OSCE thematic report (2017-2020):
Civilian Casualties in the Conflict-affected Regions of Eastern Ukraine
Organization for Security and Co-operation in Europe: November 9, 2020
SMM's statements (e.g. https://www.osce.org/special-monitoring-mission-to-ukraine/492085) and daily reports (https://www.osce.org/special-monitoring-mission-to-ukraine/504022etc. ), as well as at the "Peace For Ukraine" Facebook page maintained by independent journalist Oksana Chelysheva: https://www.facebook.com/Peace-For-Ukraine-2283917274991492