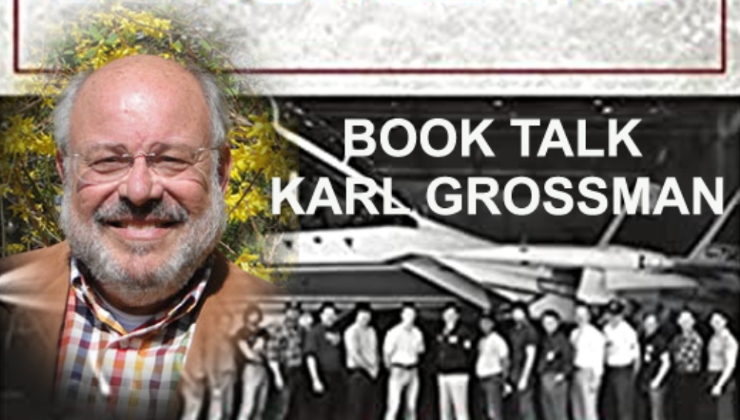 Karl Grossman
New Book Details the Harrowing History of Cold War on Long Island
Annette Hinkle / Sag Harbor Express
(December 8, 2021) — Historically speaking, for most of the last 300 years, Long Island has been a predominately pastoral landscape — one consisting of small, rural communities dotted by farms and fields. But then came the 20th century and with it, technological wonders designed to either make war or keep peace — depending on how you look at it — and governmental agencies that not only considered the production of military machinery a top priority, but a requirement to ensure national security.
Given Long Island's proximity to New York City and its extensive reach into the Atlantic Ocean, it's no surprise that the region has long been considered key in strategic defense. Back in the late 19th century, Plum Island — then known as Fort Terry — was a military installation guarding the mouth of Long Island Sound during the Spanish American War. In the 1940s, Long Island became the place where equipment and planes were made to fight WWII, and during the Cold War, was viewed as a potential target of the Soviets. Out in Montauk, Camp Hero, which was built as a coastal defense station in 1942, became the Cold War home of one the most advanced radar systems in the world (the abandoned tower still dominates the landscape).
Sag Harbor's Karl Grossman, a professor and long-time journalist, has just released a book co-written with history professor Christopher Verga that delves into the region's 20th century military history. Published by The History Press, in "Cold War Long Island" the authors explore not only the establishment of factories by firms like Grumman, Republic Aviation and Fairchild Aviation to manufacture military equipment, but also the creation of military bases that housed nuclear-tipped missiles — including in our own backyard, Westhampton.
On Sunday, December 12, at 6 p.m., Grossman and Verga will discuss "Cold War Long Island" in a Zoom talk at East Hampton Library. Another Zoom talk follows with Sag Harbor's Temple Adas Israel on Sunday, December 19, at 7 p.m.
In a recent phone interview Grossman explained that he first met his co-author when Verga, a Bayshore resident, was writing a book about Robert Moses and his efforts to build a four-lane highway on Fire Island. As a journalist, Grossman had covered the story for a Babylon newspaper and was an early advocate for the creation of the Fire Island National Seashore that would negate Moses's efforts.
"That was my first big story on Long Island," said Grossman, who focuses on environmental and investigative journalism in his work. "Chris also wrote about Long Island in the Second World War. Chronologically, he wanted to do a book on the Cold War on Long Island next.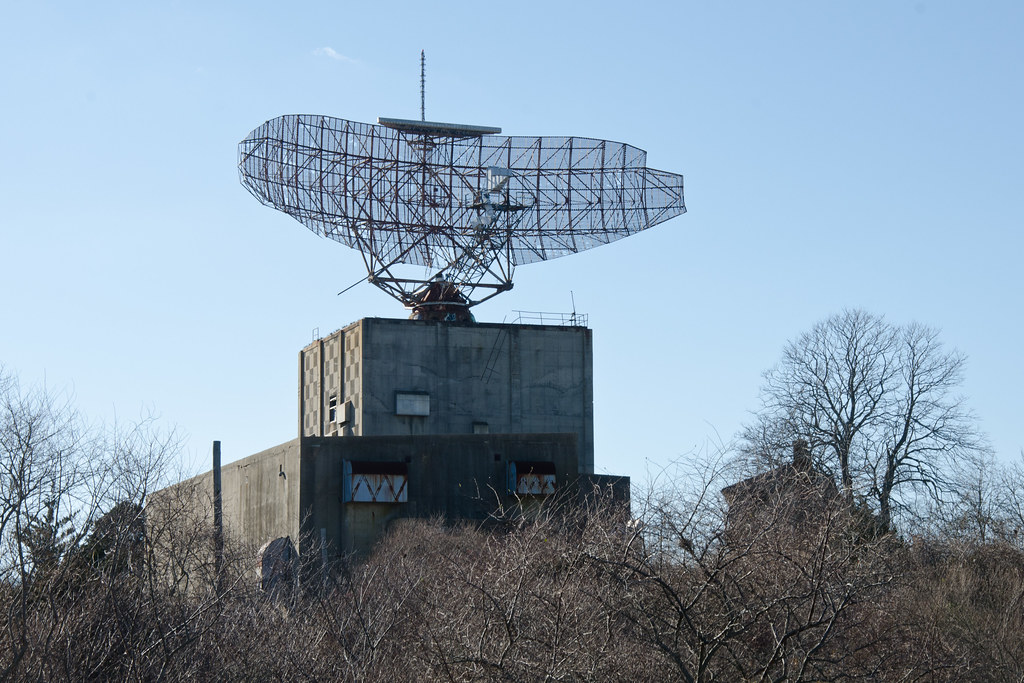 Camp Hero in Montauk was home to the 773rd Radar Squadron.
"Having been a reporter on Long Island since 1962, a lot of these events Chris wanted to write about, I lived through them," he added. "So he wanted to do a book with me."
Grossman also found that Verga's background as a historian was key in bringing a new perspective to the stories they were telling.
"I was so impressed by Chris. Historians think differently than journalists. We do instant history and they take a longer view," Grossman said. "He'd go into depth in areas where I wouldn't. I figured it would be a good partnership."
Given the swiftness with which Long Island transformed from a rural community into a military-centric economy in the 20th century, there was certainly a lot of ground to cover in the writing of the book. Before WWII, the population of Suffolk County was just over 161,000, with potatoes more numerous than people. But the war and Long Island's proximity to New York City soon gave rise to a military industrial complex employing tens of thousands, many of whom had fled urban life in favor of better paying jobs and a chance to own a house with a patch of lawn in a new middle class suburb (as long as you were white). This movement continued into the Cold War years, when military production shifted from wars abroad to threats at home due to the rising power of the Soviet Union.
Nuclear tip missiles were fielded in Westhampton and Shoreham.
"The Cold War period really begins with WWII and Grumman," Grossman said of the firm that at one point had a plant on Sag Harbor's Long Wharf where components of the Apollo lunar landing module were made. "But it really involved the nuclear tip missiles."
In their book, Grossman and Verga explain that in the 1950s, Long Island became home to both Nike and BOMARC (Boeing Michigan Aeronautical Research Center) nuclear warhead missile sites. The missiles housed in these facilities were, ironically, developed with input from former enemy scientists.
"After WWII, Operation Paperclip brought in over 1,000 Nazi scientists including Wernher Von Braun," Grossman said. "He's mentioned a lot in the book because before Grumman, he was at the Redstone Arsenal in Alabama where the Redstone rocket was developed, which was the first capable of carrying a nuclear weapon. He ended up at NASA."
The Nike and BOMARC missiles were both armed with nuclear tips and launched from silos built into the ground. The Westhampton silos housed the BOMARC missiles and Grossman explained that rather than targeting a single plane, they were designed to detonate in the midst of a group of incoming Soviet aircraft — taking them all out.
"In terms of ground to air missilery, they didn't have the technology at that point — in the early '50s — to pinpoint a plane, so they had the scheme of detonating nuclear tip missiles," explained Grossman. "The Hiroshima bomb was 13 kilotons. These Nike Hercules missiles would go from 10 to 30 kilotons."
But there wasn't much discussion about the resulting fallout if the missiles were ever used in such an attack. It may be that because so many people made their living through military contracts on Long Island, there wasn't much interest in biting the hand that fed them.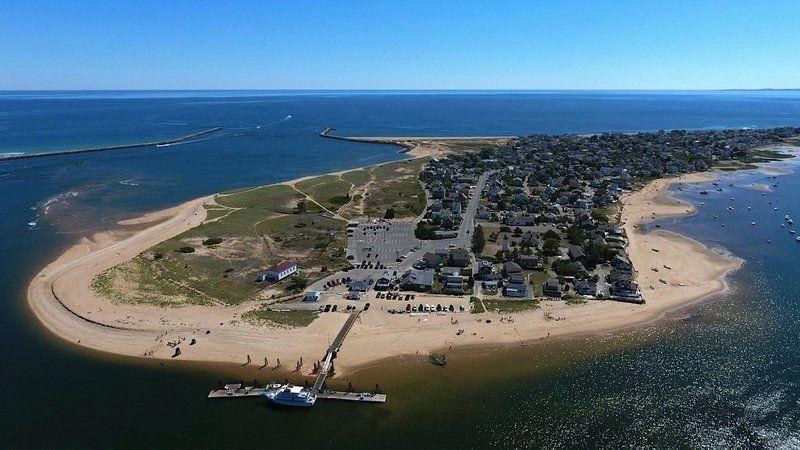 Aerial view of Plum Island. Courtesy the authors.
"It's a story about how vested interests colored the focus and attitude of people involved in working in the institutions," said Grossman, who points out that turning a blind eye was not unusual in the era. He added that another scientist brought into the U.S. through the Operation Paperclip program was Dr. Erich Traub. Traub had actually spent time on Long Island in the 1930s and, according to Grossman, was heavily involved with Yaphank's Camp Siegfried, which served as the national headquarters of the American Nazi movement.
During WWII, Traub had operated a Nazi biological warfare lab on an island in the Baltic Sea and he was consulted by the U.S. government as it was setting up Plum Island as a military laboratory. Initially, said Grossman, the plan was to cripple the Soviet economy by using biological weapons developed at Plum Island to kill livestock. But that plan was soon scrapped and Plum Island became an animal research facility instead.
"Traub was involved in Nazism and was active in bioweaponry. This Plum Island scheme was canceled because the Pentagon decided if we kill Soviet livestock we'll end up having to feed millions of Russians, so let's just nuke them," said Grossman.
Fortunately, it never came to that. Eventually, the missiles on Long Island were dismantled and today, the BOMARC base in Westhampton is used by the Suffolk County government as a storage facility and a shooting range for law enforcement officers.
"The Cold War history of Long Island, I think really shows the folly of humanity," Grossman said. "We were on a hair trigger alert and we survived by the skin of our teeth. That those missiles weren't fired from Westhampton or the plan to kill Soviet livestock didn't happen is really a miracle.
Nuclear tip missiles. This image is from Fort Totten but missiles were fielded in Westhampton and Shoreham. Courtesy the authors.
"We went from the good vs. bad guys of WWII to the Cold War era and the imperialistic society looking to export its way of life — plus the racial issues and discrimination of Long Island's development," he added.
Grossman notes that though the nuclear missiles may be gone, the threat is not. The Bulletin of Atomic Scientists' symbolic Doomsday Clock, which represents how close humanity is to self-destruction due to nuclear weapons, is currently set at 100 seconds to midnight — the closest it's been in the more than 70 years of the clock's existence.
"What we have to learn from the Cold War experience is the folly and stupidity and the futility of nuclear and biological weapons. You have to wonder about the future with these threats," he said. "And now, with the nuclear Doomsday Clock at 100 seconds to midnight, we're still in perilous times. We need to use sense and exercise diplomacy."
East Hampton Library hosts Karl Grossman and Christopher Verga discussing "Cold War Long Island" a on Sunday, December 12, at 6 p.m. via Zoom. To register, call 631-324-0222 ext. 3 or visit easthamptonlibrary.org. On Sunday, December 19, at 7 p.m., Temple Adas Israel in Sag Harbor will host the two authors discussing the book. Visit templeadasisrael.org for details.
Posted in accordance with Title 17, Section 107, US Code, for noncommercial, educational purposes.