What Emits More Greenhouse Gas than 100 Countries Combined?
Michael Galant / Win Without War
(December 18, 2021) — Our nation's budget priorities are broken. Every year, the Pentagon receives nearly three quarters of a trillion dollars for weapons and war, while critical needs like education, healthcare, and climate action go starved for resources. But together, we have the power to fight back — to build a world where people come before the Pentagon.
As 2021 comes to a close, we've decided to compile some of our most useful resources into a single short packet, to arm our movement with the knowledge needed to bring us to victory as we start a new year. We hope you find it useful.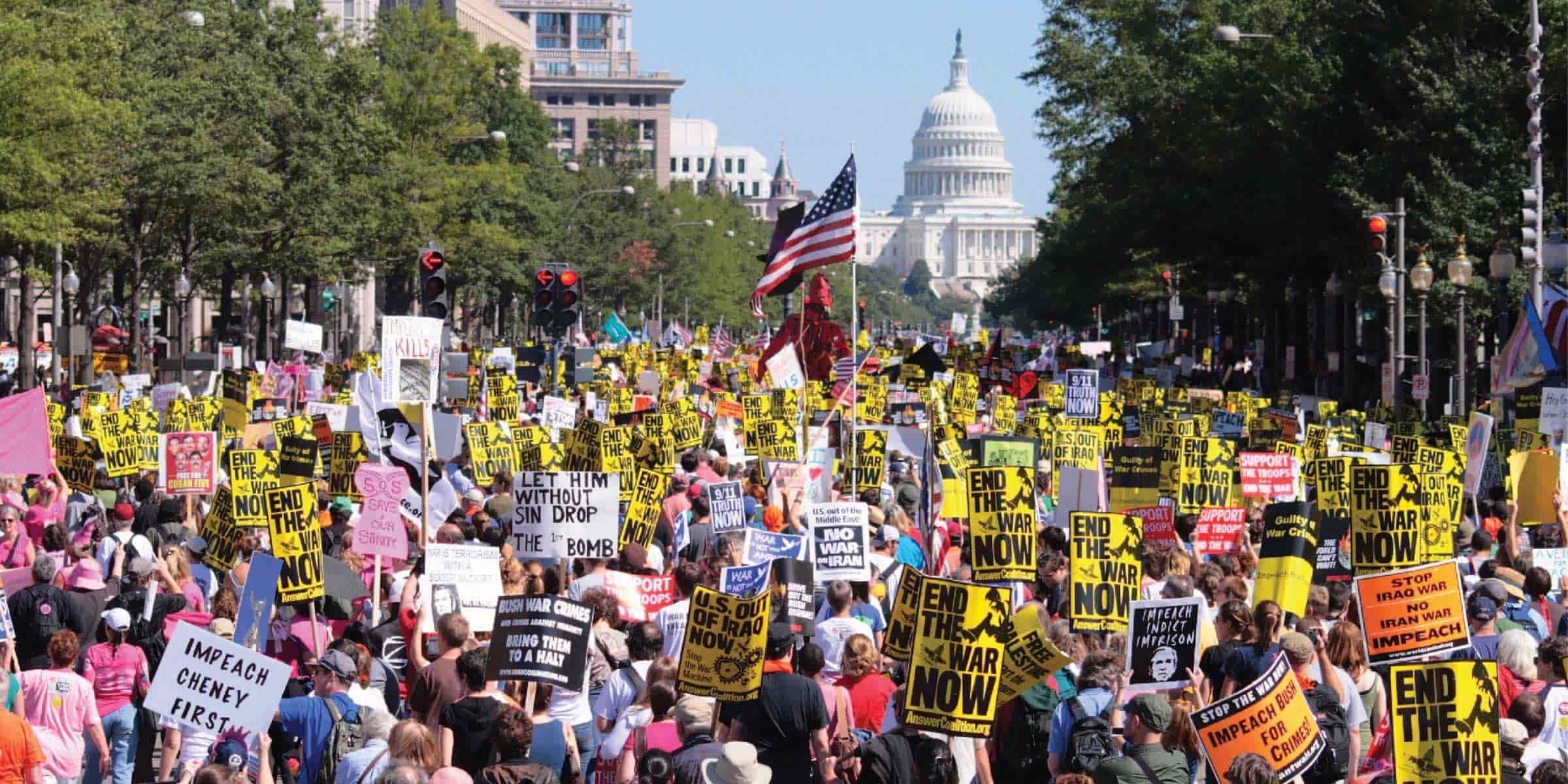 The United States faced simultaneous wildfires, snow squalls, dust storms, and deadly tornadoes during just *one day* this week. How did the Senate respond? By overwhelmingly approving a whopping $778 BILLION for weapons and war — the LARGEST peacetime war budget in history.
Weapons and war require massive amounts of fossil fuel — and not only is the Pentagon the world's single biggest institutional consumer of petroleum, it's also a HUGE source of greenhouse gas,emitting more than 100 countries combined.
Continuing massive payouts to fund the Pentagon's mega-polluting pet projects as multiple weather disasters rock our communities? The disconnect is as infuriating as it is mind-boggling.
But here's the thing: while this bill, the National Defense Authorization Act, is critical to set policy, it doesn't actually include "one penny" for the Pentagon. That happens through the appropriations process. And those negotiations are heating up NOW.
We've got just a few critical weeks to pull out all the stops to keep the pressure on Congress to push them away from fueling the climate crisis with more weapons and war — because believe us, they'll be hearing from ALL the special interest lobbyists on the other side.
U.S. agencies have already issued a collective warning that climate change is coming for us all.
This week, new reports confirmed temperatures in the Arctic have reached as high as 100.4 Fahrenheit.
But as our communities struggle through a year of wildfires, freezes, tornadoes, heat waves, and hurricanes, the Senate is STILL mired in a months-long debate over the Build Back Better plan — which would help fund energy and climate action.
What are they prioritizing? Here's just a peek and what they signed off on this week:
13 new warships (five more than the Navy wanted)
17 F-15E Strike Eagle jets (five more than the Air Force wanted)
12 F/A-18E/F Super Hornet fighters (that the Navy didn't include in its budget).
(That's $25 BILLION on weapons the Pentagon didn't even ask for.)
These numbers expose the real reason we're in a nonsensical position of having one of the largest Pentagon budget proposals in history at the same time as we're ending wars like the one in Afghanistan and face existential threats like pandemics and climate change.
It comes down to the defense lobbyists.
Luckily, we've got game at defeating them. Last year, we helped block outrageous proposals to add additional funding for the Pentagon to the COVID stimulus bill, and this year we've blocked attempts to sneak these funds into the infrastructure bills too.
Now, we're bringing this momentum to the next phase in our fight to stop a rubber-stamp of one of the biggest Pentagon budgets in history — and we need your help.
It's time we truly reconciled with what all this war spending costs us, got our priorities back in order, and put the PEOPLE first — and Win Without War is at the forefront of this fight. Please support our work now.
Thank you for working for peace,
Michael, Amy, Faith, and the Win Without War team
P.S. Want to understand more about the ins and outs of the budgeting process and what's at stake? Check out our new resource: 'Tis the Season: People Over Pentagon Activist Guide!
Download the People Over Pentagon Activist Guide here.
Help us continue our fight for a world that puts human needs over Pentagon greed.