Putin Warns of 'Military-Technical'
Response to Western 'Aggression'
The Moscow Times
MOSCOW (December 21, 2021) — President Vladimir Putin threatened a "military-technical" response Tuesday to what Russia perceives as threatening moves from the West, marking a new escalation of rhetoric amid Moscow's ongoing tensions with Western countries over Ukraine.
The West has for weeks raised alarm over Russian military buildup near Ukraine and fears of a Russian invasion of its ally. Moscow denies planning an invasion into Ukraine and accuses US-led NATO of threatening its security by expanding its presence near Russian borders.
"If our Western colleagues continue the obviously aggressive stance, we will take appropriate retaliatory military-technical measures and react harshly to unfriendly steps," Putin said at a Defense Ministry board meeting, according to the state-run TASS news agency.
He did not specify which "military-technical" measures would be taken.
The Russian president stressed that Moscow "doesn't want armed conflicts or bloodshed" and that it "has every right" to take what he views as steps that ensure the country's security and sovereignty.
Russian Foreign Minister Sergei Lavrov, meanwhile, said the US has "expressed readiness" to launch dialogue with Russia on its proposed security guarantees that seek to limit NATO's eastward expansion.
But Putin stressed that Moscow will only accept "long-term, legally binding guarantees" with Washington, accusing the US of withdrawing from international treaties "that for one reason or another become uninteresting to them."
Russia last week sent the US a list of sweeping demands that seek guarantees for NATO to abandon its military activities in Eastern Europe and Central Asia; to block future NATO membership for any post-Soviet country; and for the US not to establish any new military bases on the territory of former Soviet states.
The US and European Union have issued repeated warnings to Russia that any military action in Ukraine would be met with sanctions far worse than those it levied in 2014, when Moscow annexed Crimea from Kiev and conflict broke out between Ukrainian forces and pro-Russian separatists in eastern Ukraine.
Following Putin's comments, NATO chief Jens Stoltenberg said the alliance will "not compromise" on Ukraine's right to "choose its own path" and seek NATO membership.
Also at Tuesday's Defense Ministry meeting, Defense Minister Sergei Shoigu claimed that US private military companies have stationed troops in the Donetsk region of eastern Ukraine and are preparing a "provocation using unknown chemical components."
Putin Slams 'Lying West' But
Says 'Positive' on US-NATO Talks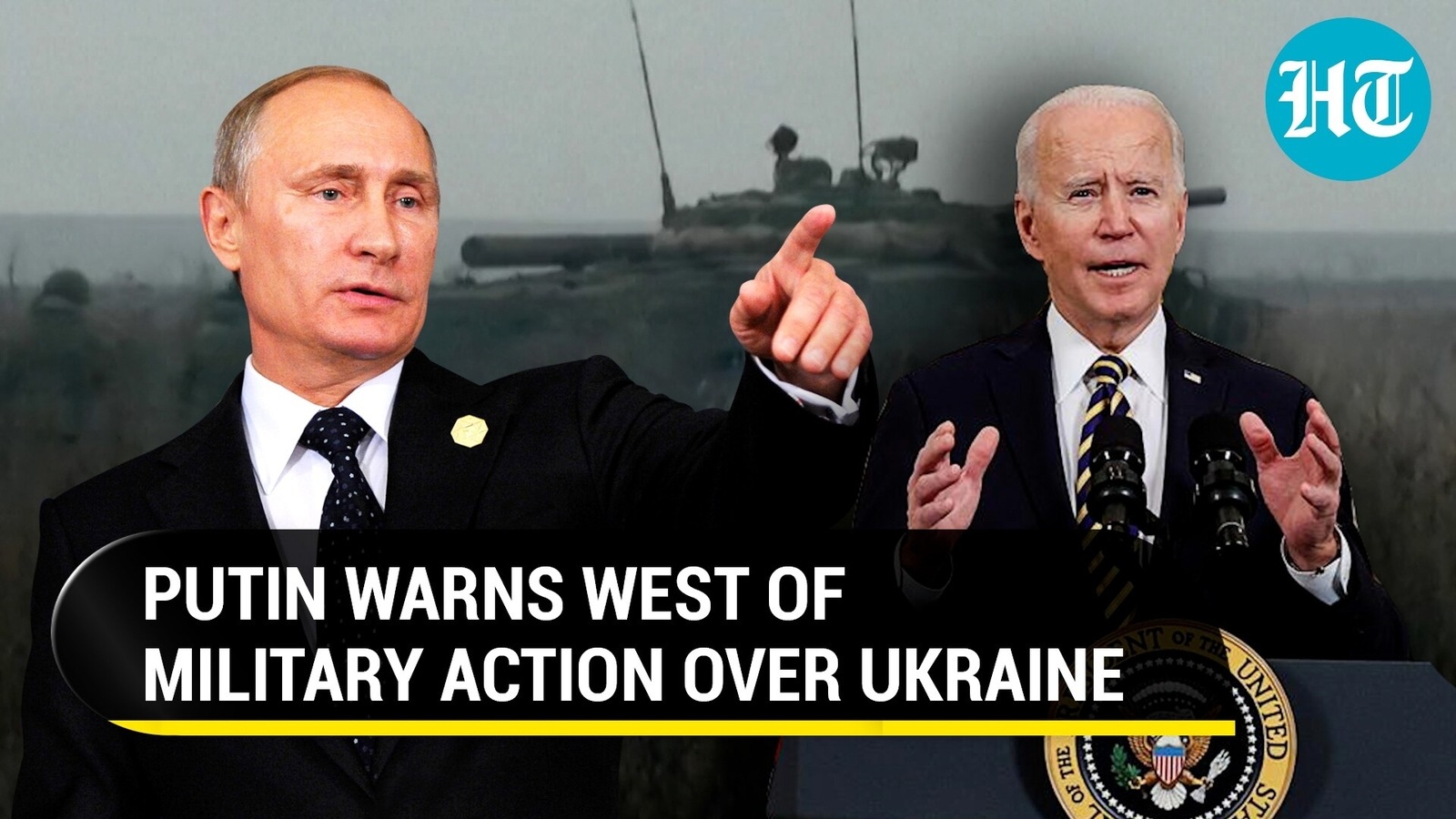 (December 23, 2021) — President Vladimir Putin on Thursday accused the West of lying to Russia on NATO's expansion but noted "positive" developments with Washington over Moscow's demands for security guarantees, with direct talks expected in Geneva next year.
The West has for weeks accused Russia of massing troops near its border with Ukraine and planning an invasion against Kiev.
Asked about whether a war against Ukraine was a realistic possibility, Putin replied that Russia was responding to threats from Kiev and that its actions regarding Ukraine "depend on our security," not on how talks with the U.S. proceed.
"We have to keep an eye on what is happening in Ukraine, and on when they might attack," he told journalists at his annual end-of-year press conference.
"One gets the impression that [Ukraine] is preparing a third military campaign and we're being warned not to interfere and not defend [Russian-speaking residents in eastern Ukraine] or face new sanctions," Putin said. "We must react and do something about it."
At the same time, Putin said that ongoing negotiations with the United States on Russia's proposed security guarantees were "positive" and hinted at fresh direct talks in the new year.
"U.S. partners told us that they are ready to begin this discussion, these talks, at the very start of next year in Geneva," Putin said.
Putin repeated his demand that "there must not be any eastward NATO expansion," one of several points in a draft list of security guarantees that Russia is seeking from the U.S.-led military bloc.
"We were fooled by five waves of NATO's eastward expansion. We're not threatening anyone, they came to us. You're asking us for guarantees, but it's you who needs to give us guarantees immediately."
Putin then slammed Ukraine's development in recent years, saying there is "complete poverty" in the country.
He called the 2014 Maidan Revolution a "bloody coup d'etat" and accused Ukrainian "extremists" of planning operations to retake Crimea and the Donbass region of eastern Ukraine.
Putin also defended Russia's 2014 annexation of Crimea and support of pro-Moscow rebels in the Donbass, saying that inhabitants of both regions had always thought of themselves as Russians.
He stressed that Donbass residents alone should determine the region's future, adding that Russia was ready to act as a mediator to "create a better future for the people living there."
• Russia Demands 'Urgent' US Talks, Warning of 'Military Response' to NATO Activity
Posted in accordance with Title 17, Section 107, US Code, for noncommercial, educational purposes.