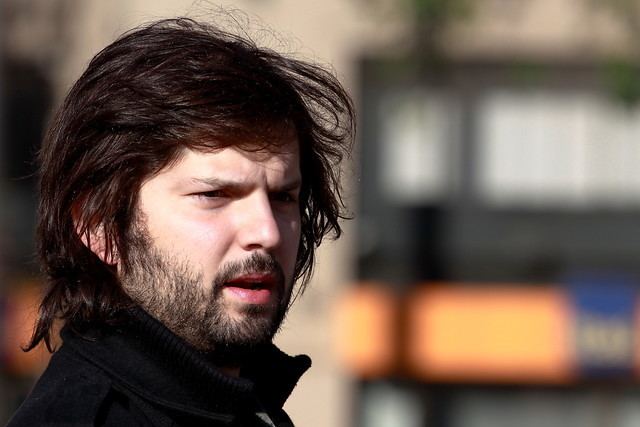 Gabriel Boric Calls for Environmental Action
Lizzy Rosenberg / Green Matters
(December 20, 2021) — A winner has finally been selected in Chile's most recent presidential election, and it seems as though he will leave a long-lasting positive impact on the South American Country. At 35 years old, Chile's new president, Gabriel Boric, is the country's youngest in history, and he has been described as a "leftist millennial." He's promised his mostly young supporters a more equal and ecological future, which many hope will result in some major changes.
Among many things, Boric is looking to undo what former dictator, Augusto Pinochet, did during his previous rule — economically, socially, and environmentally.
"Chile was the birthplace of neoliberalism, and it shall also be its grave!" he announced earlier this year upon winning the primaries, as per The Guardian."I know that history doesn't begin with us."
Boric continued:
"I feel like an inheritor of the long trajectory of those who, from different places, have tirelessly sought social justice."
Who is Gabriel Boric?
As previously mentioned, Boric is a 35-year-old leftist politician who rose up in the world of activism during Chilean anti-government protests, according to Newsweek.He was born in the country's southern city of Punta Arenas in 1986, and pursued a law degree at the University of Chile. During his senior year, he started leading protests for the Federation of Students, which demanded education reform and economic change. He never received his law degree, but continued pursuing activism.
Boric decided to run in 2013 as an Independent candidate, and was elected to the Chamber of Deputies. But three years later in 2016, he created a party called the Broad Front. Now, he's running under yet another self-founded party called the Autonomist Movement, which looks to change the Chilean constitution in the name of socialism. Boric hopes to rewrite the Constitution in 2022, which was inherited from the previous dictatorship in 2020, from former dictator, Augusto Pinochet Ugarte.
"I am going to be the president of all Chileans," Boric stated during a televised appearance, as per Newsweek. "I am going to do my best to get on top of this tremendous challenge."
What Are Boric's Environmental Policies?
In addition to effectively rewriting the country's entire constitution, Boric is hoping to address serious economic gaps, by reforming the country's pension and health care systems, according to The BBC.He is also looking to reduce the work week to 40 hours a week from 45, and plans to invest quite a bit more in the environment — specifically to curb climate change.
Climate change is at the forefront of Boric's policies — specifically regarding water supplies. According to BN Americas, Boric plans to invest in "mitigation and adaptation." He's creating a fund for water security, and plans to set aside water for smaller agricultural businesses. He's also looking to fund coastal defenses, to combat issues such as flooding and erosion, and to put more money in wastewater treatment systems.
Boric also plans to transition to cleaner means of energy. The new president is aiming for Chile to reach net zero carbon emissions by 2050. He also wants to shut down coal-fired plants, close mines, and launch a national hydrogen green strategy.
He has also proposed to expand the rail system and install 500MW of renewable energy. Needless to say, we hope to see all of these promises come to fruition.
Chile's Constitution Looks to
Address Economic Concerns, Sustainably
Lizzy Rosenberg / Green Matters
(December 29, 2021) — Chile has endured several decades of intense political unrest. In 1973, dictator Augusto Pinochet seized power, taking down the country's democratic government. Years later, the country still followed Pinochet's economic and social models, which created serious class, gender, sexual, and racial inequality. But after a recent election that resulted in president Gabriel Boric's rise to power, Chile's new constitution will address economic issues with climate change in mind.
"Chile is currently undergoing a process of transformational change that is not only profound but also contradictory," reads an article from the Transnational Institute, which is a nonprofit organization that advocates for a democratic and sustainable government. "The explosion of social unrest was a crisis that forced us as a society to fundamentally question the model under which we have lived for the past thirty years and which has caused widespread discontent in Chilean society."
"Today, that creative process takes shape primarily in the Constitutional Convention and in the fulfillment of its mandate," it continues, "[which is] writing a new national constitution for Chile."
Keep reading for more on Chile's brand new constitution that was written by the country's new president, Gabriel Boric, and how it's going to address economic issues, while keeping climate change at the forefront.
Chile's New Constitution Would Address Climate Change
Not only does Chile's new constitution look to address social and economic problems in a society ravaged by inequality, but it's also going to provide aid amidst a "climate and ecological emergency." According to theNew York Times,the constitution is currently being written by 155 civilians, and will specifically look into using the rich resources in the Atacama Desert. The desert is abundant with lithium, the chemical that powers electric car batteries and other types of batteries.
In addition to helping our planet transition to cleaner energy, mining for lithium could boost the economy. But, officials worry about the eco effects mining will have on Chile, and how the money will be distributed to local communities affected by the mines. They are also concerned about how much water it will use, as the country is already suffering from ongoing droughts.
The constitution will delve into mining, land, environmental, and economic regulations surrounding these issues.
"Indeed the questions facing this Convention aren't Chile's alone," Somini Sengupta of the New York Times writes. "The world faces the same reckoning as it confronts climate change and biodiversity loss, amid widening social inequities: Does the search for climate fixes require re-examining humanity's relationship to nature itself?"
Chile's New President Promises Green Investments
While looking to boost the economy and transition to cleaner means of energy, President Boric made many sustainable promises during the election that we hope to see come to fruition. In terms of environmental policies, Boric expressed a keen desire to create water security funds, adapt to climate change by preparing coastal cities for flooding and erosion, and to invest more in wastewater treatment systems.
Additionally, Boric hopes that Chile will achieve net zero carbon emissions by 2050. He also wants to shut down all coal-fired plans nationwide, expand the rail system, and install more renewable energy.
That said, we look forward to seeing what will come from the constitution that's currently in the works, and for what else is to come from President Boric.
Posted in accordance with Title 17, Section 107, US Code, for noncommercial, educational purposes.