A Ukrainian source told CNN the call didn't go well,
The White House disputes the report
Dave DeCamp / AntiWar.com
(January 28, 2022) — Washington and Kyiv continue to be at odds over the threat of a Russian invasion. On Friday, a day after speaking with President Biden, Ukrainian President Volodymyr Zelensky slammed Western powers for creating a "panic" by claiming Russia is planning to invade.
"There are signals even from respected leaders of states, they just say that tomorrow there will be war. This is panic — how much does it cost for our state?" Zelensky said during a press conference.
Since early November, the US government and US media outlets have been warning Russia will invade despite repeated denials from Moscow. Over the past week, Ukrainian officials have been pushing back on the US narrative.
"Do we have tanks on the streets?" Zelensky asked. "No. When you read media, you get the image that we have troops in the city, people fleeing … That's not the case." At one point during the press conference, Zelensky said, "I'm the president of Ukraine and I'm based here and I think I know the details better here."
After Biden and Zelensky spoke on Thursday, a source in the Ukrainian government told CNN that the conversation "did not go well" and that the two leaders disagreed over the "risk levels" of a Russian attack, but the White House denied the report. The Ukrainian official said Biden said Kyiv could soon be "sacked" and that Zelensky told the president to "calm down" the messaging.
National Security Council spokeswoman Emily Horne wrote on Twitter that what the Ukrainian official told CNN "is not true." However, she did say that Biden told Zelensky "there is a distinct possibility that the Russians could invade Ukraine in February." In comments to CNN, Horne said, "Anonymous sources are 'leaking' falsehoods."
The confusion over the call has prompted Republicans to call on Biden to "release the transcript" of the conversation as they are drawing parallels to President Trump's call with Zelensky that he was impeached over. The official Twitter account for House Republicans retweeted a 2019 video of Biden calling on Trump to "release the transcript" of his Zelensky call.
Russian Foreign Minister: US Did Not Give
'Positive Response' to NATO Expansion Concerns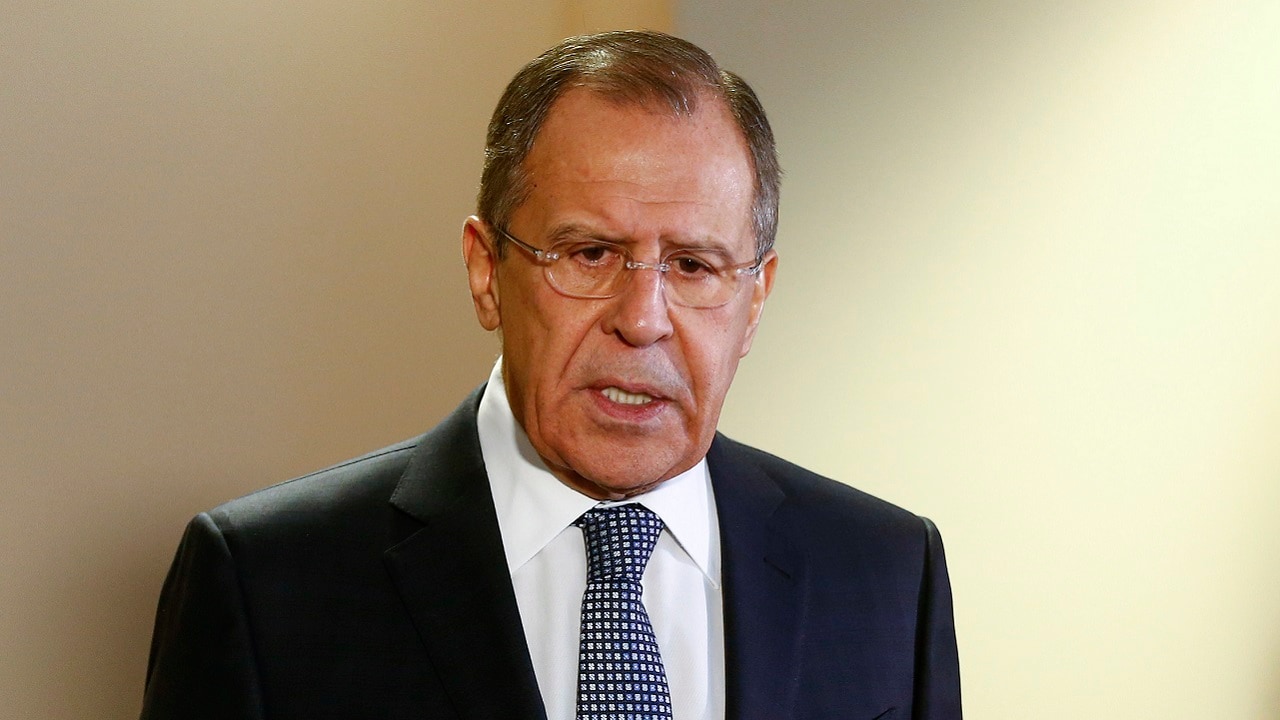 Despite the differences, Russia says
there's still room for dialogue
Dave DeCamp / AntiWar.com
(January 27, 2022) — On Thursday, Russian Foreign Minister Sergey Lavrov said the US's written answers to Moscow's security proposals did not contain a "positive response" to the issue of NATO expansion.
"There is no positive reaction in this document on the main issue. The main issue is our clear-cut position on the inadmissibility of NATO's further eastward expansion and the deployment of strike armaments that may threaten the territory of the Russian Federation," Lavrov said, according to Russia's Tass news agency.
The US and NATO both submitted their proposals to Russia on Wednesday night. The full contents of the documents have not been made public, but Secretary of State Antony Blinken and NATO Secretary-General Jens Stoltenberg said NATO's "open door" policy would not change.
Lavrov said that while the NATO concerns are not addressed, the US response makes it possible for the two powers to begin a "serious talk" on secondary issues, such as arms control and missile placement in Eastern Europe.
Kremlin spokesman Dmitry Peskov made similar comments and said that Russia "cannot say that our thoughts have been taken into account or that a willingness has been shown to take our concerns into account." Peskov said there's still room for dialogue with the US, but that the response left "little ground for optimism."
Lavrov said Russian President Vladimir Putin will now decide on what the next steps are and how Russia will respond to the US. Blinken said Wednesday that he expects to meet Lavrov again "in the coming days" to continue talks on the security issues.
Posted in accordance with Title 17, Section 107, US Code, for noncommercial, educational purposes.