2021: Deadliest Year Yet for Palestinian Children
CODEPINK
(February 14, 2022) — 2021 was the deadliest year for Palestinian children with 86 children being killed in the occupied territories.
Throughout the year, 17 Palestinian children were shot and killed when Israeli forces fired live ammunition, 15 in the West Bank, including East Jerusalem, and two in the Gaza Strip.
According to investigations by Defense of Children International — Palestine, at least nine of the Palestinian children killed were shot during demonstrations or confrontations with Israeli forces where they did not present a direct threat to life or of serious injury.
Palestinians have started out 2022 with more of the same. In the Negev/Naqab area of southern Israel, the Jewish National Fund is erecting a forest to remove Bedouin Palestinian citizens of Israel from their homes and farmlands.
Israeli police shot five Bedouin minors in their heads with hard sponge-tipped bullets. Sixteen-year-old Abdullah Tarabin lost his eye.
Also, things are heating up again in the Sheikh Jarrah neighborhood of Jerusalem as far-right racist Knesset member Ben Gvir and his band of settlers are setting up outposts and a parliamentary office.
RSVP for CODEPINK Congress, Tuesday, February 15, at 5 PM PST/8 PM EST. The topic will be: "Resisting Attacks on Palestinian Rights Activists."
Eight Palestinian Children Killed in Gaza Last Night
(May 15, 2021) — Eight Palestinian children were reported killed north of Gaza overnight, bringing to at least 40 the number of children killed there since 10 May. The age of these children ranges between six months to 17 years. Over half of them were under 10 years old.
More than 1,000 people in Gaza are reported injured, some severely, including a high number of children. In Israel, two children, including a six-year-old, were killed since the escalation began.
"In the past week, in the West Bank, including East Jerusalem, one 16-year old child was killed and at least 54 Palestinian children were reported injured, another 26 children have been arrested. Most have since been released.
"In Gaza, 35 schools have been damaged while at least 29 schools are temporarily sheltering displaced families who fled their homes due to heavy violence. Up to 10,000 people have been displaced, the majority are children. UNICEF received reports that three schools have been damaged in Israel.
"The scale of violence is massive. Children are bearing the brunt of this escalation. All sides need to step back and end the violence.
All sides have an obligation to protect civilians – especially children – and facilitate humanitarian access. The underlying triggers for this violence will not be resolved through further violence."
Members of the Jewish Nationa Fund planting trees.
Sometimes, Planting a Tree Is Not a Good Thing
CODEPINK
(February 14, 2022) — Since 1948, the Jewish National Fund (JNF) has been planting trees to displace Palestinians from their lands. They are currently carrying out an afforestation project in the Negev/Naqab (Southern Israel) on land used by Bedouin communities for agriculture. They aim to drive the Bedouins from their lands.
The U.S. State Department must tell the JNF to CEASE AND DESIST their ethnic cleansing activities! Sign the petition now! 
THE LETTER
Dear Secretary of State Antony Blinken
We, the undersigned, write to you to ask that you publicly call on the Jewish National Fund (JNF) and state of Israel to immediately halt their afforestation activities in Southern Israel (the Negev/Naqab) on land used by Bedouin Palestinian communities for agriculture. 
The project's aims and consequences are the displacement of the communities from their lands. 
The destructive actions of the JNF are nothing new. Founded in 1901, the JNF was established to buy and develop land for Jewish settlement in Palestine. In the years leading up to the establishment of the state of Israel, the JNF played a central role in the plans to expel Palestinians from their lands. They meticulously charted topography, roads, land, and water sources and profiled the entire Palestinian population by age, political affiliations, and hostility to the Zionist project.
Known as the Village Files, these documents became a crucial military tool for Jewish militias, who in 1948 burned villages, carried out massacres, and drove around 750,000 Palestinians out of their homes and villages, making them refugees.
After the war of 1948, or Nakba (catastrophe), as Palestinians refer to it, the JNF planted pine trees on the ruins of destroyed Palestinian villages to prevent Palestinian refugees from returning to their homes. From its earliest days, the JNF, registered as a 501(c)(3) charitable organization, raised money abroad with its "Blue Box" campaign. In 2018 alone, it raised $72 million. 
After Israel occupied East Jerusalem in 1967, the JNF, through its subsidiary, Hemnutah, assisted in seizing Palestinian properties that had belonged to Jews before 1948. One example is the purchasing of properties in the East Jerusalem neighborhoods of Sheikh Jarrah and Silwan where Palestinian families were resettled after being displaced from their West Jerusalem homes in 1948. 
The JNF today owns more than 10% of the land in Israel and systematically discriminates against Palestinian citizens of Israel, who make up about 20% of Israel's population, making it extremely difficult for Palestinian citizens of Israel to gain access to state lands for residential, commercial, agricultural or other uses. 
In the Southern Israel Negev/Naqab desert, the Israeli government has been working overtime to evict Palestinian Bedouin communities who are citizens of Israel. The village of al Araqeeb has been destroyed more than 100 times because it's located on Bedouin agricultural lands, where the JNF is now carrying out its afforestation/ethnic cleansing project.
Throughout January 2021, Palestinian Bedouins, about a third of them children, have been arrested protesting the JNF's afforestation/ethnic cleansing project. They need your help. 
Please use your position as Secretary of State to pressure Israel and the Jewish National Fund to cease their afforestation project in the Negev/Naqab and other efforts to displace Palestinians from their homes and lands. 
Sincerely, [Signed]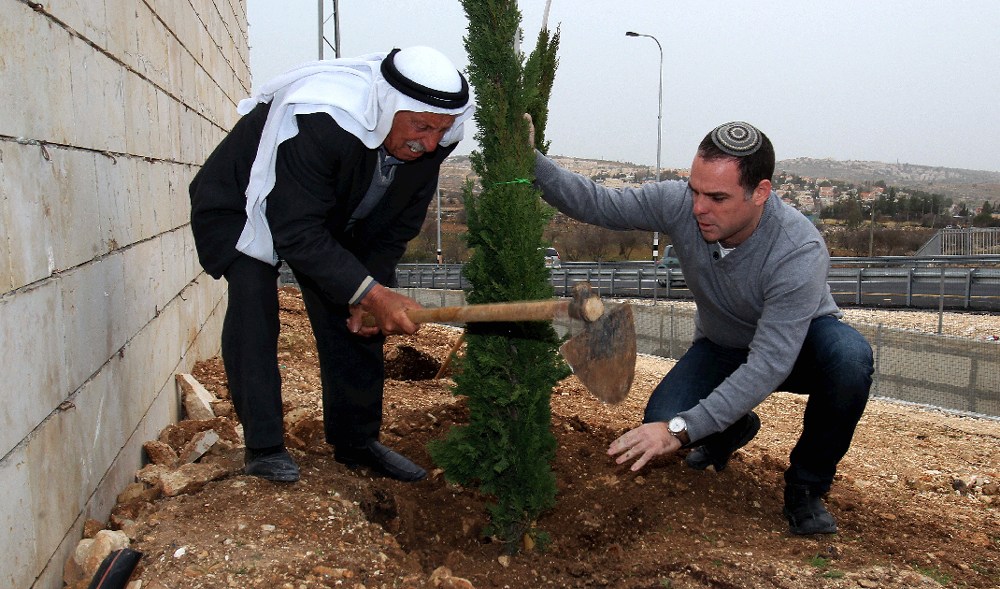 In Efrat, Arabs and Jews work together to plant a small forest.
Posted in accordance with Title 17, Section 107, US Code, for noncommercial, educational purposes.