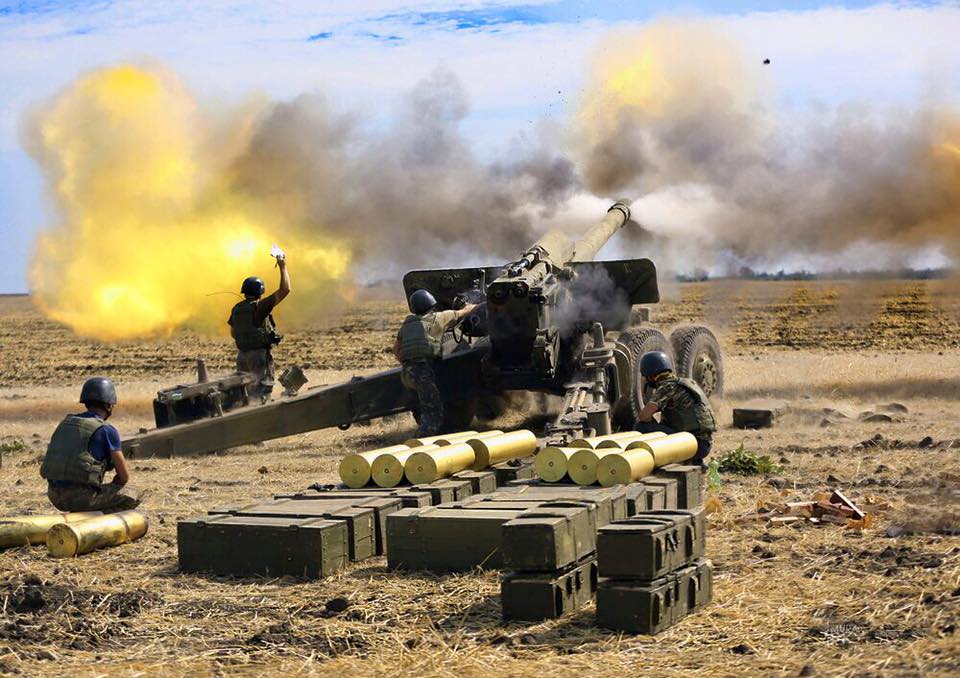 East Ukraine Headed for 'Full-scale War'

RT News
(February 18, 2022) — Full-scale war in eastern Ukraine can break out at any moment, with an attack by forces loyal to the government in Kiev, the head of the breakaway, unrecognised 'Donetsk People's Republic,'  Denis Pushilin, told Russian media on Friday evening.
"Kiev can start a full-scale assault on Donbass at any moment, the situation is critical," Pushilin told Russian television, referring to the two self-proclaimed republics in eastern Ukraine.
Asked by the host if there will be a war, Pushilin responded: "Yes. Unfortunately, yes."
His comments came about an hour after an explosion outside the Donetsk government building, which turned out to be a car bomb targeting regional police chief Denis Sinenkov. He was not injured in the blast. There were no reports of casualties, only material damage.
Pushilin called the bombing a "sabotage"in preparation for an assault by Kiev. Every critical infrastructure building in Donetsk is under guard and prepared for potential terrorist attack, he added. Ukraine has been denying any plans for attacking the breakaway regions.
Meanwhile, the authorities in Donetsk and neighboring Lugansk have announced an evacuation of civilians into Russia. Pushilin said that "hundreds of thousands" of people – mainly women, children, and the elderly – may end up getting evacuated, while men 55 and younger will be asked to stay.
The US and NATO have claimed over the past three months that Russia is preparing to "invade" Ukraine, to the point where the Kiev government asked them to tone down the rhetoric as it was spreading undue panic and hurting the country's economy. Moscow has rejected the allegations as "fake news."
Kiev, Supported by the US and NATO,
Begins Large-scale Military Opperations in Donbas
RT News Agency
(February 17, 2022) — The reports came through after the Kremlin claimed the risk of conflict in the region remained high.
Heavy fire and explosions have been reported on the contact line in Ukraine's war-torn Donbass region, with Kiev's forces and those loyal to the two breakaway self-declared republics accusing each other of aggression hours after the Kremlin warned fresh fighting could be on the cards.
Leaders from Donetsk People's Republic (DPR) in the east of Ukraine reported on Thursday [17 February, 2022] that government troops had attacked the outskirts of its territory. According to the DPR, units from Kiev fired at several towns and villages using 82-millimeter mortars, hand grenades, and rifles.
The Ukrainian Armed Forces subsequently reported that a settlement located near the Lugansk People's Republic, the other breakaway territory in the region, had been attacked and photographs circulating online purport to show a kindergarten hit by a shell on the side controlled by government forces. Authorities stated that two civilians had been injured, missiles had hit the school, and half the area had lost electricity. The residents were evacuated.
The invasion is off, but the crisis isn't over.
Kiev has been locked in a civil war with the two breakaway territories since 2014, when separatists declared independent republics following the ousting of then-President Viktor Yanukovych during mass street protests. Ukrainian officials, along with Western countries, have accused Russia of supporting the rebels and fueling the conflict.
Moscow denies being a party to the war, and does not officially recognize the Donetsk People's Republic and Lugansk People's Republic as independent states.
This week, however, the Russian parliament voted in favor of a motion addressed to President Vladimir Putin that called for Russia to announce its support for the independence of Donetsk and Lugansk, with 351 legislators backing the draft proposal and just 16 opposing. Putin has said that he favors a diplomatic solution and believes the Minsk agreements should be honored, but is yet to respond formally to the proposal.
On Wednesday [16 February, 2022], Kremlin Press Secretary Dmitry Peskov claimed that it was quite likely that Ukraine would seek a military solution to the conflict. "The attention of our interlocutors is drawn to the fact that a military operation and an attempt to resolve problems with the use of force in the southeast are quite real," he stated. "This probability is high and real."
Breakaway Ukrainian Region Orders Evacuation
Civilians Flee from Rebel-held Donetsk to Russia
(February 18, 2022) — Ukrainian troops have been bolstered with arms supplies from Western nations and "are now prepositioned for combat and ready to take Donbass by force," Denis Pushilin claimed in a statement on Friday, referring to his region and fellow breakaway entity, the Lugansk People's Republic, by their collective name.
The Ukrainian rebels are expecting President Volodymyr Zelensky to order an offensive "in the nearest future." Their military forces are prepared to fight, but civilians in rebel-controlled areas are at risk of being caught in the crossfire, the head of the Donetsk People's Republic warned.
"That is why starting today, February 18, a mass evacuation of people to the Russian Federation has been organized," he said, adding that vulnerable groups like women, children, and the elderly would be given priority.
Pushilin said Russian officials in the neighboring Rostov Region are expecting an inflow of evacuees and will provide them with what they need. There will be conditions at border crossings to expedite the process, he added. He urged people "to heed to the warning and take the right decision," saying that the relocation would be temporary and would save lives.
Lugansk like Donetsk has also asked all citizens of the region except military men to leave it for Russia urgently. Russian Emergency Situations Minister has been instructed to fly promptly to Rostov Oblast near Donbas.
Additional information
1/ Ukrainian Armed Forces started a large-scale shelling of Donbas since February 16, 2022. They are using 122-mm MRLS Grad, 120-mm and 82-mm heavy artillery and mortars, etc. prohibited by the Minsk agreement. Firing started along the 400 km entire line of disengagement.
2/ In doing so, Ukrainian Armed Forces has violated the 2020 ceasefire agreement with Donbas: February 14=274 times, February 15=154 times, February 16=591 times, February 17=500 times and February 18 (during the first half of the day)=more than 300 times.
3/ Civilian targets like buildings, heavy-duty roads, railroads, electricity supply towers in Donbas are now destroyed by the Ukrainian Armed Forces.
4/ Ukrainian Armed Forces arranged a provocation by claiming that a kindergarten has been hit by Donbas fire (see please attached slides). Donbas has never done such act.
5/ Kiev Special Forces failed to destroy a chemical plant in Donbas producing chlorine.
So far, the USA and its NATO allies have supplied Kiev with 1,500 tons of arms and ammunition.
Civilians Flee as Ukraine Invades Donbass
(February 18, 2022) — The first evacuation buses are already arriving in the Donbass cities and villages! Meanwhile, loud sirens from the disaster and civil defense can be heard. Queues also form in front of the banks. It is said that the Ukrainian large-scale attack on the Donbass is imminent.
First of all, all orphans from Donetsk children's homes are being evacuated to Russia.
Related News
US/NATO is using a fictitious scenario from 2017 Ukraine war game as
basis for accusations against Russia
https://dan-news.info/en/ukraine/materials-on-russias-offensive-against-ukraine-are-ukrainian-army-drill/
US shipped botulinum toxin and benzoxazepin to Ukraine in
violation of the Chemical Weapons Convention
https://dan-news.info/en/ukraine/basurin-reveals-details-of-us-shipments-of-toxic-substances-to-ukraine/
https://dan-news.info/en/defence/threat-of-ukraine-using-chemical-weapon-persists—basurin/
Ukraine preparing a sea assault via Sea of Azov
https://dan-news.info/en/defence/ukraine-preparing-seaborne-assault-to-capture-dpr-positions-on-sea-of-azov/