Military Impacts Causing
Environmental Harm Across Multiple Fronts
Dr Eoghan Darbyshire and Doug Weir / Conflict and Environment Observatory
(February 25, 2022) — Words seem superfluous right now. Below you'll find our summary of what we have seen in Ukraine over the last 48 hours. Environmental damage has been caused, and will worsen. The summary provides some sense of how we think things will develop.
This is an overview of some of the emerging environmental issues and perspectives arising from the Russian invasion of Ukraine. In common with many conflicts, we have already seen pollution incidents that place people and ecosystems at risk of acute and long-term harm.
Russian tanks surround the damaged Chernobyl nuclear power plant.
Health Warning
The reports we summarise below are primarily based on social media monitoring, which can be unreliable. Where possible we have used trusted sources but the reports may be subject to change as further information comes in. As importantly, while we can document the kinds of problems associated with certain incidents, in the vast majority of cases their true humanitarian or ecological impact will only be properly understood after assessment on the ground.
Pollution from Military Sites and Materiel
The first two days of fighting have been characterised by Russia's targeting of Ukrainian military infrastructure, including many in close proximity to civilian areas. These included ammunition storage facilities in Kalynivka, Krasnopillia, Krivoy Rog, Dnipro and Zhitomir. Airfields, and their fuel storage tanks, in Hostomel, Gostomel, Chuhuyev, Chernobaevka, Melitopol, Ivano-Frankivsk, and Millerovo (targeted by Ukraine, in Russia), and naval facilities.
These have resulted in fires releasing harmful air pollution. Large smoke plumes spread over civilian areas. These are composed of toxic gases and particulate matter and, where conventional weapons have been stored, heavy metals and energetic materials. At these sites, there will also be substantial soil and water contamination, the extent to which these pollutants can migrate from military facilities will vary depending on the site.
Where efforts were made to extinguish fires, the pollution may include residues from firefighting foams. Damaged naval sites have the potential to generate coastal pollution. Where facilities have been in operation for many years, this new pollution may build on existing military contamination.
On a smaller scale, the burned out tanks, transportation vehicles, downed aircraft, and other remnants of fighting are also sources of pollution. Attacks on shipping, whether deliberate or accidental, can threaten the marine environment.
Arms depot in Kalynivka blown up, @nexta_tv reports pic.twitter.com/aH5S7OpJ2d

— Alec Luhn (@ASLuhn) February 24, 2022
Nuclear Facilities and Radiation Risks
February 24th saw fighting around the Chernobyl nuclear power plant. The site of the world's worst nuclear disaster is still in the process of being decommissioned and made safe.  Russian forces seized the site and there are "credible reports" that workers are being held hostage. If this leads to a stoppage of the routine maintenance decommissioning, this could raise the risk of a major incident.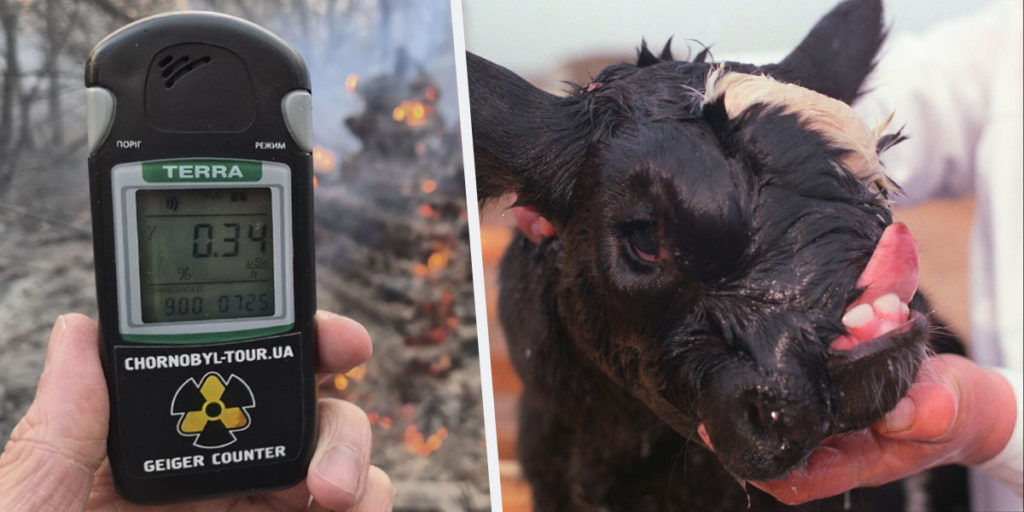 Spikes in radiation linked to mutations in local animals.
As the first day of the invasion drew to a close, elevated levels of gamma radiation in the Chernobyl Exclusion Zone were reported, according to three sensors of the automated radiation monitoring system. The radiation dose reported was equivalent to approximately 28 times the annual limit. The reasons why are currently unclear.
The risks that the site poses has already become a propaganda tool, with the Russian media reporting: "Experts say that one of the goals of this operation by Russian troops was to prevent Ukrainian nationalists from entering the territory of the plant to carry out provocations with radioactive materials". Meanwhile, the speaker of the Ukrainian parliament cautioned that it could be used for a Russian false-flag incident. Given the symbolism of Chernobyl, it is likely to remain a key part of the environmental-propaganda war.
Elsewhere, there has been fighting reported in the vicinity of the Zaporizhzhya nuclear power plant, which has six reactors, although this has the potential to be disinformation. However the site may be affected by any move by Russia to link up its control of Kherson and Donetsk oblasts.
Beyond sites linked to the nuclear industry, it should be noted that radioactive sources and materials can also be found in industrial sites, hospitals and military facilities. Finally, there are legitimate concerns that Russian tanks may be fielding 125mm depleted uranium ammunition and that assessments of wreckage should be undertaken.
Water
After Russia occupied Crimea in 2014, Ukraine blocked off the North Crimean Canal, which was used to divert water from the Dnieper river to irrigate cropland and supply chemical industries, including the "Crimean Titan" – the largest producer of titanium dioxide in Europe, which saw a major environmental incident in 2018, and was evacuated pre-invasion amid fears the site would be used for a "false flag" type attack.
As they advanced towards Kherson, Russian forces took control of the canal and it is reported that pumps are being fixed, overgrown vegetation and a dam cleared, and that water will soon flow back into Crimea. The Russian-backed administration had come under considerable local pressure over water scarcity on the peninsula.
In the lead-up to the invasion, water facilities were damaged in eastern Ukraine, leaving up to 90,000 people without water. This has been a persistent problem in the Donbas region for eight years. On the day of invasion, the Seversky Donets-Donbas pipeline was reportedly damaged, whilst there was fighting around the Kakhovka Hydroelectric Power Plant on the Dnieper. The Dnieper's hydro plants often represent crossing points for the river and so are of strategic value.
Russian thermobaric weapons designed for urban warfare.
Use of Weapons
Russia's use of heavy explosive weapons in urban areas has been widespread, including Multiple Launch Rocket Systems. With relatively few precision weapons, there are fears further intensification will lead to devastating consequences for people, the built environment and the critical infrastructure that serves it.
The use of explosive weapons in populated areas generates pollution from pulverised building materials – which may include asbestos, metals and combustion products, large volumes of debris and can lead to soil and groundwater pollution by damaging waste water pipes. Pollution threats can be increased where light industry or facilities such as petrol stations are in close proximity to residential areas.
Other contaminants include weapons residues, such as metals and explosives. In addition to rockets and artillery, there has been evidence that Russia has also used banned cluster munitions in urban areas.
A fire ignited after Russians shelled the Luhanska Power Plant.
Industrial Infrastructure
Ukraine is a heavily industrialised country, with many mines, chemical processing plants and metallurgical works, risking a large technological catastrophe. On the 24th, residents of Odesa were warned that the Odesa Port Plant might be hit. The plant, one of the largest in Ukraine, produces ammonia, urea and other chemical products. Such sites are high risk objects, not just through direct damage, but also through forced shutdown, power cuts or lack of personnel to operate them safely, situations that can arise when they get caught up in fighting. Industrial control systems can also be affected by cyber operations. Many of Ukraine's major cities contain potentially hazardous industries, including Kyiv, Kharkiv, Kryvyi Rih, Mariupol and Odesa.
During the last eight years, there has been significant concern over the risks of an environmental emergency in the heavily industrialised Donbas region. Communities and forces on both sides of the line of contact are aware of the threats but the intensification of conflict carries with it greater risks of an incident, particularly where the largely static line of contact moves.
On the 22nd, the area around Luhanska Thermal Power Plant came under heavy shelling and a transformer was struck, causing a fire, while on the 25th, there were reports of a fire at an oil tank farm in the Kirovsky district of Donetsk. The site was alleged to have been struck by a drone in September 2021.
A slower onset environmental disaster may already be locked in for the Donbas due to the abandonment of groundwater pumping from the region's coal mines. Research coincidentally published on the 24th showed the extent to which the ground has been deforming due to rising groundwater.
Mine drainage is typically polluted with high levels of salts and metals and is already contaminating wells and drinking water sources, while subsidence can damage buildings and infrastructure. There are particular concerns over the discharge from the Yunkom mine, site of a nuclear test in the 1970s.
Beyond chemical, metallurgical and energy infrastructure, a grain elevator in the city of Uman was damaged on the 24th. Ukraine and Russia are major grain exporters and it is feared that price spikes will impact food security internationally, with particular concern over countries like Yemen. On the 24th the World Food Programme said: "The escalation of conflict in Ukraine is likely to further increase fuel and food prices and especially grains in the import-dependent country."
Red squares show detected fires on 24th and 25th February 2022 in proximity to Kherson (top left) and the Black Sea Biosphere Reserve, Ukraine, as detected by the Visible Infrared Imaging Radiometer Suite (VIIRS) instrument. Screenshot from the NASA FIRMS platform.
Landscape and Habitats
The longer the conflict goes on, the greater the landscape level impacts will be. Thus far, Russian forces have stayed mainly to the road network and these have been the loci of fighting. However, this could change. Large military vehicles have made use of fields and cover for launches or concealment, however any impacts will likely be temporary.
The Ukrainian military have laid landmines along at least one beach near Odesa in an effort to prevent an amphibious landing. The intense shelling of sites like the notorious Snake Island may have left permanent scars on bio and geodiversity.
The fighting close to Kherson, to take the bridge over the Dnieper, resulted in fires in the Black Sea Biosphere Reserve. These fires were detectable from space, and may have destroyed trees and unique habitats for birds in the largest nature reserve in Ukraine.
Climate
Both the military build-up, and the short term and long-term impacts from the fighting, will have generated Greenhouse Gas (GHG) emissions. Reconstruction, when it comes, will be a further and significant carbon cost made necessary by the conflict.
Global oil and gas price spikes will have a complex effect on emissions. On the one hand high prices may reduce consumption but, if sustained, they will encourage exploration and production from less affordable deposits.
Around 40% of the EU's gas comes from Russia, but in this new era of sanctions and the cancellation of the Nord Stream 2 pipeline, the energy supply will have to change in Europe. In the longer term, one possibility is more renewables, which would represent a better outcome for emissions. Had the EU been further advanced in reducing its Russian fossil fuel dependency it would doubtless be in a stronger political position with respect to its planned sanctions.
From a climate governance and emissions reduction perspective, it seems inevitable that Ukraine's focus will be elsewhere for some time to come. Meanwhile Russia's ostracisation and any subsequent geopolitical tension may translate into difficulties in reaching and advancing multilateral environmental agreements. It also seems likely that there will be pressure to increase military expenditure and activities in the region, increasing GHG emissions at a time where reductions are urgently needed.
Dr Eoghan Darbyshire is CEOBS' Researcher, Doug Weir its Research and Policy Director.