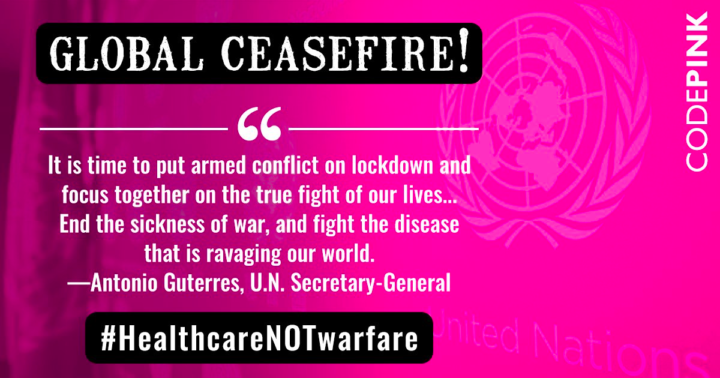 PETITION: Call for a Global Ceasefire and
Peace Moratorium for People and Planet
CODEPINK
CALL FOR A GLOBAL CEASEFIRE AND A MORATORIUM on any new weapons production—not one more bullet– including and especially nuclear weapons, let them rust in peace!
FREEZE all weapons manufacturing and fossil, nuclear, and biomass fuels manufacturing– the way nations geared up for WWII stopping most domestic manufacturing to make weapons– and use those resources to save the planet from catastrophic climate destruction;
ESTABLISH a global three-year crash program of windmills, solar panels, hydro turbines, geothermal, efficiency, green hydrogen energy, mass transit creating hundreds of millions of jobs around the world, and cover the world in solar panels, windmills, water turbines, geothermal generating plants;
START A GLOBAL PROGRAM of sustainable farming–plant tens of millions of more trees, put rooftop gardens on every building and city vegetable patches on every street;
ALL WORK TOGETHER ACROSS THE GLOBE to save Mother Earth from nuclear destruction and catastrophic climate collapse!
Sincerely, [signed]
EAW's Comment:
Not one more bullet. Not one more bomb. The US economy is wedded to war. Let's divorce government from the War Industry. No more contracts to build killer drones. No more contracts to "modernize" nuclear weapons. Tell Lockheed, Raytheon, Boeing and the rest to start building windmills and solar-powered technology instead. Call the troops home and deploy them to plant millions of trees and rebuild homes destroyed by oil-fueled extreme weather. Start profiting from peace instead of war. And maybe avoid planet-wide annihilation in the process.
How to Slow Global Warming
With 12% of the Pentagon's Budget
(April 2012) — The United States and the world are at a crossroads.
Putin's war in Ukraine has sent energy prices skyrocketing. Governments across the globe have been forced to turn to alternative fossil fuel-producing authoritarian governments like Saudi Arabia to keep the lights on. Meanwhile, the big oil and gas companies are furiously lobbying Congress to drill more here at home.
But what if I told you there's a way to strengthen our national security, become energy independent, create good union jobs, and combat the climate crisis — all at the same time? 
We're not kidding: Senator Bernie Sanders, along with Representatives Cori Bush and Jason Crow, have introduced legislation in Congress that would do just that.
The Energy Security and Independence Act would activate the Defense Production Act to spur innovation and renewable energy generation across the United States. At this moment, high energy prices have forced us to reconsider our energy policies. But if we don't show up right now for investing in renewables, Congress is going to double down with the big oil companies.
ACTION: Sign on here to tell your members of Congress that you support the Energy Security and Independence Act — and you need them to as well!
"We are in the midst of a global struggle with
nothing less than the future of the planet at stake."
— Senator Bernie Sanders
We can and must go beyond underwriting authoritarian regimes by buying their fossil fuels, destroying the environment, and exacerbating the climate crisis with domestic drilling.
Instead, we can take this opportunity and double down on investing in renewable energy generation in the United States. The Energy Security and Independence Act will invest $100 billion to reinvigorate the US energy industrial base and create a task force to work with environmental justice communities, labor unions, scientists, and companies to accelerate the transition to renewable energy. The bill will also provide funding to update and insulate 6.4 million homes to reduce energy costs.
In addition to Senator Sanders and Reps. Bush and Crow, this legislation is also co-sponsored by Sen. Elizabeth Warren among other senators, and by 27 House members including Representatives Alexandria Ocasio-Cortez and Mikie Sherrill.
It's a critically needed bill that comes just days after the UN Intergovernmental Panel on Climate Change (IPCC) released a "now or never" warning on lowering greenhouse gas emissions.
But here's another way of looking at this legislation. We pour billions into the Pentagon to purchase weapons for "security:" $6.3 billion for a new nuclear submarine, $11 billion for the failed F-35 jets — with the latest bloated FY22 Pentagon budget spiking over $813 billion.
For just 1/8th of the Pentagon's budget, we can build true security, become energy independent, combat the climate crisis, all the while creating good union jobs in manufacturing, construction, and installation along the way. 
Together, we'll make this sound investment of our tax dollars a reality!
ACTION: So why wait — take action and add your name here to urge your members of Congress to co-sponsor the Energy Security and Independence Act!
Thank you for working for peace,
Sam, Stephen, Yint, and the Win Without War team