Peninsula Peace and Justice Center
We Helped 8 People Escape Afghanistan
David Swanson / World BEYOND War
(April 25, 2022) — World BEYOND War's longtime Advisory Board Member and new Board President Kathy Kelly found a way to help eight people — seven young men and women and one baby — escape a highly perilous future in Afghanistan.
For weeks, after the Taliban took over, Kathy was focused on helping these friends get out, contacting and speaking passionately and persuasively with everyone who might be of assistance.
Kathy and her international companions drafted a long letter on World BEYOND War letterhead laying out the case:
"In a country devastated by decades of war, poverty, and corrupt leadership, a grassroots multi-ethnic group of Afghan youth dared to believe that a 'green, equal and nonviolent' society was possible, not just in Afghanistan but throughout a world they envisioned could be free from borders of every kind.
These altruistic youngsters, working together in their Center for Nonviolence in the capital city of Kabul, developed remarkable projects to overcome ethnic differences, share resources and promote nonviolence.
"They steadily strengthened a community wherein no one person was in charge. Tasks were shared equally and toy weapons were banned. Local women earned a modest salary as part of a sewing cooperative, and children too poor to attend school were invited to learn for free. They circulated solar panels, solar batteries and rainwater collection barrels, while also learning to create permaculture gardens.
They gathered every week for teach-ins focused on understanding and alleviating poverty, nonviolent conflict resolution, averting climate catastrophe and the basics of health care. They welcomed international visitors and held an annual conference that brought together representatives from every province in Afghanistan to celebrate the International Day of Peace through workshops, games, and social events."
They also originated the idea of wearing sky-blue scarves for one united world, now promoted by World BEYOND War.
"As a consequence of their high profile international connections, inclusion of the persecuted Hazara minority and commitment to gender justice, the group has had to disband with many members fleeing the country to avoid imprisonment, torture and even execution," Kathy explained near the end of the letter.
Kathy and World BEYOND War recruited organizations to write to the Ministry of Foreign Affairs of Portugal recommending these young people as being trained in permaculture and ideal to join a community called Terra Sintrópica, represented by Eunice Neves, in the town of Mértola.
After many nervous and fearful days, this rescue was successfully arranged. Below are pictures of the eight Afghans, happily still alive, being welcomed to Portugal and getting to know their new neighbors — in a wonderful community not completely unlike the one they had created in Kabul.
A video of Eunice Neves discussing life in Portugal with their new Afghan friends can be found below. These Afghan peacemakers are still busy developing a world beyond wars and borders.
At World BEYOND War we have major plans for changing governmental policies, but also for aiding individuals where we are able. If you are able to help us do this work, please make a donation.
We'd be nowhere without you.
David Swanson is the Executive Director of World BEYOND War, a global network of volunteers, chapters, and affiliated organizations advocating for the abolition of the institution of war.  
Borderfree
KABUL (August 18, 2014) — Here in Kabul, Sherri Maurin and I are guests of the Afghan Peace Volunteers' recently formed live-in community for young women. Hollyhocks in the garden reach as high as the second floor of our living space. Rose bushes, morning glories and four-o-clocks have bloomed, and each day we eat tomatoes, mint and green onions plucked from the well-cared-for garden.
The water source is a hose and tank outside, (there's no indoor plumbing) so that's where dishes and clothes are cleaned. The latrine is also outside — and unfortunately we're sharing it with playful neighborhood cats, but otherwise Zarghuna, Zahidi and Zahro complete almost every detail of housekeeping, each day, by 7:00 a.m.
Two additional rooms are filled with sewing machines and tables used by a group of local seamstresses.
The men's community, separate now from the newly launched "Borderfree Community Center of Nonviolence," where projects and programs take place, also has a fine garden and similar room arrangements. An added plus — their yard has four trees!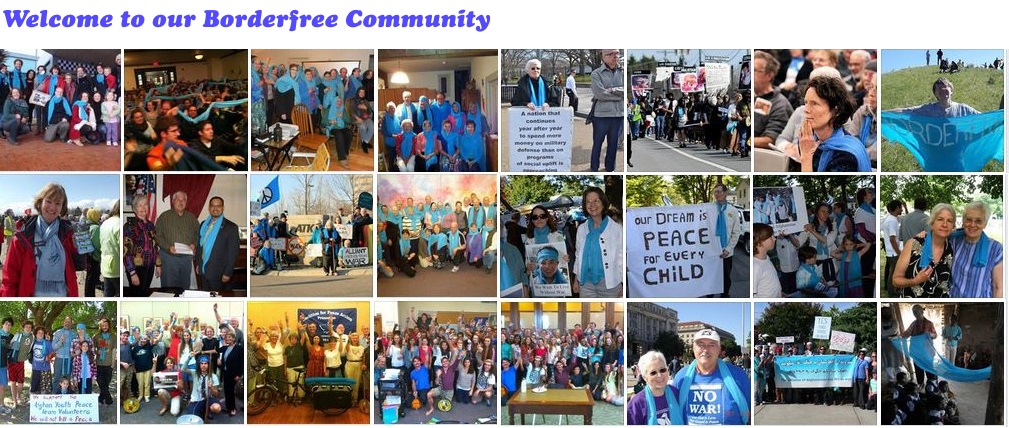 The Borderfree Center is named for Prof. Noam Chomsky's call, in a 2013 American University of Beirut commencement speech, for participation in "a worldwide struggle to preserve the global commons" so as to secure "decent human survival in a world that has no borders."
The symbol of their participation is the blue scarf they distribute to friends and supporters, symbolizing the blue expanse of sky upon which national boundary lines will never be drawn.
Going and coming from our communities to "the Center" is a 35-minute walk through village-like streets if you take the back ways. The Borderfree Community Center, when it was first rented, needed considerable rehab and repairs. Hakim, Faiz, Zekerullah and Abdulhai worked hard to shape it up. Now, guests enter an attractive space, neatly painted, with plenty of classroom and meeting space. Plants, curtains, photo exhibits, and carpets have all been carefully chosen.
Sadaf, one of the APV women who has been active in producing the Borderfree scarves, organized art students from local universities to paint images on the walls of a children's classroom as well as the reception area. Painted on a wall inside the center's gate is a playful piece of graffiti with lots of floating bubbles. Letters appearing where the bubbles pop spell out "We Love Peace," although in a jumbled order that presents a challenge for linear thinkers.
Another artist, a well-known cartoonist, painted an image on the outside wall, visible to passers-by. It shows a figure who has fired a slingshot at a drone, but instead of a rock, a small red heart symbol breaks the drone in half.
Classes and programs keep the center lively. Earlier this week, ten people who had been invited to participate in a four-week orientation course on nonviolence attended the first session. We also gathered for the weekly Global Awareness sessions, which focus on a range of topics related to militarism, environmental concerns, and socioeconomic inequalities.
Hamidullah Natiq, a seasoned practitioner of conflict resolution in Afghanistan, meets with the group once a week. Local children, part of a "street kids" project, come once a week for Dari language and Math classes, guided by two capable young volunteer teachers, Hadisa and Farzana. And, once a month, the "street kids" receive, for their families, large sacks of rice and containers of cooking oil. These donations allow them to attend school rather than work as vendors on Kabul's streets.
Rent for the center costs $500 per month. The APVs hope that by selling the borderfree sky blue scarves they can help cover this cost. Sherri, I and other internationals will encourage people in our home locales to assist with the center's expenses.
During a recent visit to Kabul's Emergency Surgical Center for Victims of War, the staff shared with us their sense of what's happening around the country, derived from the reports of staff working at several dozen clinics and at their main hospitals in two other provinces. They described Kabul as "a bubble." They told us full-scale wars are being fought between quite heavily armed forces in both eastern and southern Afghanistan, although the news coverage that goes beyond Afghanistan generally pertains to Kabul. The groups fighting the Afghan government include various warlords, the Taliban, drug kingpins, and foreign fighters, some of whom may be strategizing ways to cut off the roads to Kabul. The Kabul "bubble" can be quite vulnerable.
The borders now vanishing in the Middle East — the most radical transformations of the map here since the post-WWI Sykes Picot agreement — are being redrawn in chaos and fear. The bubbles that burst here are the hopes for peace in a world avid for control of this region and its resources. Unfortunately, durable structures of separation and domination make it difficult for many young Afghans to fulfill their longings to connect meaningfully, peacefully, and stably with a saner world united under one blue sky.
I asked Faiz what he most appreciates about the Borderfree Center. He immediately spoke of the graffiti outside, saying that it gives him hope and suggests a sense of freedom and courage. I believe that courage is the ability to control one's fear. Faiz dares to hope that the courage and love of ordinary people can free them from artificial systems of surveillance, separation, and dominion.
The heart of love that breaks apart the drone, propelled by a slingshot converted into a peace-making tool, points all of us in a direction, sorely needed, that aims to abolish war. We have a lot of work to do, our tools are small, and the time is short. Yet over the past several years, as I've watched this inter-ethnic community grow, acts of kindness have been a reliable bulwark against war. Before me, looking out on a flourishing garden, I'm grateful for their hope.
Posted in accordance with Title 17, Section 107, US Code, for noncommercial, educational purposes.