Global Mobilization to #StopLockheedMartin:

April 21-28 2022
From Ukraine to Yemen, from Palestine to Colombia, from Somalia to Syria, from Afghanistan and West Papua to Ethiopia, no one profits more from war and bloodshed than Lockheed Martin.
We called on people around the world to join the Global Mobilization to #StopLockheedMartin starting on April 21, the same day that Lockheed Martin held its Annual General Meeting.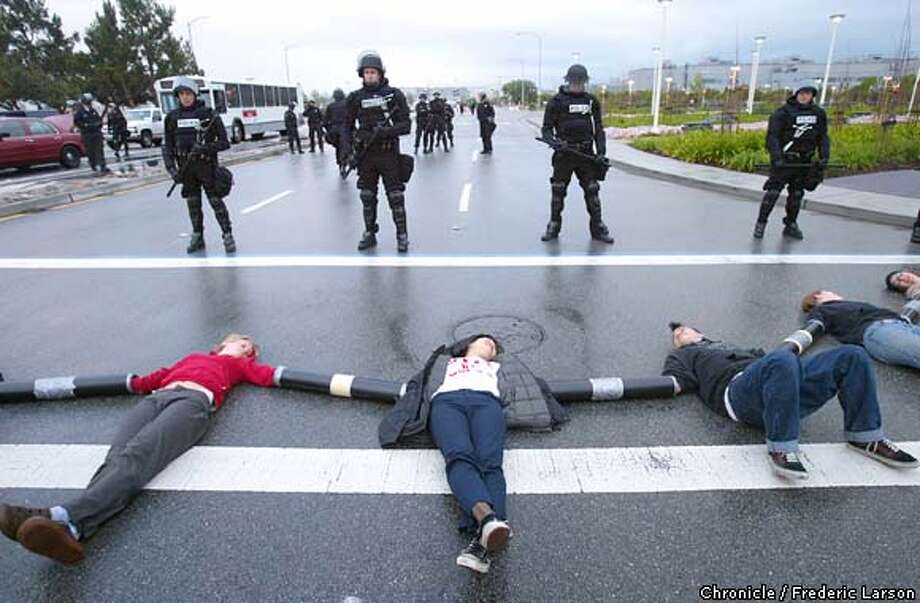 About Lockheed Martin
By far the world's biggest weapons dealer, Lockheed Martin brags about arming over 50 countries. These include many of the most oppressive governments and dictatorships, and countries on opposite sides of wars. Some of the governments armed by Lockheed Martin are:
Algeria, Angola, Argentina, Australia, Azerbaijan, Bahrain, Belgium, Brazil, Brunei, Cameroon, Canada, Chile, Colombia, Denmark, Ecuador, Egypt, Ethiopia, Germany, India, Israel, Italy, Japan, Jordan, Libya, Morocco, Netherlands, New Zealand, Norway, Oman, Poland, Qatar, Saudi Arabia, Singapore, South Korea, Taiwan, Thailand, Turkey, United Arab Emirates, United Kingdom, United States, and Vietnam.
Weapons often come with "lifetime service agreements" in which only Lockheed can service the equipment.
Lockheed Martin weapons have been used against the people of Yemen, Iraq, Afghanistan, Syria, Pakistan, Somalia, Libya, and many other countries. Apart from the crimes its products are manufactured for, Lockheed Martin is frequently found guilty of fraud and other misconduct.
Lockheed Martin is involved in US and UK nuclear weapons, as well as being the producer of the horrific and disastrous F-35, and the THAAD missile systems used to escalate tensions around the globe and manufactured in 42 US states the better to assure Congress members' support.
In the United States in the 2020 election cycle, according to Open Secrets, Lockheed Martin's affiliates spent almost $7 million on candidates, political parties, and PACs, and almost $13 million on lobbying including almost a half a million each on Donald Trump and Joe Biden, $197 thousand on Kay Granger, $138 thousand on Bernie Sanders, and $114 thousand on Chuck Schumer.
Of Lockheed Martin's 70 US lobbyists, 49 previously held government jobs.
Lockheed Martin lobbies the US government primarily for an enormous military spending bill, which in 2021 amounted to $778 billion, of which $75 billion went straight to Lockheed Martin.
The US State Department is effectively a marketing arm of Lockheed Martin, promoting its weapons to governments.
Congress members also own stock in and profit from Lockheed Martin's profiting, including from the latest weapons shipments to Ukraine. Lockheed Martin's stocks soar whenever there's a new big war. Lockheed Martin brags that war is good for business. One Congresswoman bought Lockheed Martin stock on February 22, 2022, and the next day tweeted "War and rumors of war is incredibly profitable…"
Core Mobilization Organizers

Photos and Reports from Actions Around the World
Protest & Petition Delivery at Lockheed Martin HQ during its Annual General Meeting
World BEYOND War's Executive Director David Swanson and allies at CODEPINK, MD Peace Action, MilitaryPoisons.org, and Veterans For Peace Baltimore Phil Berrigan Memorial Chapter protested outside Lockheed Martin's headquarters in Bethesda, Maryland during its Annual General Meeting, and delivered a petition with thousands of signatures calling on Lockheed to convert from weapons manufacturing to peaceful industries. Additional photos/video are available here.
Tax Day Action at Lockheed Martin, Palo Alto, California
CODEPINK, Pacific Life Community, WILPF, San Jose Peace and Justice Center, and the Raging Grannies marched a mile with banners and protested at Lockheed Martin in Palo Alto. Despite being met by a security team blocking the entrance, the Raging Grannies did some wonderful lively singing, and then CODEPINK read and attempted to deliver the petition, which was received by a security guard. A large Pentagon cake was cut and shared to symbolize cutting the Pentagon budget. View more photos here and here and an article here.
Haunting Street Theatre in Seoul, South Korea
World Without War held a stunt action at IFC mall where Lockheed Martin Korea is located in Seoul. Victims of war confronted Lockheed Martin executives while sirens blare in an incredibly powerful piece of street theatre. View more photos here and here.
Protest at F-35 facility in Japan
Japan for a World Beyond War protested in along National Route 41 in Komaki City, Japan, just down the street from Komaki Airport and the Komaki South Final Assembly and Check-Out (FACO) facility in Komaki City, Aichi Prefecture, Japan. The FACO facility is located on the west side of the airport. Mitsubishi assembles the F-35A there next to the airport. Also adjacent the Komaki Airport, on the east side, is a Japan Air Self-defense Forces Air Base (JASDF).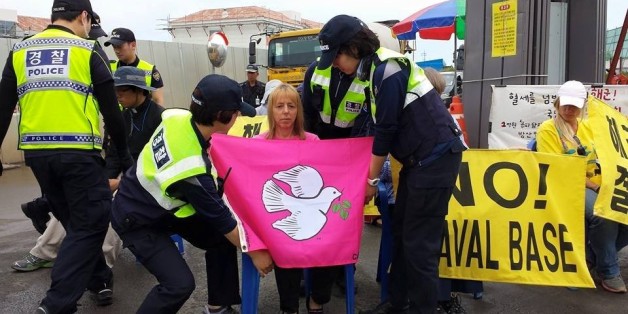 Protest on Jeju Island outside the Navy Base in Gangjeong Village, South Korea
Earth Day #StopLockheedMartin protest at the Jeju Navy Base in Gangjeong Village during US-ROK joint war drills. A powerful local campaign has been resisting the construction of a huge naval base on Jeju Island for many years. Additional information and photos of the protest are available here.
Resisting Lockheed's MUOS satellite dishes in Niscemi, Italy
NoWar/NoMuos activists displayed protest signs in front of the MUOS satellite dishes in Niscemi. The US base in Niscemi, built by devastating the SCI reserve Sughereta of Niscemi, has been operational for years and for 2 months the NRTF antennas and the US Navy's Muos have been transmitting death orders mainly in conflict zones in Ukraine.
Lockheed Martin is the Prime Contractor of the system and is the designer of the MUOS satellites. At Sigonella, the AGS (Alliance Groud Surveillance) system has been operational for a few weeks, thus becoming the US and NATO eyes and ears in the Russian-Ukrainian conflict and turning Italy into a co-belligerent country and Sicily into the second line of war and subject of possible retaliation. Let's free ourselves from the bases of death in Sicily and everywhere!
Rejecting Lockheed and their fighter jets in Montréal, Canada
Montréal for a World BEYOND War gathered downtown on Friday, April 22 as part of the Global Mobilization to #StopLockheedMartin. Protesters carried signs and handed out flyers that protested the fact that our hard-earned tax dollars are going to this horrible company that makes billions of dollars annually producing weapons for mass destruction.
Knot Bombs Quilt Commemorates Lockheed Victims in Nova Scotia, Canada
Peace activists in Nova Scotia, Canada publicly displayed a quilt with the names of Lockheed victims. "We brought stories of other children, of their spirits. The names of 38 Yemeni children are embroidered in Arabic and English. In August 2018, in Yemen, 38 children and teachers were killed and many more wounded on a school trip. The bomb that struck their school bus also had a name – the laser-guided version of a Mk-82 bomb was a Lockheed Martin Bomb. The children's names rise above fighter jets, on the wings of a mother peace dove and her daughter, both winging above the destruction that bombs, warfare and militarism continue to rain down on the human family."
Putting up a "corrected" Lockheed billboard in Toronto, Canada
Antiwar organizers with World BEYOND War put up a billboard of a "corrected" Lockheed Martin ad in Toronto on Canada's Deputy Prime Minister Chrystia Freeland's office building. The world's biggest weapons company, Lockheed Martin has paid a fortune to get their ads and lobbyists in front of Canadian politicians. We may not have their budget or resources but putting up guerilla billboards like this is one way we're pushing back on Lockheed's propaganda and Canada's planned purchase of 88 F-35 fighter jets.
Protest action in Colombia at the HQ of Sikorsky, a branch of Lockheed Martin
Tadamun Antimili led a protest in Colombia at the headquarters of Sikorsky, a branch of Lockheed martin. They demanded no more Black Hawk helicopters and F-16 killer jets in Colombia! Additional information about Lockheed Martin's Colombian operations and impacts is available in Spanish here.
Roving march in Melbourne, Australia takes over Lockheed Martin research facility
Wage Peace – Disrupt War led a colourful, costumed and loud march through Melbourne, taking over Lockheed Martin's research facility SteLar lab, where University of Melbourne collaborates with the world's biggest arms dealer to export terror. Photos here.
Protest in Brisbane, Australia at Lockheed Martin contractor QinetiQ
Wage Peace – Disrupt War protested in Brisbane, Australia at QinetiQ to oppose their connection to Lockheed Martin weapons manufacturer killing children in West Papua and beyond.
Information about Lockheed Martin
#StopLockheedMartin Endorsers
80000 Voices
Aid/Watch
Antiwar Advocates of Minnesota CD2
Auckland Peace Action
Baltimore Nonviolence Center
BFUU Social Justice Committee
Brandywine Peace Community
Cameroon for a World Beyond War
Chapter #63 (ABQ) Veterans For Peace
Chicago Area Peace Action
China-US Solidarity Network
Climate Change Action
CodePink EastBay Chaper
CODEPINK, Golden Gate Chapter
Comitato NoMuos/NoSigonella
Community Organizing Center
Congregation of Sisters of St. Agnes
County Sustainability Group
CUNY Adjunct Project
EarthLink
Educating Girls and Young Women for Development-EGYD
Environmentalists Against War
Fields of Peace
Florida Peace & Justice Alliance
Global Peace Alliance Society
Greenspiration
Homestead Land Associates, LLC
Hour For Peace NoCo
Independent and Peaceful Australia Network
Intercommunity Justice and Peace Center
Interfaith Peace Working Group
Japan for a World BEYOND War
Kickapoo Peace Circle
Kurdistan without Genocide
Labor United for Class Struggle
Labour Against the Arms Trade
Maryland Peace Action
MAWO
Menwith Hill Accountabilitry Campaign
Minnesota Peace Project
Movement for the Abolition of War
Movimiento por un mundo sin guerras y sin violencia Chile
Niagara Movement for Justice in Palestine-Israel (NMJPI)
NJ State Industrial Union Council
NO To NEW TRIDENT Campaign
NorCal Resist
North Country Peace Group
Office of Peace, Justice, and Ecological Integrity, Sisters of Charity of Saint Elizabeth
Okinawa Environmental Justice Project
Organization Against Weapons of Mass Destruction in Kurdistan
Organization of the Justice Campaign
Partera International
Peace Action WI
Peace And Justice Alliance
Peace Fresno
Peace, Justice, Sustainability NOW!
Philadelphia Chapter National Writers Union
Polemics: Journal of the Workingclass Struggle
PRESS, PortsmouthPiketon Residents for Environmental Safety and Security
Reject Raytheon Asheville
Resistance Studies Initiative, University of Massachusetts, Amherst
Rooms for Peace
RootsAction.org
Safe Skies Clean Water Wisconsin
Safe Tech International
Shadow World Investigations
Sisters of Charity Federation
Sisters of Charity of Nazareth Congregational Leadership
Smedley Butler Brigade, chapter 9, VFP
St. Pete for Peace
Tatwala vzw
The Everyday Peace Initiative
The Raucous Rooster
Toronto Raging Grannies
Touching Earth Sangha
Veterans For Peace Chapter 9 Smedley Butler Brigade
Veterans For Peace Golden Rule Project
Veterans for Peace Hector Black chapter
Veterans for Peace Madison Wisconsin CH 25
Wage Peace
Washington Physicians for Social Responsibility
Women Against War
Women's International League for Peace and Freedom
Women's International League for Peace and Freedom, US
World BEYOND War
World BEYOND War Vancouver