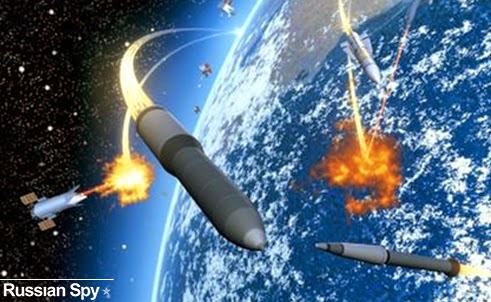 Claims NATO Would Lose War 'in 30 Minutes'
(May 8, 2022) — A Russian official has boasted that Russia would destroy NATO countries in "half-an-hour" if conflict escalated to the use of nuclear weapons.
Dmitry Rogozin, Head of Russia's Space Agency Roscosmos and former Deputy Prime Minister, said Sunday that in the event of a nuclear war, "NATO countries will be destroyed by Russia in half-an-hour."
He stressed that such an event "cannot be allowed because the consequences will impact the [entire] Earth."
Russia has roused fear and concern over the potential use of nuclear weapons as Russian President Vladimir Putin prepares for the May 9 Victory Day celebrations, including a massive military parade and a "nuclear theme" that he hopes will send a "doomsday warning to Europe and the United States.
The parade will include the flight of Russia's Ilyushin Il-80, known as the "doomsday" plane that will carry the administration's senior leadership in case of a nuclear war.
As head of Roscosmos, Rogozin oversees the launch and management of Russia's satellites, which would include some crossover into intelligence and war support functions.
But Rogozin is no stranger to making outlandish comments. He made several "erratic" comments following western sanctions that punished Russia for its invasion of Ukraine, including threats to the International Space Station.
He also claimed that Russian rockets are "the most reliable ones in the world" and suggested that people who planned the sanctions were "suffering from Alzheimer's disease."
"He just threatened that the space station might de-orbit on American or European soil. He said it doesn't fly over Russian soil, so we don't need to worry about it," former astronaut Terry Virts previously told Fox News Digital, referencing a series of tweets from Rogozin.
"His behavior has been very erratic recently, like Putin," Virts added. "I don't think anything bad is going to happen. I hope we can maintain our partnership, but the things that Putin has been doing are so dramatically over the red line."
Rogozin has appeared several times in public with Russian President Vladimir Putin, including a recent visit to the Vostochny cosmodrome last month when Russia hosted Belarusian President Alexander Lukashenko.
Peter Aitken is a Fox News Digital reporter with a focus on national and global news. 
Putin Hopes to Deter US with Nuclear-themed  Parade

Display Will Feature the Ilyushin Il-80
— Russia's 'Doomsday Plane'
(May 6, 2022) — As Russian soldiers, tanks, and military vehicles carrying ballistic missiles participate in a military parade next week, Russian President Vladimir Putin hopes the display sends a "doomsday" warning to Europe and the United States, according to a report.
The World War II parade, which Russia celebrates on May 9 each year, marks the 77th anniversary of the Soviet Union's victory in Europe, when allied powers defeated Nazi Germany, and is taking place when countries around the world seek to stop Russia's invasion of Ukraine.
The military display will also feature supersonic jets, Tu-160 bombers, and the Ilyushin Il-80 — known as Russia's "doomsday" plane, which carries the administration's senior leadership in the case of a nuclear war, Reuters reported.
The "Flying Kremlin" aircraft, as it is also known, distinctly has no windows except for those in the very front of the plane and has been seen in Moscow in recent days, participating in low-altitude rehearsal flights for the Victory Day parade, Daily Mail reported.
This year will be the first time Russia includes the Soviet-era plane in the annual military demonstration since 2010, according to the report.
The theme of nuclear readiness and international deterrence will also be shown in Russia's use of missile carriers Tu-95MS and Tu-160 "White Swan," as well as Su-57 fighter and Tu-22M3 long-range bombers, Daily Mail reported.
Russia's military occupation of Ukraine will also be referenced in the parade as eight MiG-29SMTs intend to fly in the form of the letter "Z," which has become a symbol of Russia's military, according to the report.
The military parade, which will still include tens of thousands of people and hundreds of aircraft across 28 Russian cities, has been considerably scaled-down as Russian forces have warred in Ukraine for over 70 days, resulting in heavy losses for Russia and incalculable damage to the country.
Posted in accordance with Title 17, Section 107, US Code, for noncommercial, educational purposes.