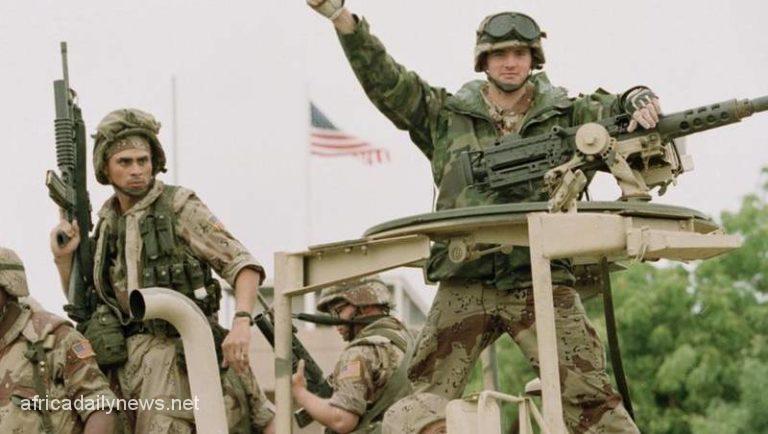 On African Liberation Day, Biden's Troop
Deployment to Somalia Confirms Africa is Not Free
The US continues its 30-year long military intervention in Somalia and passes H.R. 7311 the "Countering Malign Russian Activities in Africa Act" against African sovereignty.
Black Alliance for Peace
(May 25, 2022) — The Biden Administration's recent decision to return US troops to Somalia represents another effort on the part of the US to deny agency and independence to African people. On the 59th commemoration of African Liberation Day, the Black Alliance for Peace expresses its unequivocal opposition to this redeployment. The 500 US troops sent to Somalia are the latest to violate that nation's sovereignty. As is the case with all US interventions, the underlying reasons are not only depraved but also indifferent to the constant suffering of African people caused by western-induced militarism and war.
The reintroduction of the US military (AFRICOM) on the ground is related to a dispute between Somalia and the US oil company, Coastline Exploration Ltd, over the validity of an oil exploration agreement. It is also a signal that the US wants to both reassert its presence in the oil-rich and strategic region, and to directly target its long-time foe, Eritrea.
Netfa Freeman, BAP's African Team Co-Coordinator states that this decision is "emblematic of the US insistence on keeping Africa in perpetual turmoil and has nothing to do with enabling a more effective fight against al-Shabaab." Biden's advisors are certainly aware of various reports exposing that the billions Washington spends on counterterrorism programs, from Somalia to Nigeria, ostensibly to enhance security in Africa, is having the opposite effect.
While the US continues its 30-year long series of interventions against Somalia, H.R. 7311 the "Countering Malign Russian Activities in Africa Act" passed with the unanimous approval of every Democrat in Congress.
H.R. 7311 was introduced by House Foreign Affairs Committee Chairman and Congressional Black Caucus (CBC) member Gregory Meeks and passed in the House on April 28, 2022. The bill calls for assessments of Russia's influence on the African continent and states that the US will "hold accountable" Russia and African governments who are "complicit in aiding such malign influence." This is reminiscent of the era of the George W. Bush administration that declared that any country not with the US is against the US
Margaret Kimberley, BAP Africa Team Co-Coordinator said, "This bill is a racist affront to the right to self-determination of African people."
H.R. 7311 is a reaction to African nations that refrained from condemning Russia's military operation in Ukraine; and as a deterrent against African nations acting as Mali has done, by ending the French military presence and turning toward Russian private military company Wagner for assistance. On May 16th the Mali government announced that Wagner played a role in thwarting a failed coup attempt allegedly carried out by a group of local soldiers, foreign mercenaries, and units from the North Atlantic Treaty Organization (NATO) member countries.
Rep. Meeks and the rest of the Congressional Black Caucus (CBC) – the "Black misleadership class" –  are fully aligned with the Biden administration and Democratic Party leadership, defending every imperialist effort to exercise US dominance in Africa. The US bombed Somalia on February 22, two days before the Russian Federation began its military operations in Ukraine. Yet Somalia has not become a focus of concern of Meeks and the rest of the Black misleaders, despite years of constant drone bombings by the US having caused an estimated 250,000 deaths and the displacement of 3 million people.
Meanwhile, these same CBC members won't address domestic problems, but will lob billions to wage a proxy war against Russia and to support Nazi groups in Ukraine. The US Black misleadership class demonstrates over and over that they do not care about African people – neither on the continent nor at home.
BAP is firm in its anti-imperialist stance and again says, "US Out of Africa!" "Shut Down AFRICOM!"
No Compromise! No Retreat!
Bomb destroyed shops in Mogadishu's Lido beach, Somalia, Saturday, April, 23, 2022
Somalia needs peace and food. Instead, Biden sends troops.
Reversing Trump,
Biden Acts to Deploy US Troops to Somalia
Ben Fox and Aamer Madhani / Associated Press
(May 16, 2022) — President Joe Biden signed an order Monday to redeploy hundreds of US troops to Somalia to counter the Islamic extremist rebel group al-Shabab, an effort that American military leaders said had been hampered by President Donald Trump's late-term decision to withdraw forces from the country.
US troops will be repositioned from elsewhere in Africa to train and provide other support to Somali forces in their fight against al-Shabab, which is considered the largest and wealthiest affiliate of the al-Qaida extremist organization.
"Our forces are not now, nor will they be, directly engaged in combat operations," said Pentagon press secretary John Kirby. "The purpose here is to enable a more effective fight against al-Shabab by local forces."
It's a reminder that the US remains engaged in the long fight against Islamic extremists around the world, even if the effort has been eclipsed by the war in Ukraine and other matters.
The decision to station forces again in Somalia, rather than rotate them in and out, is intended "to maximize the safety and effectiveness of our forces and enable them to provide more efficient support to our partners," National Security Council spokesperson Adrienne Watson said in announcing the redeployment.
US troops in Somalia will total "under 500" according to a senior Biden administration official who spoke on condition of anonymity to brief journalists on the decision.
In addition to training Somali forces, American troops will also provide security to personnel from the State Department and the US Agency for International Development as they work with the government to emerge from years of turmoil, the official said.
Trump abruptly ordered the withdrawal of approximately 700 troops from Somalia at the end of his term in January 2021, an extension of a broader policy of seeking to pull the US out of what he derisively referred to as "endless wars" around the world.
But military leaders said that came at a cost, wasting time, money and momentum as troops had to rotate in and out of the country.
Gen. Stephen Townsend, head of US Africa Command, told Congress in March that the rotations, which he called "commuting to work," were not efficient or effective and put American troops at greater risk.
"In my view, we are marching in place at best. We may be backsliding," Townsend told the Senate Armed Forces Committee.
Defense Secretary Lloyd Austin requested the deployment "to reestablish a persistent US military presence in Somalia to enable a more effective fight against al-Shabaab, which has increased in strength and poses a heightened threat," said an administration official said, speaking on condition of anonymity to discuss the plan before the White House announcement.
Biden's decision to sign the order was first reported by The New York Times, which also said the the president had a approved a Pentagon request for standing authority to target about a dozen suspected leaders of al-Shabab.
The group has killed more than a dozen Americans in East Africa, including three in a January 2020 attack on a base used by US counterterrorism forces in Kenya. Later that year, the US charged a Kenyan who had been taking flight lessons in the Philippines with planning a 9/11-style hijacking attack on behalf of al-Shabab.
The rebel group has made territorial gains against Somalia's federal government in recent months, reversing the gains of African Union peacekeepers who once had pushed the militants into remote areas of the country.
Word of the deployment decision came after Hassan Sheikh Mohamud, who served as Somalia's president between 2012 and 2017, was announced on Sunday as the winner of a protracted election.
Somalia began to fall apart in 1991 when warlords ousted dictator Siad Barre and then turned on each other. Years of conflict and al-Shabab attacks, along with famine, have shattered the country which has a long, strategic coastline by the Indian Ocean.
American soldiers deployed there in 1992 to stave off a national famine on a peacekeeping mission that lasted until their 1994 withdrawal — about five months after the humiliating "Black Hawk Down" debacle in late 1993 when Somali militiamen shot down two US helicopters; 18 servicemen were killed in the crash and subsequent rescue attempt.
Associated Press writer Lolita C. Baldor contributed to this report.
Posted in accordance with Title 17, Section 107, US Code, for noncommercial, educational purposes.