Cancel RIMPAC 2022: the World's Largest
And Most Dangerous Naval War Maneuvers
Ann Wright / RootsAction
To: Legislators of 26 Participating Countries
Cancel RIMPAC and Build a Pacific Zone of Peace
Petition Text
The Pacific Peace Network and its allied organizations call for the cancellation of the dangerous, provocative and destructive international Rim of the Pacific (RIMPAC) naval war practice and for increased citizen pressure for a demilitarized Pan-Pacific Zone of Peace.
RIMPAC naval war practice, the largest naval war maneuvers in the world, will take place off Hawai'i and the West Coast of the US from June 29 to August 4, 2022. At RIMPAC 2022, over 25,000 military personnel, 38 ships, 170 aircraft, 4 submarines from 26 countries will practice war simulations engaging "enemy forces."
RIMPAC coupled with expanding US military capability in Hawai'i, Australia, Guahan and other Pacific nations increases the likelihood of armed conflict between the United States and China either by design or accident with unthinkable consequences for the peoples of Asia, the Pacific and the world.
Please endorse this call to action. Pacific Peace Network will share this petition and call on legislators of each participating country to cancel RIMPAC.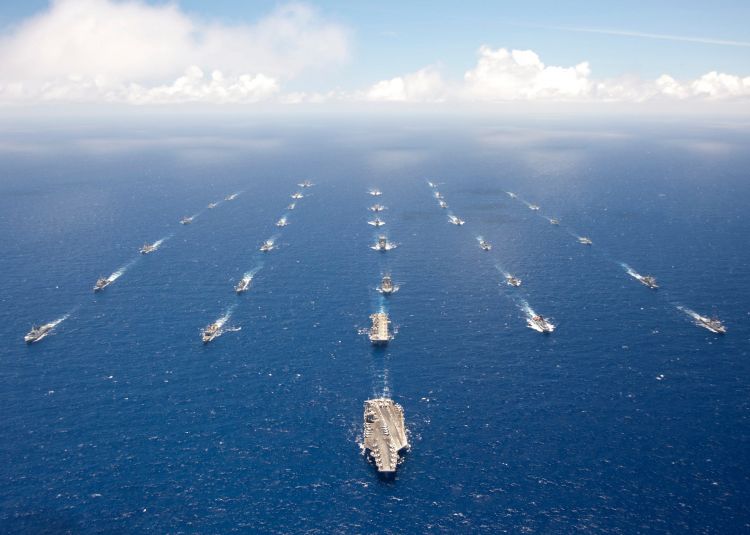 Why Is This Important?
RIMPAC dramatically contributes to the destruction of the ecology system and aggravation of the climate crisis in the Pacific region. RIMPAC war forces will blow up decommissioned ships with missiles endangering marine mammals such as humpback whales, dolphins and Hawaiian monk seals and polluting the ocean with contaminates from the vessels. Land forces will conduct ground assaults that will tear up beaches where green sea turtles come to breed.
We reject the massive expenditure of funds on war-making when humanity is suffering from lack of food, water and other life-sustaining elements. Human security is not based on military war drills, but on care for the planet and its inhabitants.
2022 RIMPAC includes military forces from Australia, Brunei, Canada, Chile, Colombia, Denmark, Ecuador, France, Germany, India, Indonesia, Israel, Japan, Malaysia, Mexico, Netherlands, New Zealand, Peru, the Republic of Korea, the Republic of the Philippines, Singapore, Sri Lanka, Thailand, Tonga, the United Kingdom and the United States.
6 of the 26 RIMPAC participating countries are members of the North ATLANTIC Treaty Organization (NATO) –Canada, Denmark, France, Germany, the United Kingdom and the United States, while 4 participating countries are Asia-Pacific "partners" of NATO-Australia, Japan, South Korea and New Zealand meaning that 40% of RIMPAC participants have NATO ties demonstrating that NATO is becoming a Pacific military force.
The Pacific Peace Network members currently come from countries/islands across the Pacific including Guåhan, Jeju Island, South Korea, Okinawa, Japan, Philippines, Northern Mariana Islands, Aotearoa (New Zealand), Australia, Hawai'i and the United States.
Endorsed by:
Environmentalists Against War
Hawai'i Peace and Justice
Veterans For Peace, Chapter 113-Hawai'i
Veterans For Peace, Phil Berrigan Memorial Chapter, Baltimore, Maryland
Women's Voices Women Speak
Oahu Water Protectors, Hawai'i
ASIA EUROPE PEOPLES FORUM (Peace and Security Cluster)
Philippine Initiative on Critical and Global Issues
Peace Women Partners. Inc. Philippines
Philippine Women Network for Peace & Security
STOP the War Coalition Philippines
Malu 'Aina Center For Non-violent Education & Action, Big Island, Hawai'i
Global Network Against Weapons and Nuclear Power in Space
World Beyond War
Campaign for Peace, Disarmament and Common Security
CODEPINK: Women For Peace
International Peace Bureau
Independent and Peaceful Australia Network (IPAN)
Just Peace Queensland
Youngsolwara Pacific
Prutehi Litekyan: Save Ritidian
Youngsolawara Pacific
Our Common Wealth 670
Inter-Island Solidarity for Peace of the Sea Jeju Committee