Mexican President Andrés Manuel López Obrador
ACTION ALERT: The People's Summit Says
It's Time to Defund the OAS!
CODEPINK & Responsible Statecraft
LOS ANGELES (June 17, 2022) — The OAS promotes coups, ignores human rights issues in countries allied with the US, and consistently interferes in Haiti. Representatives Jan Schakowsky (IL-09) and Susan Wild (PA-07) have led the way in exposing the OAS by asking questions about its role in the 2019 coup in Bolivia. Let's ask them to go further and defund the OAS!
The People's Summit in Los Angeles was an incredible success* and CODEPINK was at the heart of it! We were one of the core organizers of three days of panels, workshops and culture that drew thousands of people and took over the streets of downtown LA.
Over 250 organizations from across the hemisphere came together with a message of peace, love and solidarity.
We're building off this success by announcing our campaign to target the Organization of American States (OAS). The OAS held its own "Summit of Exclusion" last week that drew condemnation for failing to invite Cuba, Venezuela and Nicaragua.
But there were others that were excluded too: Puerto Rico, Black folx calling for reparations, Indigenous people calling for Land Back, queer folkx calling for liberation, workers calling for labor rights, poor people calling for dignified lives, and of course, activists calling for peace! It's time to move on from the OAS and replace it with a multilateral body that represents us all.
ACTION: The first step is to demand that our tax dollars stop being wasted on the OAS. Click here to call to defund the OAS!
THE LETTER
Dear Representatives Schakowsky and Wild,
Last year you passed language in the State, Foreign Operations, and Related Programs Appropriations bill calling on the State Department to investigate the role played by the Organization of American States (OAS) in the 2019 Bolivian elections and subsequent human rights crisis. This was an important first step into exposing the nefarious role the OAS has played in destabilizing Latin America and the Caribbean.
Now we're asking you to go a step further. As you know, the United States funds roughly 70% of the OAS budget. That's our taxpayer money going to a multilateral body that promoted a coup in Bolivia, ignored electoral fraud in Honduras, props up an unelected government in Haiti, and ignored human rights abuses by security forces during massive protests in Haiti, Honduras, Ecuador, Colombia and Chile, and whose Secretary General endorsed an invasion of Venezuela. All of this has occurred in just the past five years! 
The people of the United States are supposed to be represented at the OAS. But instead of being a forum that discusses critical themes like jobs, healthcare, housing and climate solutions, the OAS serves narrow interests that are dividing the hemisphere for short-term geopolitical goals.  
The OAS does not represent us and should no longer receive our tax funds. Please work to defund the OAS — we'll support you every step of the way!

Michelle and the entire CODEPINK team: 
Ann, Ariel, Clay, Danaka, Emily, Farida, Justina, Jodie, Kelly, Leonardo, Lola, Marcy, Mark, Medea, Nancy, Olivia, Paki, Sam, Sophie, Sophia, Samantha, Teri, Tim, Shea, and Suzie
P.S. Check out everything the CODEPINK team did at the People's Summit.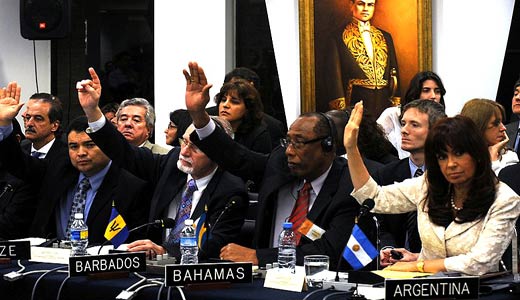 Biden's 'Summit of the Americas'
Showcases Failed Cold War Worldview 
William LeoGrande / Responsible Statecraft
(June 10, 2022) — The Ninth Summit of the Americas, hosted by President Biden last week in Los Angeles, was in trouble even before it convened. Planning for it was erratic, with no clear theme or agenda in place until the last minute. Invitations went out just a few weeks before the event, delayed because of a very public controversy over whether Cuba, Nicaragua, and Venezuela would be included. In the end, they were not.
Senior US officials hinted early on that the Summit would be restricted to "democratically elected leaders." That prompted pushback from a number of Latin Americans, foremost among them Mexican president Andrés Manuel López Obrador. Although the host nation sends out the Summit invitations, some Latin Americans regarded the decision to exclude the three governments as an abuse of the host's prerogatives.
To mollify López Obrador and others who voiced similar concerns, the White House toyed with the idea of inviting Cuba to send a lower level official, or participate as an observer. Not surprisingly, Cuba rejected this second-class citizenship even before it was offered.
López-Obrador politely declined to attend the Summit, sending his foreign minister instead. The presidents of Honduras, Guatemala, and El Salvador declined as well. At the Summit, other heads of state openly criticized Washington for not inviting all the nations of the Americas.
Irregular migration was a main focus of the Summit, but between them, the countries excluded and those whose presidents stayed home accounted for 69 percent of the migrants encountered by US Customs and Border Protection in April — nearly 180,000 people. Trying to formulate a strategy to stem irregular migration without engaging the governments of the migrants' home countries is a recipe for failure.
Other issues on the Summit's agenda — environmental protection and climate change, public health, organized crime — are also transnational problems that cannot be effectively addressed unilaterally. Therein lies the flaw in Biden's Wilsonian disposition to only engage with democracies.
Sometimes you have to engage with governments you don't like in order to deal with urgent problems. President Obama understood this; during his last two years in office, his administration signed 22 bilateral agreements with Cuba on issues of mutual interest. Trump cut off substantive diplomatic engagement with Cuba, and Biden has yet to resume it on any issue besides migration.
Biden has a long-standing faith in democracy. Like President Woodrow Wilson before him, he believes the United States has a mission to support and foster democracies abroad.
To advance that cause, he convened a Summit for Democracy in December 2021, hosting delegations from over 100 countries (again excluding Cuba, Nicaragua, and Venezuela, along with El Salvador, Guatemala, Honduras, and Bolivia). There, he announced new foreign assistance programs aimed at promoting democracy around the globe.
"Democracy needs champions," he told the opening session, calling the defense of democracy, "the defining challenge of our time."
Biden's commitment to democracy is laudable, but Washington always sees democracy through the prism of its own self-interest. It is no accident that the three countries Washington excluded from the Summit of the Americas are ruled by self-described governments of the left.
Biden, after all, is a politician who came of age at the height of the Cold War, when Washington rationalized alliances with right-wing authoritarians as necessary to fight against communism.
Brazil, Colombia, El Salvador, and Haiti — right-wing governments with questionable democratic credentials, authoritarian leaders, and poor human rights records — were all invited to the Summit of the Americas.
The controversy surrounding the exclusion of Cuba, Venezuela, and Nicaragua is eerily reminiscent of the controversy over Cuba's exclusion from the 2012 Summit in Cartagena, Colombia. Back then, Latin American heads of state publicly scolded President Obama for insisting that Cuba be excluded, warning that they would boycott the next Summit unless Cuba was invited. That rebellion against US leadership contributed to Obama's decision to begin normalizing relations with Havana in 2014. Will Biden draw a similar lesson?
At every Summit since the first in 1994, the US president has extolled the virtues of cooperation, assuring his Latin American counterparts that the United States wants a new partnership based on equality.
But Washington's perennial demand that Cuba be excluded, despite the overwhelming Latin American consensus to the contrary, gives the lie to that fine sentiment. For Latin Americans, the exclusion of Cuba, Venezuela, and Nicaragua is symbolic of Washington's continuing "hegemonic presumption," as scholar Abraham Lowenthal put it.
Announcing his decision to skip the Summit, López Obrador called Washington's insistence on controlling participation "a continuation of the old policy of interventionism [and] of lack of respect for nations and their peoples."
Biden's problem is that the United States no longer enjoys the political or economic dominance that enabled it to dictate the terms of hemispheric relations, and Latin Americans are no longer willing to simply accept Washington's priorities as their own.
Rebuilding US leadership in the Hemisphere will require that Washington confer with its neighbors and genuinely listen to them rather than dictating to them. Occasionally, it will require Washington to take the unfamiliar and uncomfortable step of deferring to them.
Posted in accordance with Title 17, Section 107, US Code, for noncommercial, educational purposes.
ACTION ALERT:
Join the March for the Poor People's Campaign
We relearned a huge lesson from the People's Summit: we need to start reconnecting in person and building a big tent for peace to have a chance. It's hard to describe how energizing and nourishing it felt to be around people organizing for peace. That same sort of vibe will fill the air of DC this weekend with the Poor People's Campaign.
CODEPINK helped convene over 55 organizations to be part of an anti-militarism contingent that will join the Poor People's Campaign convergence on Saturday, June 18.
For those of you who can't be with us in person, we know you'll be there in spirit! You can watch the rally and hear the voices of the poor and our own Danaka live on our Facebook page Saturday, 10am est.  Or watch us in action on Instagram over the 4 hours of the march and rally.
We're building an intersectional movement to Cut The Pentagon! Your support — whether it's joining us on the streets, calling Congress or helping fund our work — always makes a difference. It's because of your generosity that 50 young people are coming to DC this weekend on a bus from Chicago.
What an energizing way to begin this Revolutionary summer.  We have much more to do and as Reverend Barber says, "Forward Together, not one step back!"