UN Chief Calls US Nuke Spending
A "Recipe for Annihilation"
Win Without War 
WASHINGTON (July 18, 2022) — You can't have it both ways when it comes to nukes, but the Pentagon seems to think so. Senior officials have called out Russia's "nuclear saber-rattling," while they — along with their weapon contractor buddies — are helping accelerate a nuclear arms race that could end the world as we know it.
Thanks to the tireless advocacy of our team, together with THOUSANDS of activists like you, efforts to fund the B83 megaton bomb were left on the cutting room floor before a critical vote in the House last week. 
But dangerous nukes are STILL in play as the fight turns to the Senate — and we've got to keep up the pressure, because that work is coming up fast.
All nine nuclear-armed countries have recently increased their weapons spending, and experts expect the global nuclear arsenal will only grow.
It's an absolute windfall for weapons contactors. The International Campaign to Abolish Nuclear Weapons reports that companies including Boeing, General Dynamics, Lockheed Martin, Raytheon, and Northrop Grumman are making money hand over fist, reaping an average of $256 in nuclear weapon contract money for every $1 they spend lobbying on "defense."
And here's the kicker: despite governments across the globe spending $82.4 BILLION last year alone, there was NO measurable improvement in security.
UN Secretary General Guterres summed it up last month, noting, "These weapons offer false promises of security and deterrence — while guaranteeing only destruction, death, and endless brinkmanship."
"Standing up to China": US arms to Taiwan.
Today, tensions are at their highest point since the Cold War. Congress is pouring fuel on the fire by authorizing BILLIONS to expand the U.S. nuclear arsenal, following what UN Secretary-General António Guterres has called a "recipe for annihilation."
Over the last few weeks, tense negotiations have played out in the House over a must-pass "defense" bill. And thanks to the tireless advocacy of our team, together with THOUSANDS of activists like you, efforts to fund the B83 megaton bomb were left on the cutting room floor.
But weapons like the nuclear sea-launched cruise missile (SLCM-N) are STILL in play, and that's why we've got to keep up the pressure as this fight turns to the Senate. To do it, we'll need to deepen our advocacy work, raise the alarm in the media, and mobilize even more people across the movement.
We've got to change course before it's too late. That's why we're launching a crucial campaign to push Congress toward disarmament, and away from global devastation. First, we push back during the next fight: the Senate National Defense Authorization Act (NDAA), where the funds get authorized. Then, we go EVEN HARDER to stop Congress from spending even one dime on unnecessary, dangerous nukes like SLCM-N during the appropriations process — and that's coming up fast.
It'll take a massive effort from partners across the movement, key members of Congress, and every defense official and expert who agrees that we've got to do everything we can to avoid a nightmare nuclear scenario. What happens next will be pivotal, and we need you with us.
House Military Spending Bill Adds $37 Billion — a Win for the Arms Industry; a Loss for Soldiers
William Hartung / Responsible Statecraft
(July 15, 2022) — Yesterday the House of Representatives passed its version of the National Defense Authorization Act, which sets policy goals and recommends a number for total Pentagon spending. The final version of the bill will be determined later this year.
The House bill would set spending for the Pentagon and related activities like work on nuclear warheads at the Department of Energy at an astonishing $850 billion, $37 billion more than the Pentagon even asked for in its FY2023 budget request. The vast bulk of the added funds will go to pad the bottom lines of contractors like Boeing, Lockheed Martin, and General Dynamics.
Of the $37 billion in add-ons to the Pentagon's proposal, over two thirds — or $25 billion — will go to weapons procurement and research and development, categories of funding that mostly go to contractors. By contrast, the increase for military personnel and health was just $1 billion, an indication that corporate profits continue to come before the needs of the troops.
Many of the additions to the Pentagon budget had more to do with parochial politics than they did with any coherent defense strategy. Rep. Jared Golden (D-ME), who co-sponsored the amendment that added the $37 billion when the bill was under consideration by the House Armed Services Committee, made sure to include an extra Arleigh Burke class destroyer, a $2 billion ship built in Bath, Maine under the auspices of General Dynamics.
Golden's co-sponsor for the add-on was Rep. Elaine Luria (D-Va.), whose district abuts the Huntington Ingalls corporation's Newport News Shipbuilding subsidiary, which builds aircraft carriers and attack submarines, and will benefit from the $4 billion in added funds for shipbuilding included in the House bill.
The bill also added three Lockheed Martin F-35s and eight Boeing F-18s, while preventing the Air Force from retiring 12 Boeing F-15s. One of the most egregious moves by the House was its decision to block the administration from scrapping five of the nine Littoral Combat Ships it had hoped to eliminate.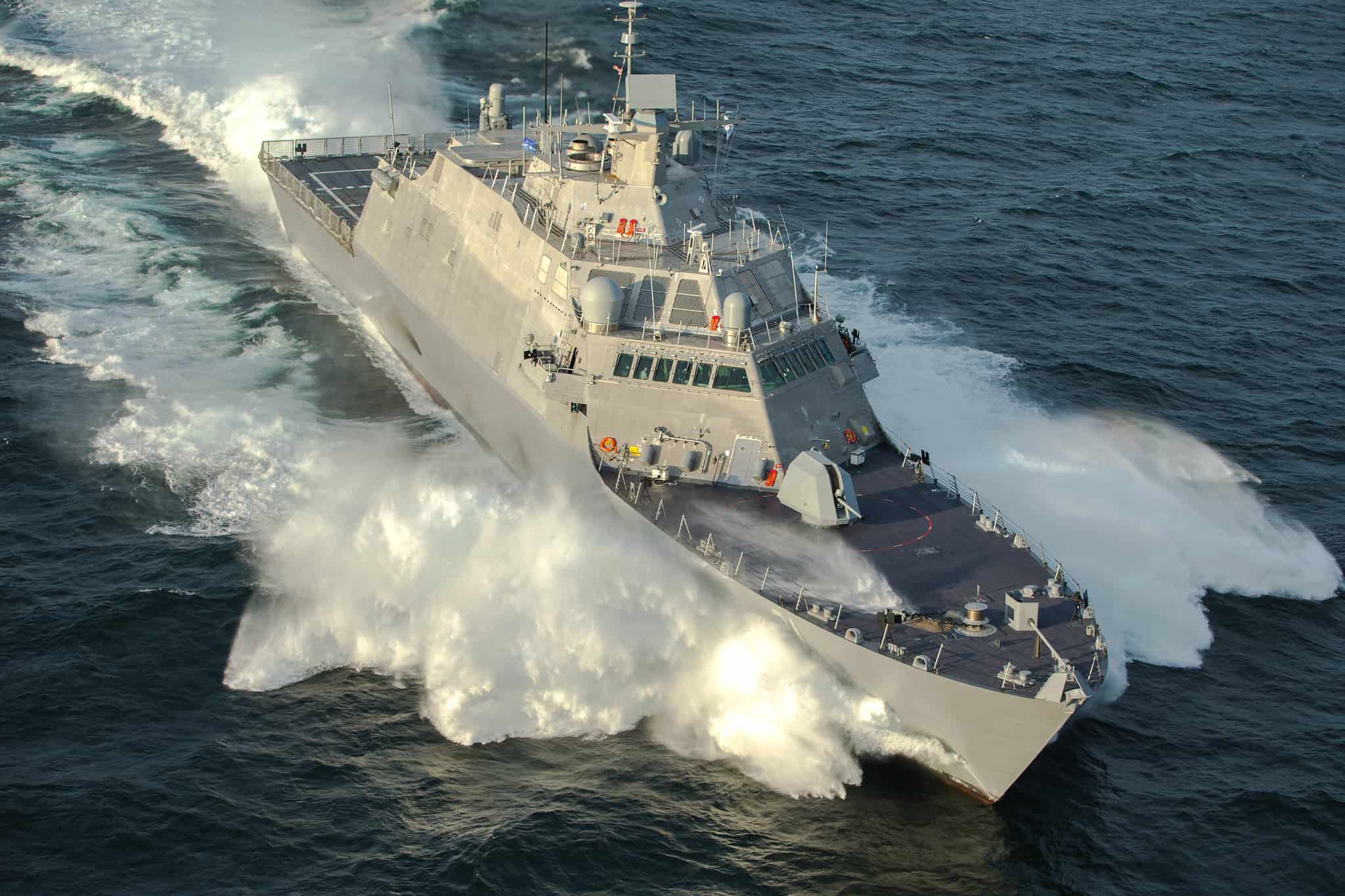 The LCS is a ship without a mission, unable to survive a concerted attack and rife with performance problems, including an inability to track enemy submarines.
An amendment by House Armed Services Committee chair Adam Smith (D-Wash.) that sought to sustain the administration's decision to retire the LCS's failed by a vote of 208 to 221.
The drive to retire the LCS was supported by a coalition of fiscally conservative organizations led by Taxpayers for Common Sense.
On the nuclear front, the House doubled down on the latest installment of the Pentagon's three-decades-long, $2 trillion nuclear weapons buildup. To make matters worse, the House bill also included funding for a nuclear-armed sea-launched cruise missile, a dangerous and destabilizing system that the Biden administration had hoped to cancel.
An amendment by Reps. Barbara Lee (D-Calif.) and Mark Pocan (D-Wis.) to block the $37 billion add-on garnered 151 votes, including a large majority of the Democratic caucus, a sign that the days of endless increases in Pentagon spending may be numbered. Robert Weissman of Public Citizen gave a useful perspective on efforts to roll back the Pentagon budget.
"We are racing toward a trillion-dollar military budget that tolerates and encourages mind-blowing waste, rewards military-industrial complex political spending with unfathomably large contracts — and fails to address priority national security needs" Weissman said. "The good news is: the American people are on to the racket and mobilizing to demand a reallocation of funding away from the Pentagon and to prioritize human needs."
Posted in accordance with Title 17, Section 107, US Code, for noncommercial, educational purposes.