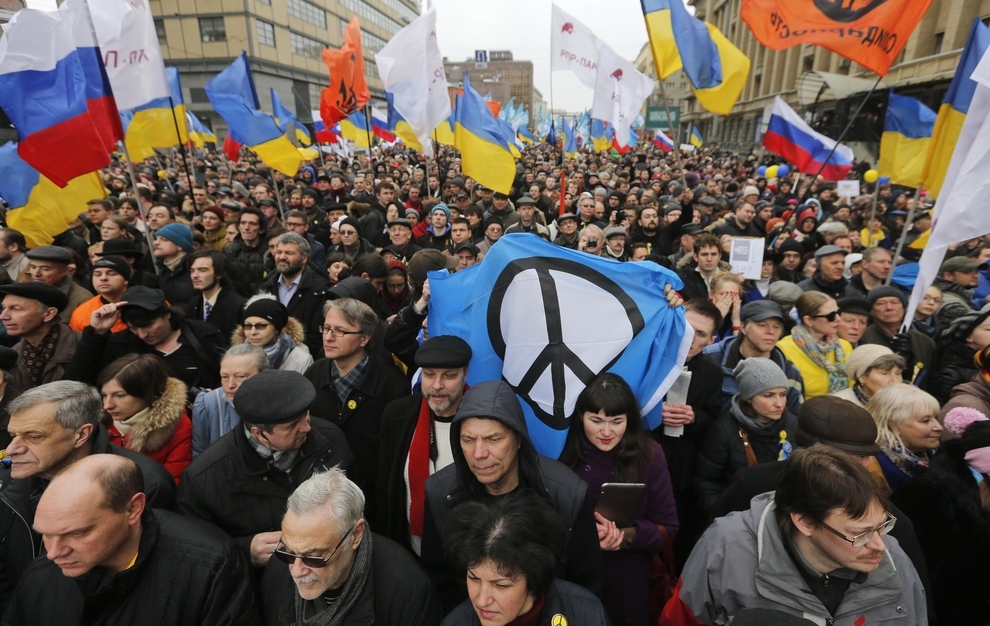 In Moscow, thousands of Russians protest invasion of Ukraine
Nonviolence International
Responds to the War in Ukraine
Michael Beer / Nonviolence International
(July 26, 2022) — Nonviolence International (NVI) is working with our NVI-Ukraine affiliate led by Andre Kamenshikov to support nonviolent resistance to the war and occupation of Ukraine.
The war in Ukraine is immensely destructive. Besides the direct toll of hundreds dead and wounded daily, it will take decades to repair much of the environmental and infrastructure damage.
Meanwhile, global food shortages are developing, the planet hurtles towards a climate cliff, and the use of nuclear weapons to eradicate humanity is a real possibility given Russian threats and US malign nuclear policies.
In addition to humanitarian support, Join us in peace activities to help.
1) Nonviolence International celebrates all the brave activists who are publicly speaking out against this war — especially those in Russia and Ukraine who do so at great personal risk. We are collaborating with sociologists in Russia to analyze public opinion and suggest messaging that could undermine continued war in Ukraine.
You can find the link to our latest June and July internal research here. If you can speak Russian and want to reach out to people with anti-war messaging and engaging in dialogue on the phone, please let us know and we can guide you.
2) We contacted anti-nuclear activists in India and China,  to reach out to Prime Minister Modi and Chairman Xi to persuade them to call President Putin to vigorously communicate their opposition to the firing of nuclear weapons. Please reach out to people in India and China to ask their leaders to make the phone calls to save humanity.
3) NVI-Ukraine is working with Ukrainian partners who are supporting NV resistance in occupied Ukraine. We are currently documenting examples of nonviolent resistance and in some cases interviewing the activists involved.
4) NVI supports the use of incentives in addition to sanctions to bring about a withdrawal of Russian forces. Oscar Arias (former Costa Rican President and Nobel Peace Prize Laureate) and Jonathan Grannoff (President of the Global Security Institute) are proposing the withdrawal of US nuclear weapons from Europe.
I propose that the US offer to withdraw its permanently based troops from Europe in exchange for Russian withdrawal from occupied territories. It will be difficult for Ukraine and Russia to get to peace without outside support. The current security architecture is Europe is not working. Support the need for this change.
5) Recently, a Jamaican-American businesswoman held a fundraiser for Ukraine to which Andre and another colleague spoke via video. She raised more than $3000.  That goes a long way in Ukraine. Feel free to organize a fundraiser and our people in Ukraine can speak directly with your event attendees!
As you can see there are many creative and valuable efforts and opportunities for global citizens to learn and do something.
P.S. International law must play a central role in ending war. NVI opposes all illegal annexations including those done to Palestine, Syria, Ukraine and Western Sahara.
We will organize a webinar soon calling on the world to oppose these illegal annexations and the importance of standing up to Russia, US and other bullies who conduct or support such horrifying attacks.
Michael Beer is the director of Nonviolence International.
Nonviolence International, PO Box 39127, Friendship Station NW, Washington, DC 20016