Nuclear Naval Submarine Propulsion
Working Paper Submitted by Indonesia / Review Conference of the Parties to the Treaty on the Non-Proliferation of Nuclear Weapons
NEW YORK (25 July 2022) — Original: English
The issue of nuclear naval propulsion program presents a unique case that deserved serious attention, be it from the perspective of disarmament, non-proliferation and peaceful uses pillars of the Treaty on the Non-Proliferation of Nuclear Weapons (NPT) and safeguards measures.
This issue prompts some concerns, such as:
The uranium enriched to fuel naval propulsion reactors is above levels used in civilian power reactors, near-weapons-grade levels, and even weapons-grade, which poses a growing risk to achieving the non-proliferation goals of the NPT;
The exclusion of the production, use, and disposition of Highly-Enriched Uranium (HEU) for nuclear naval propulsion from the International Atomic Energy Agency (IAEA) safeguards, could be exploited to provide a shield for diversion of that material to nuclear weapons program;
The use and sharing of nuclear technologies and materials in the military purposes could run counter to the spirit and objectives of the NPT, as it could potentially set precedence for other similar arrangements, and complicate safeguards mechanism needed to prevent risks arising from such arrangements including, but not limited to, lead to, the emergence of new types of weapons of mass destructions (WMDs), derived from the combination of nuclear materials and conventional weapons;
The application of nuclear materials for nuclear naval propulsion possesses safety risks, considering the possibility of accidents and exposure, which may occur during transportation, maintenance, and use. Such accidents and exposure may cause humanitarian and environmental consequences.
Against that backdrop, there is a driving urgency for the NPT Review Conference and beyond to address such a raising challenge that would impact global effort on progressing disarmament, non- proliferation, and safeguards agenda under the NPT.
Indonesia reaffirms the importance of Article I and Article II of the NPT in the context of not to transfer, not to receive the transfer from and to any recipient whatsoever nuclear weapons or other nuclear explosive devices or control over such weapons or explosive devices.
Indonesia views that any cooperation involving the transfer of nuclear materials and technology for military purposes from Nuclear-Weapon States (NWS) to any Non-Nuclear Weapon States (NNWS) increases the associated risks and the catastrophic humanitarian and environmental consequences, as well as navigation risks posed by potential proliferation and conversion of nuclear material to nuclear weapons, particularly HEU in the operational status of nuclear naval propulsion.
Indonesia recognizes that the IAEA is the sole competent authority responsible for verification of the fulfillment of safeguards obligations assumed by States Parties under the NPT, with a view to preventing the diversion of nuclear energy from peaceful uses to nuclear weapons or other nuclear explosive devices.
Indonesia emphasizes the significance of Article IV of the NPT on the inalienable right of all the parties to the Treaty to develop research, production and use of nuclear energy for peaceful purposes without discrimination and in conformity with Article I and Article II of the Treaty. The realization of such article constitutes one of the fundamental objectives of the Treaty.
Indonesia underscores that economic and technological development of the parties or international cooperation in the field of peaceful nuclear activities, including the international exchange of nuclear material and equipment for the processing, use or production of nuclear material for peaceful purposes should be implemented in a manner designed to comply with Article IV of the NPT.
Indonesia reaffirms that in conformity with Article VI of the NPT, nuclear disarmament remains the highest priority and the continued lack of progress in the implementation of nuclear disarmament obligations by the NWS could undermine the objective and purpose of the NPT and the credibility of the non- proliferation regime.
Against this backdrop, Indonesia notes with concern the potential consequences of nuclear-powered submarine capability sharing to the global non-proliferation regime.
Indonesia calls for strict observance of Article III of the Treaty and reaffirms that under the NPT, all parties must accept the IAEA strict observance by concluding and adhering to the IAEA Comprehensive Safeguards Agreements (CSA) and applicable additional measures related to the safeguards, such as the Additional Protocol (AP).
Indonesia calls upon all States Parties to the NPT to garner political will and create opportunities for IAEA Member States to develop constructive approach on verification and monitoring arrangement of nuclear naval propulsion program, with a view among others to enhance safeguards agreements that tighten monitoring measures for uranium designated for naval propulsion reactors in NNWS to prevent diversion of that material for use in a nuclear weapons program.
Indonesia urges all States Parties to the NPT to fully implement their commitment as faithful partners in achieving a world free of nuclear weapons by addressing the three pillars of the NPT in a balanced manner.
Indonesia also urges all States Parties to the NPT to refrain from actions that create an environment that is not conducive to nuclear disarmament and that would increase the risk of nuclear conflict, including by avoiding the dual-use of nuclear and conventional military installation and weapon platforms that can be armed with nuclear and conventional weapons.
Proposal re NPT RevCon and
Closing Nuclear Safeguards Loophole
International Campaign for Abolition of Nuclear Weapons (ICAN)
Here's an update on ICAN Australia's work to encourage a clear message from as many states as possible at the upcoming NPT RevCon, that the loophole in IAEA safeguards that would allow non-nuclear weapon states to take nuclear material out of safeguards for non-explosive military purposes should be closed, rather than be blown open by the AUKUS proposal for nuclear-powered submarines to be provided to Australia by the US /UK.
We've updated our report: Troubled Waters: Nuclear Submarines, AUKUS and the NPT.
Please be encouraged to use and share it. We've sent it to a large number of disarmament diplomats and will make printed copies available for delegates at the RevCon.
We will hold a side event at the RevCon at 1315-1430 on 16 August, which will include safeguards expert Tariq Rauf and ICAN Australia co-chair Dr Margie Beavis. Please join if you plan to be in NY then.
The issue is also addressed in Reaching Critical Will's 2022 NTPT briefing book.
This matter has already been raised formally at the RevCon – a number of states have submitted working papers on this topic.
The AUKUS partners have provided a rather bland reassurance that somehow transferring tons of highly-enriched uranium (HEU) in submarines will support rather than erode safeguards (Working Paper 66); China has submitted 2 working papers asserting that the plan cannot be effectively safeguarded, undermines the NPT, will damage the South Pacific Nuclear Free Zone and Southeast Asian Nuclear Weapons Free Zone, sets a negative precedent, and should be considered by a Special Committee of the IAEA open to all member states — Working Paper 50 on the AUKUS nuclear submarine cooperation and Working Paper 29 on non-proliferation.
Two Chinese think tanks have also recently published a strong critique of the AUKUS nuclear submarine plan.
We are hopeful that other states will also raise concerns about the AUKUS plan, especially Southeast Asian and Pacific states which have raised concerns already (as documented in our Troubled Waters report).
Working Paper 14 by Netherlands, Norway and South Korea on minimising HEU civilian stocks and use commends the substantial work done to date to remove HEU from civilian applications, and notes that as a result South America and SE Asia are free of HEU, and in Africa all facilities previously using HEU no longer do.
While it makes no reference to submarines, the paper notes: "Efforts to reduce stocks of highly enriched uranium and to minimize and eventually eliminate the use of highly enriched uranium are a form of permanent threat reduction and a fundamental element in our shared efforts to strengthen nuclear security."
Please raise the need to strengthen not erode nuclear non-proliferation and safeguards in your own advocacy and encourage your country's NPT delegation to raise concerns about the AUKUS nuclear submarine proposal at the RevCon, support closure of the paragraph 14 safeguards loophole, and urge the AUKUS partners to reconsider their fraught plan.
Proposal re NPT RevCon and
Closing the Nuclear Safeguards Loophole
ICAN Australia
In a Nutshell
The UK and USA, under a new AUKUS rubric for increased high-tech military cooperation, are planning to assist Australia acquire nuclear-powered submarines.
This would be the first time for a state without nuclear weapons to exploit a loophole in IAEA comprehensive nuclear safeguards, creating a dangerous precedent and nuclear proliferation risk. ICAN partner organisations are encouraged to urge their nation's delegation to the NPT RevCon to act to close this safeguards loophole once and for all.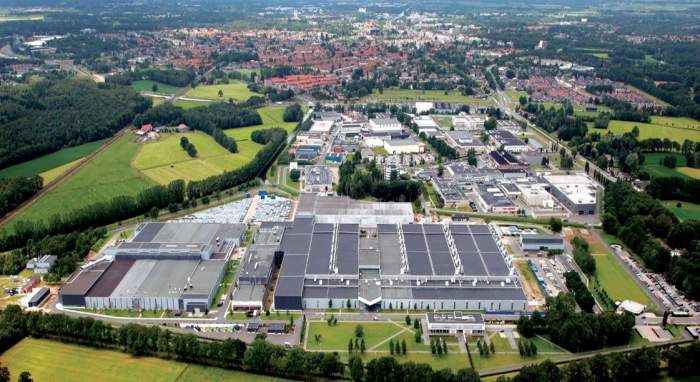 The Urenco enrichment plant in The Netherlands
Background: The Article 14 Loophole
The International Atomic Energy Agency (IAEA) Comprehensive Safeguards Agreement which all NPT members states without nuclear weapons, and all TPNW states parties, are required to have in place, in Article 14 contains a loophole. It was put in there because some states wanted to keep open the option of acquiring nuclear-powered naval vessels. This loophole opens the door for states without nuclear weapons to take nuclear material out of safeguards for non-explosive military purposes, such as naval propulsion.
The Australia-UK-US (AUKUS) plan for Australia to acquire nuclear-powered submarines, announced in September 2021, is the first time this loophole is being pushed open. In Australia's case, 20-25 nuclear weapons worth of very likely weapons-usable highly-enriched uranium (HEU) for each of 8 planned submarines would be taken out of safeguards for 30 years at a time on mobile platforms whose location is usually secret.
An IPPNW brief issued in response to the plan is here. It would be a dangerous precedent that would very likely be followed by other states, and some have already expressed an interest in doing so, including Iran and South Korea, and Brazil has a well advanced nuclear powered submarine program.
ICAN Australia produced a report — Troubled Waters — on the nuclear submarines proposal in January this year when the NPT Rev Con was scheduled then, before being again postponed. This still provides a good resource on the issue.
Why the NPT and Why Now?
That is why the timing now is key, when the Australian submarine plan is still in its initial 18 month planning phase, and the precedent has not yet been established. The prospects for curtailing this plan are greater since a new Labor government was elected on 21 May.
While in opposition, now prime minister Anthony Albanese put conditions on Labor support for proposed nuclear powered submarines: no requirement for a domestic civil nuclear industry, no acquisition of nuclear weapons, and compatibility with the NPT.
The NPT RevCon is precisely the right forum to raise this issue and which has the mandate to strengthen rather than weaken the global nuclear non-proliferation regime by acting to close the Article 14 loophole.
This French nuclear sub caught fire at dry dock in June 2020.
Making the Case
Some, like Prof Alan Kuperman writing on 22 May in the Bulletin of the Atomic Scientists, argue that Australia should rather buy French nuclear powered submarines which use low-enriched uranium (LEU) fuel which is not directly weapons usable, like the HEU which fuels US and UK submarines.
While LEU powered vessels like those of France and China would directly pose a much lower proliferation risk, all nuclear-powered vessels and their supporting nuclear infrastructure are associated with environmental, health, radioactive waste, accident and some proliferation risks, and the spread of naval nuclear propulsion is in no-one's interests.
A comprehensive and compelling case against the proliferation of naval nuclear reactors has been put by Tariq Rauf, better placed than perhaps anyone else to do so, as former Head of Verification and Security Policy Coordination, Alternate Head of IAEA NPT Delegation, Office reporting to the Director General, International Atomic Energy Agency (2002-11), responsible for safeguards and nuclear security.
The case for definitive closure of the safeguards loophole is summarised in the attached article he has written, and is expanded upon in the policy brief published by the Toda Institute you can find here: https://toda.org/assets/files/resources/policy-briefs/t-pb-122_tariq-rauf_crashing-submarines-through-iaea-safeguards.pdf
His bottom line:
"NPT Review Conference must consider this matter of exemption from comprehensive safeguards of naval nuclear fuel and find ways to close off this "loophole"(p1).
He notes:
"any substantive modification to any INFCIRC/153 (Corr.) type safeguards implementation, even such as paragraph 14 exemptions, affects the integrity of the Agency's "safeguards system" and is of direct concern to all IAEA member states not only to the state(s) involved" (p17)
His piece concludes:
"at the Tenth NPT Review Conference in August 2022, Main Committee II on non-proliferation (and safeguards) also logically must take up this matter and recommend restraint leading to possibly nullifying paragraph 14 exemptions. Now is the time to further strengthen the effectiveness and improve the efficiency of the IAEA safeguards system, not to weaken it and not drive a fleet of nuclear-powered submarines through it." (p20)
Proposal
A number of states have already expressed concerns about the AUKUS nuclear submarine proposal (including Indonesia, Malaysia, Fiji and China).
The proposal for international campaigning to close the Article 14 safeguards loophole is already supported by ICAN Australia, IPPNW and its affiliates in Australia, the UK and US, CND in the UK, and ICAN campaigners in key countries like Indonesia.
Even if the safeguards loophole wasn't definitively closed at the RevCon, many states raising concerns about the proliferation implications of the proposed spread of nuclear-powered submarines could help these plans to be shelved before they have progressed and are harder to change.
While of course our main focus right now is the first Meeting of States Parties to the TPNW, the NPT RevCon is barely 2 months away, and building wide support of governments for closing the safeguards loophole will take time. That's why we are asking for your support now.
ICAN Australia plans to update its Troubled Waters report and launch it with an event at the RevCon in New York in August, and we will share it with you and widely distribute it among diplomats and encourage you to do the same.