Kyiv Says the US Has the Final Say in
Selecting the Target for the HIMARS Missiles
Anti-Spiegel
Ukraine's defense ministry has stated
that US has the final say in choosing targets
for HIMARS missiles in Ukraine
(August 3, 2022) — The US-supplied HIMARS multiple rocket launchers to Ukraine have a long range and are very accurate. Recently, they have been used to shell not only bridges, but also civilian targets in the Lugansk region and the Jelenovka POW camp near Donetsk .
Now, a spokesman for Ukraine's defense ministry has said Washington provides Ukraine's military with "real-time intelligence" from satellites and has the final say on target selection. Not only would that be a war crime because of the shelling of civilian targets and prison camps, it would also be further evidence that the US is — from an international law perspective — at war with Russia . This was reported by the Russian news agency TASS and has been translated below.
Start of translation:
Kyiv States that HIMARS Attacks
Are Coordinated with Washington
Ukraine's Defense Ministry said the US can call off its attacks if it doesn't like the target.
Ukraine is consulting with the US before deploying the HIMARS multiple rocket launchers, while Washington can cancel attacks if the intended target doesn't suit it. Vadim Skibitsky, spokesman for the Main Intelligence Directorate of Ukraine's Defense Ministry, told The Telegraph newspaper on Monday.
According to the newspaper, he hinted that "before a missile launch, there are consultations between the intelligence agencies of both countries that allow Washington to stop an attack if they don't like the intended target."
Skibitsky pointed out that Ukraine uses "real-time information" for the shelling. At the same time, he claimed that Washington does not provide Kyiv with direct data for targeting.
He did not say which satellites Kyiv is using in the attacks. "I can't tell if it's British or American [satellites] <…> but we have very good images." Skibitsky added that Ukraine's intelligence service "works well with UK partners" and with intelligence agencies in other countries.
On February 24, Russian President Vladimir Putin announced the military operation in Ukraine, responding to a request for help from the heads of the Donbass republics. As a result, the US, EU, UK and a number of other countries imposed sanctions on Russian individuals and legal entities. In addition, Western countries have increased their arms supplies to Kyiv.
Foreign Minister Sergei Lavrov and other Russian officials have repeatedly pointed to the danger that weapons shipped to Ukraine from the West could reach other regions. Russian Ambassador to the US Anatoly Antonov warned that the West's militarization of Ukraine poses a direct threat to European and global security. [End of translation.]
Russia Says Aide on HIMARS Strikes Means
US Is 'Directly Involved' in Ukraine War
(August 2, 2022) — The Russian Defense Ministry on Tuesday said Washington was "directly involved" in the war in Ukraine after a Ukrainian official detailed Kyiv's cooperation with the US before launching strikes with US-provided HIMARS rockets.
Vadym Skibitsky, the deputy head of Ukraine's military intelligence, told The Telegraph that Ukrainian officials consulted with US officials before launching HIMARS strikes and that the US has veto power over the attacks.
Skibitsky insisted that the US wasn't providing "direct targeting information," but suggested Ukraine was using satellite imagery provided by the US and Britain. "I can't tell you whether [we are directly tasking] British and American satellites, but we have very good satellite imagery," Skibitsky said.
Igor Konashenkov, a spokesman for the Russian Defense Ministry, said that this cooperation "proves that contrary to the assurances by the White House and the Pentagon, Washington is directly involved in the conflict in Ukraine."
The comments from the Russian Defense Ministry highlight the danger of the US's deep involvement in the war, which risks provoking a response from Moscow. Russian officials have cited US military aid as a reason to push further into Ukrainian territory.
After Russia invaded Ukraine on February 24, the US expanded intelligence sharing with Ukraine's forces, and US officials have bragged to the media that this cooperation helped kill Russian generals and sink a Russian warship. Although the claims were not verified, the comments themselves were major provocations toward Moscow.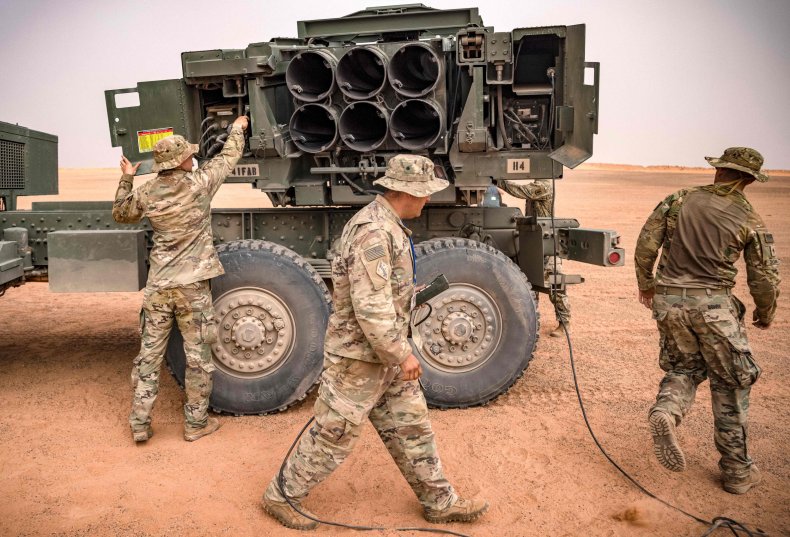 Washington Controls Kiev's HIMARS Rocket Strikes Zaporozhye Official Says
"GPS guidance takes place directly under the US control to avoid false targets and this is because the Americans do not trust the Ukrainian military to prevent expending rockets and rocket hits on inappropriate targets."
MOSCOW (August 3, 2022) — The United States controls the Kiev regime's strikes by HIMARS (High Mobility Artillery Rocket Systems) to avoid expending rockets on false targets, Vladimir Rogov, a member of the chief council of the Zaporozhye Region military-civilian administration told TASS on Wednesday.
Ukrainian intelligence official Vadim Skibitsky said in an interview with the Daily Telegraph newspaper on Tuesday that Ukraine held consultations with the United States before using HIMARS weapons and Washington had an opportunity to cancel strikes, if it was dissatisfied with the intended target.
"Specifically, decisions on strikes and the operational situation are made by the Britons while the Americans are placed a bit lower, followed by the Canadians and then the Poles — this is how the military setup is arranged. As for HIMARS, these are the United States and Britain and the same is true about M777 howitzers — this is their issue," Rogov said.
"GPS guidance takes place directly under the US control to avoid false targets and this is because the Americans do not trust the Ukrainian military to prevent expending rockets and rocket hits on inappropriate targets. Each rocket costs over $150,000. Instead of solving internal problems in the post-Ukrainian space, they deliver strikes that cost about $2 million and, nonetheless, the regime [of Ukrainian President Vladimir Zelensky] spends money on that instead of resolving problems," the Zaporozhye official stressed.
Rogov earlier said that the Ukrainian military used the American "scorched-earth" tactic in its bombardments of the Zaporozhye Region from HIMARS rocket systems. The Kiev regime also targeted critical civilian infrastructure facilities in its shelling attacks, he said.
Head of the Russian delegation at the Vienna talks on military security and arms control Konstantin Gavrilov said on July 27 that the Kiev regime's use of American multiple launch rocket systems or other NATO long-range guns against Russian territory would lead to far-reaching consequences.
Head of the Ukrainian presidential office Andrey Yermak said on July 24 that following the results of a meeting with Ukraine's President Vladimir Zelensky, US Congressmen announced plans to deliver up to 30 HIMARS and other multiple rocket launchers to the Kiev regime.
Note: The following report tells a somewhat different story (Sott.net is a UK-sourced media).
Britain Helps Ukraine Hunt for Russian Spies Eyeing Western Military Aid
'…. US officials are not providing direct targeting information, which would potentially undermine their case for not being direct participants in the war, Gen Skibitsky said. However, he suggested there was a level of consultation between intelligence officials of both countries prior to launching missiles that would allow Washington to stop any potential attacks if they were unhappy with the intended target.
"I can't tell you whether [we are directly tasking] British and American satellites, but we have very good satellite imagery. We have very good cooperation with our partners in the UK in this field. We have very good communication with all the sister intelligence agencies….."'
Posted in accordance with Title 17, Section 107, US Code, for noncommercial, educational purposes.