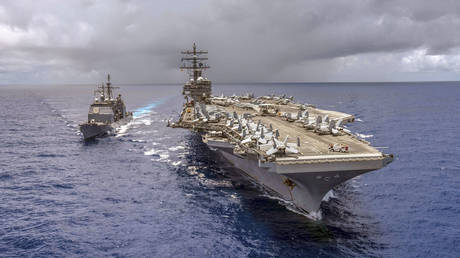 USS Ronald Reagan Strike Group Enters
South China Sea amid Taiwan Tensions
Philip J. Jeijmans and Tony Capaccio / Bloomberg
(July 28, 2022) — A US aircraft carrier and strike group have entered the South China Sea as part of what the 7th Fleet said was a scheduled operation amid rising tensions with China over a potential Taiwan visit by House Speaker Nancy Pelosi.
The USS Ronald Reagan, a Nimitz-class nuclear-powered supercarrier, made its way to the disputed waters following a five-day port call to Singapore, departing Changi Naval Base on Tuesday, the US 7th Fleet said in reply to a query from Bloomberg News. The trip follows remarks this week by China's Foreign Ministry spokesman Zhao Lijian that Beijing was getting "seriously prepared" for the possibility that Pelosi could visit Taiwan, a self-governing island that China considers part of its territory.
While the 7th Fleet declined to say where the carrier was heading following its first trip to the city-state since 2019, it had already been conducting maritime security operations in the South China Sea prior to its arrival, having left for its annual spring patrol in May from Yokosuka, Japan, where it's based. Those included flight operations with fixed and rotary-wing aircraft, maritime strike exercises and coordinated tactical training between surface and air units.
"USS Ronald Reagan and her strike group are underway, operating in the South China Sea following a successful port visit to Singapore," said Cmdr. Hayley Sims, a public affairs officer for the Japan-based US 7th Fleet. "I will add that Reagan is continuing normal, scheduled operations as part of her routine patrol in support of a free and open Indo-Pacific."
China claims more than 80% of the South China Sea, one of the world's busiest shipping routes, based on a 1947 map showing vague markings that has since become known as the "nine-dash line." The US estimates that more than 30% of the global maritime crude oil trade passes through the waters.
"The United States, once again, sent vessels to the South China Sea to flex its muscles," Chinese Foreign Ministry spokesman Zhao Lijian said during a regular briefing Thursday. "It is clear to us who is the biggest threat to security in the South China Sea and beyond."
China has ramped up military activity around Taiwan to signal its displeasure with past high-profile visits. While the People's Liberation Army could step up sea and air patrols during Pelosi's potential visit to Taiwan, anything more severe is unlikely, said Blake Herzinger, an Indo-Pacific defense policy specialist.
"I really don't think the PLA is going to start a war over Pelosi visiting Taipei," he said. "If you believe that Beijing is planning an imminent-ish invasion of Taiwan, as some do, kicking off a war next week would be suicide for their plans."
President Joe Biden is set to speak with Chinese leader Xi Jinping on Thursday amid the fresh tensions over Taiwan, according to people familiar with the matter. Biden told reporters last week that the US military didn't think Pelosi's trip was a good idea, prompting consternation in Taiwan.
Pelosi is looking at a visit to Japan in early August as part of her trip to the region, Kyodo News reported. Officials from the biggest US ally in Asia have increasingly spoken out about how Taiwan's security directly affects Japan, but Tokyo has emphasized there is no change to its policy on ties with Beijing, which sees the island as part of its territory.
Former Japanese Defense Minister Shigeru Ishiba told Taiwanese President Tsai Ing-Wen he wanted to see talks between Tokyo and Taipei aimed at fending off any contingency in the region.
"We must make preparations to ensure no contingency occurs in this region," Ishiba said during a visit to Taipei by a group of lawmakers. "What kind of situation do we foresee, based on what kind of treaties, based on what kind of laws, what kind of troops would be used? If both sides don't understand each other, there will be no deterrence," he added.
The carrier's movements in the South China Sea this month occurred as the USS Benfold, an Arleigh Burke-class destroyer, conducted a transit through the Taiwan Strait. Secretary of the Navy Carlos Del Toro said onboard the USS Ronald Reagan last week without naming names that countries "misrepresent" US maritime operations, including those of the Benfold and Ronald Reagan, and "aim to claim the resources of others."
"Unfortunately, there are nations in the world that would have one believe their sovereign territories extend well beyond the established rules and norms," he said.
Bloomberg's Isabel Reynolds and Dan Murtaugh contributed to this report.

US Navy Conducting Operations in Philippine Sea
TOKYO (August 4, 2022) —The US Navy on Thursday said the USS Ronald Reagan aircraft carrier was conducting scheduled operations in the Philippine Sea in the Western Pacific, a 5.7 million square kilometer (2.2 million square mile) stretch of ocean that includes waters southeast of Taiwan.
"USS Ronald Reagan and her strike group are underway in the Philippine Sea continuing normal, scheduled operations as part of her routine patrol in support of a free and open Indo-Pacific," a US Navy Seventh Fleet spokesperson said.
Home-ported at Yokosuka naval base in Japan, the Reagan is the US Navy's only forward deployed carrier.
Meanwhile, China's largest-ever military exercises encircling Taiwan kicked off Thursday, in a show of force straddling vital international shipping lanes after a visit to the island by US House Speaker Nancy Pelosi. Pelosi left Taiwan Wednesday after a trip that defied a series of stark threats from Beijing, which views the self-ruled island as its territory.
Second in line to the presidency, Pelosi was the highest-profile elected US official to visit Taiwan in 25 years. She said her presence made it "unequivocally clear" that the United States would "not abandon" a democratic ally like Taiwan.
It sparked a furious reaction from Beijing, which vowed "punishment" and announced military drills in the seas around Taiwan — some of the world's busiest waterways. The exercises, which began around 12 pm (0400 GMT), involve "live-firing", according to state media.
"Six major areas around the island have been selected for this actual combat exercise and during this period, relevant ships and aircraft should not enter the relevant waters and airspaces," state broadcaster CCTV reported. The exercises will take place in multiple zones around Taiwan — at some points within just 20 kilometres (12 miles) of the island's shore — and will conclude at midday on Sunday
. Taiwan's defence ministry said it was closely watching the drills and that the island was prepared for conflict, but would not seek it. "The Ministry of National Defence stresses that it will uphold the principle of preparing for war without seeking war, and with an attitude of not escalating conflict and causing disputes," it said in a statement, quoted by AFP.
Beijing's nationalist state-run tabloid Global Times said, citing military analysts, that the exercises were "unprecedented" and that missiles would fly over Taiwan for the first time. "This is the first time the PLA will launch live long-range artillery across" the Taiwan Strait, the newspaper said using the Chinese military's formal name, the People's Liberation Army.
Taiwan has described the exercises as "an irrational move to challenge the international order". The Group of Seven industrialised nations also condemned the drills, saying in a statement there was "no justification to use a visit as pretext for aggressive military activity in the Taiwan Strait".
Posted in accordance with Title 17, Section 107, US Code, for noncommercial, educational purposes.