Zelensky: NATO Must "Make It Impossible"
For Russia to Use Nuclear Weapons
InterFax
(October 6, 2022) — President of Ukraine Volodymyr Zelensky believes that "NATO should make it impossible for Russia to use nuclear weapons."
"Preemptive strikes are needed so that they know what awaits them if they use nuclear weapons. Not the other way around, waiting for Russia's nuclear strikes and then saying, 'oh, you've done that, then get this,'" he said on Thursday, speaking via video link at Australia's think tank, the Lowy Institute.
NATO, Zelensky said, "should reconsider how it uses its pressure."
Poland In Talks About Hosting US Nuclear Weapons
(October 5, 2022) — At a moment some US officials and pundits are cavalierly talking about "already fighting WWIII" – Polish officials have announced that talks with the Biden administration are underway about the possibility hosting US nuclear weapons. President Andrzej Duda indicated that such nuclear-sharing as NATO's largest eastern European member, and which is just off Russia's doorstep, is now an "open" topic for discussion.
Crucially for the question of continued nuclear saber-rattling and confrontation with Russia, if Poland ever did host US-NATO nukes it would mark a huge first for a NATO member that was once behind the Iron Curtain.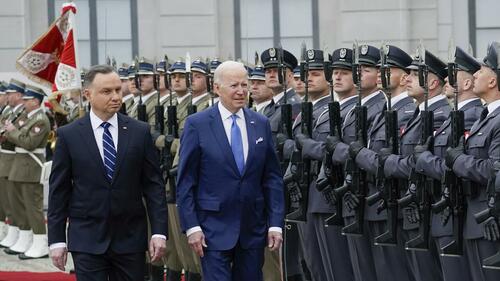 President Biden and Polish President Andrzej Duda in Warsaw/
"The problem, first of all, is that we don't have nuclear weapons," President Duda told Gazeta Polska newspaper in statements published Wednesday. "There is always a potential opportunity to participate in nuclear sharing."
He was quick to clarify, however, that under such a nuclear-sharing program "this would not be a nuclear weapon under the control of Poland. Participation in nuclear sharing does not imply having your own nuclear weapon."
But the Polish newspaper followed with…
After the interviewer pointed out that other countries which now have nuclear weapons began with nuclear sharing, Duda replied that, while this "must be viewed in terms of the distant future, I firmly believe that Poland will strengthen its security. That must be our long-term goal."
And according to a top Polish official, discussions with Washington along these lines are moving forward:
A senior diplomat in Warsaw said Duda's comments could potentially include any of those activities. The diplomat, who declined to be named because he wasn't authorized to speak publicly on the matter, said hosting the weapons would be in the security interest of Poland, the region and all of Europe.
"We have spoken to American leaders about whether the US is considering such a possibility" of Poland sharing the weapons, Duda told the newspaper. "The topic is open."
Despite Duda emphasizing the long-term future nature of the possibility of Warsaw having US nukes, the mere discussion itself is likely to trigger extreme alarm for the Kremlin, which for months has been strongly denouncing Poland's "extremely militant, anti-Russian" stance and policies.
Further, Moscow officials on up to President Putin himself have continued to blast the expansion of NATO military infrastructure into Russia's backyard and up to its doorstep. This has been the persistent Kremlin justification for the Ukraine invasion from the beginning.
Just days ago, Ukraine's Zelensky reacted to Russia's annexation move against the four occupied eastern territories by declaring formal Ukraine application to NATO, and hope for an expedited process.
However, Ukrainian NATO membership becoming a reality anytime soon is extremely unlikely – given all 30 member nations of the alliance would have to consent. Hungary remains a prime example of a NATO country which would not approve, along with some others likely to fear more than anything else automatically triggering Article 5 with admitting Ukraine, and a hot war with nuclear-armed Russia.
Comments
Steven S — The US told Russia it was putting missile base in Poland to "defend" against *Iran.* Now it wants to put nukes in Poland to aim at Russia.
Russia has maintained, for some time now, that the US nuclear weapons kept at NATO bases in Belgium, Germany, Italy, the Netherlands and Turkey violate the Non-Proliferation Treatry.
The US uses the technicality that they are under US control, unless war with Russia breaks out, then the weapons are transferred to the military of these nations. This clearly violates the spirit of the NPT.
The US has sold all these nations nuclear-capable aircraft that can "deliver" the weapons, and the US trains the pilots in these nations on how to use/drop the weapons. These are the B-61 gravity bombs, which are "variable yield" weapons; there are different models or "mods" with different ranges of explosive power ("yields").
The upper range of explosive power for one mod is 170-kilotons (170,000 tons of TNT equivalent explosive power).  The Hiroshima bomb had an explosive power of 15-kilotons.  I think there are about 150 of these US nuclear weapons remaining in Europe.
Francis A. Boyle — On Thu, Oct 6, 2022 at 11:26 AM Boyle, Francis A <fboyle@illinois.edu> wrote: This would be a clear-cut violation of the Nuclear Non-Proliferation Treaty that would shake its very foundations, and they are shaky enough to begin with. fab.
Steven S — I think the US would likely transfer the US nukes in Turkey to Poland. I am sure Russia would be delighted to know the Poles have nuclear weapons.
If you recall, one of the articles in the Russian Draft Treaties put forth last December 21 stated that US nuclear weapons must be removed from Europe. Likewise, another article stated that the US Aegis Ashore Ballistic Missile Defense/Offense sites in Poland and Romania must be removed from the Russian border.
Odiel H — On a webinar today by Brooking For Peace. Jeffrey Sacks said that the US was climbing to a dangerous precipice by refusing to negotiate with Russia. The US will offer no cease-fire, no de-escalation and no negotiations
Steve S — The neocons think they can defeat Russia and they are going to get us all killed if they continue on their current path.
Posted in accordance with Title 17, Section 107, US Code, for noncommercial, educational purposes.