Proposal to Grant the Ocean Rights
Calls for a Sea Change in Legal Framework
Elizabeth Claire Alberts / Mongabay
(October 15, 2022) — The idea is simple but ambitious: protect the ocean by giving it the same kind of rights a person might have. No such legal mechanism is currently in place, but support for this concept is growing as experts increasingly recognize that the ocean is in dire need of defense.
Existing laws already provide some levels of protection to the ocean, primarily within exclusive economic zones (EEZs), areas of the sea extending about 200 nautical miles, or 370 kilometers, from national coastlines. Yet about 64% of the marine environment lies in international waters beyond any nation's jurisdiction, where governance is more challenging.
In March 2022, the professional sporting group the Ocean Race launched a bid to establish the Universal Declaration of Ocean Rights (UDOR), a proposed framework that would give the ocean legal rights within a multilateral governance system. Various countries have already voiced their support for the UDOR, including Monaco, Cabo Verde and Panama.
"We got inspired by the Universal Declaration of Human Rights and inspired by the stories from sailors about the ocean having an identity," Johan Strid, the director of ocean policy at the Ocean Race, told Mongabay. "It's absolutely a natural step to take for the Ocean Race, but of course, what is a bit odd is that I think we are the only sports entity that has a clear policy objective beyond our sport."
To refine this vision, Ocean Race teamed up with scientists, policymakers and law experts, including Michelle Bender of the Earth Law Center, who created an ocean rights framework in 2017.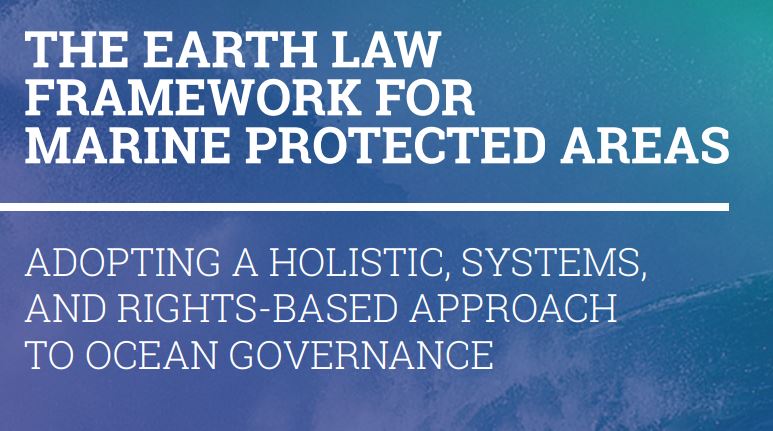 Bender said she was motivated to work on ocean rights shortly after Aotearoa New Zealand passed a groundbreaking law that granted personhood to the Whanganui River, a tributary on the country's North Island that the local Indigenous Māori view as an ancestor.
"At that time, everyone was really starting to grasp onto it — rivers, national parks, lakes gaining legal status — but no one was talking about the ocean," Bender told Mongabay. "And so I created the program to really address this gap."
Bender said she joined forces with the Ocean Race in 2020 to work out the concept of the UDOR.
A movement to grant legal rights to the natural world has been gathering steam over the past two decades. For instance, Ecuador codified the rights of nature, or "Pachamama," into its Constitution in 2008.
While environmental experts have criticized Ecuador for not always abiding by its Constitution and allowing the ongoing destruction of nature, often at the expense of Indigenous peoples, the rule has aided some conservation efforts; in 2021, for instance, it provided a legal mechanism to stop mining activities that would have threatened the protected area of Los Cedros. More recently, Panama passed a national law recognizing the rights of nature in February 2022.
One mechanism to protect the oceans has been the establishment of marine protected areas (MPAs), mostly within national boundaries. Still, no framework has yet been implemented to recognize the ocean's inherent rights on a national or international level.
That said, there is an ongoing bid to institute a high seas treaty, also known as the Biodiversity Beyond National Jurisdiction (BBNJ) treaty, which, if approved, would aim to help conserve marine biodiversity in international waters. However, the high seas treaty process was stalled for the fifth time in August 2022, highlighting the difficulties in solidifying multilateral agreements.
Pachamama, the goddess of the natural world.
The United Nations Convention on the Law of the Sea (UNCLOS) also dictates how the high seas should be governed and protected. But UNCLOS takes a more "human-centric approach to the ocean," Strid said, whereas the UDOR would take an "ocean-centric approach."
"It's a little bit like two different schools," Strid said. "But if you ask me, that should not stop us. If the most efficient way to achieve a situation where the ocean has rights is via UNCLOS, we should go that route. If the most efficient route is that we would have a separate universal declaration and a separate legal and normative setting, we should go that route."
Bender said the team is approaching the UDOR as a "new overarching umbrella framework" that would provide a "code of conduct that all other [agreements] would fall under and respect."
"So the BBNJ and UNCLOS would essentially be implementing agreements of this new norm," she said. It would be "similar to how the U.N. Declaration of Human Rights is an overarching framework that states have to work to implement in their various ways and capacities."
For now, there is no draft of the UDOR, which Strid said is a deliberate tactic.
"If we put 20 lawyers in a room, they will probably come up with something in two days," he said. "Instead of locking ourselves in, being too specific too early, we are focusing on the principles of ocean rights … and trying to have an involved discussion. It's a slower route, but we think that it's more efficient because in the end, the likelihood of having the decision we want is higher."
Bender said they're not necessarily looking to grant the ocean personhood, which comes with its own legal complications, but to gain recognition that the ocean is a "living entity with inherent rights."
Guillermo Ortuño Crespo, a postdoctoral researcher at the Stockholm Resilience Centre, who is not directly involved in the UDOR process, said this framework could provide a legal framework to take legal action against countries that don't comply with rules that aim to protect biodiversity in international waters.
"I think it's a concept that is important for nature beyond the ocean," Ortuño Crespo told Mongabay. "But it's clear that right now, we have built a system for ocean governance that has loopholes and has deficiencies that are hard to fill."
"It seems like this universal declaration could give us a bit more of a footing to raise issues around pollution or environmental degradation in a way that we haven't before," he added.
Despite the difficulties negotiators have faced in clinching multilateral agreements like the high seas treaty, Strid said an increasing number of countries, organizations, scientists and business leaders say they're interested in supporting the UDOR.
In August 2022, the Ocean Race and its partners, including Earth Law Center and the governments of Monaco and Cabo Verde, hosted a high-level event to engage with politicians and environmental experts about the implementation of the UDOR.
Delegates from Italy, Portugal, France, Sweden, Singapore, Spain, Mexico, Palau, Colombia, Seychelles and Panama, and representatives from institutions like the IUCN and the Pew Charitable Trusts, attended the event.
Strid said the ultimate goal is for 10 countries to voice support for the UDOR at the U.N. General Assembly in New York next year.
"Companies have rights; humans have rights; organizations have rights in the court of law," Strid said. "So the ocean should have the right to be protected and the right to thrive."
Posted in accordance with Title 17, Section 107, US Code, for noncommercial, educational purposes.