Finland to Allow for Deployment of NATO Nuclear Weapons on Its Territory:
US 101st Airborne on "Combat Deployment" 3 Miles from Ukraine's Border
HELSINKI (October 225, 2022) — Finland's draft legislation on the country's accession to NATO, which is almost prepared, does not contain any restrictions on establishment of military bases and deployment of nuclear weapons on the its territory, a local newspaper reported on Wednesday, citing sources.
The legislation will allow for deployment of nuclear weapons of NATO countries and establishment of the alliance's military bases on the territory of Finland putting no limits on NATO's military presence in the country, according to the newspaper.
The draft legislation is expected to be considered by the Finnish parliament in two weeks, newspaper said.
The newspaper also noted citing its sources in the Finnish government that during negotiations with the bloc in July Foreign Minister Pekka Haavisto and Defense Minister Antti Kaikkonen pledged to avoid any restrictions regarding the country's participation in military activity of the alliance in the national legislation.
On May 18, three months after Russia launched its military operation in Ukraine, Finland and Sweden submitted their NATO membership applications, abandoning decades of neutrality. With 29 out of 30 NATO members having formally ratified the agreements on Finland and Sweden's accession, both countries are now in talks with Turkey to allay concerns over their alleged support of organizations designated as terrorist by Ankara. The US forces are "fully prepared" to cross into Ukraine at a moment's notice to fight against Russia, Brig. Gen. John Lubas, the division's deputy commander, told CBS News.
Lubas made it clear that what US forces are doing in Romania, about 3 miles from the Ukraine border, is "not a training deployment" but rather a "combat deployment."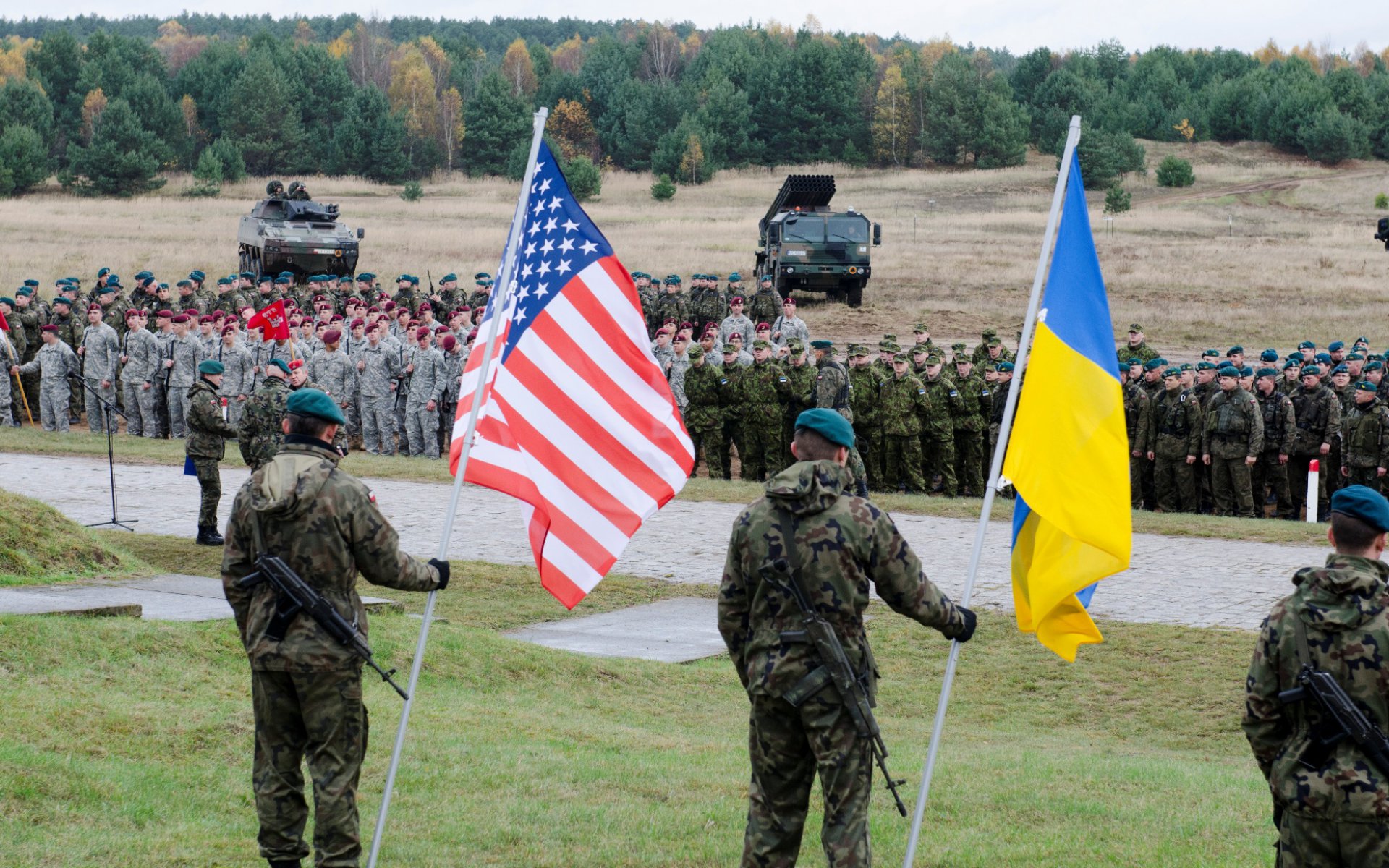 US Forces 3 Miles from Ukraine Border
Free Press International News Service
(October 25, 2022) — The US Army's 101st Airborne Division, deployed to Europe for the first time since World War II, has been carrying out live-round tank and artillery exercises at a forward operating site on NATO's eastern flank and not far from the Ukraine border, US military officials said.
The US forces are "fully prepared" to cross into Ukraine at a moment's notice to fight against Russia, Brig. Gen. John Lubas, the division's deputy commander, told CBS News.
Lubas made it clear that what US forces are doing in Romania, about 3 miles from the Ukraine border, is "not a training deployment" but rather a "combat deployment" from which his forces "need to be ready to fight tonight, depending on how the situation escalates across the border."
Col. Edwin Matthaidess, commander of the 2nd Brigade Combat Team, told CBS News that the troops are the closest American unit to the fighting in Ukraine.
About 4,700 soldiers from Fort Campbell, Kentucky, are stationed near Romania 's border with Ukraine and conducting joint ground and air assault exercises with Romanian forces meant to simulate battles that Ukrainian forces are waging against Russian forces.
"It keeps us on our toes," Matthaidess said.
Charlie D'Agata, senior foreign correspondent for CBS News, said in one report from an air base in Romania: "It's not just about defending NATO territory. If the fight escalates, and NATO partners are under threat, they're fully prepared to cross over into Ukrainian territory if ordered to do so.".
Who Sends Instructors to Train Ukraine's Soldiers?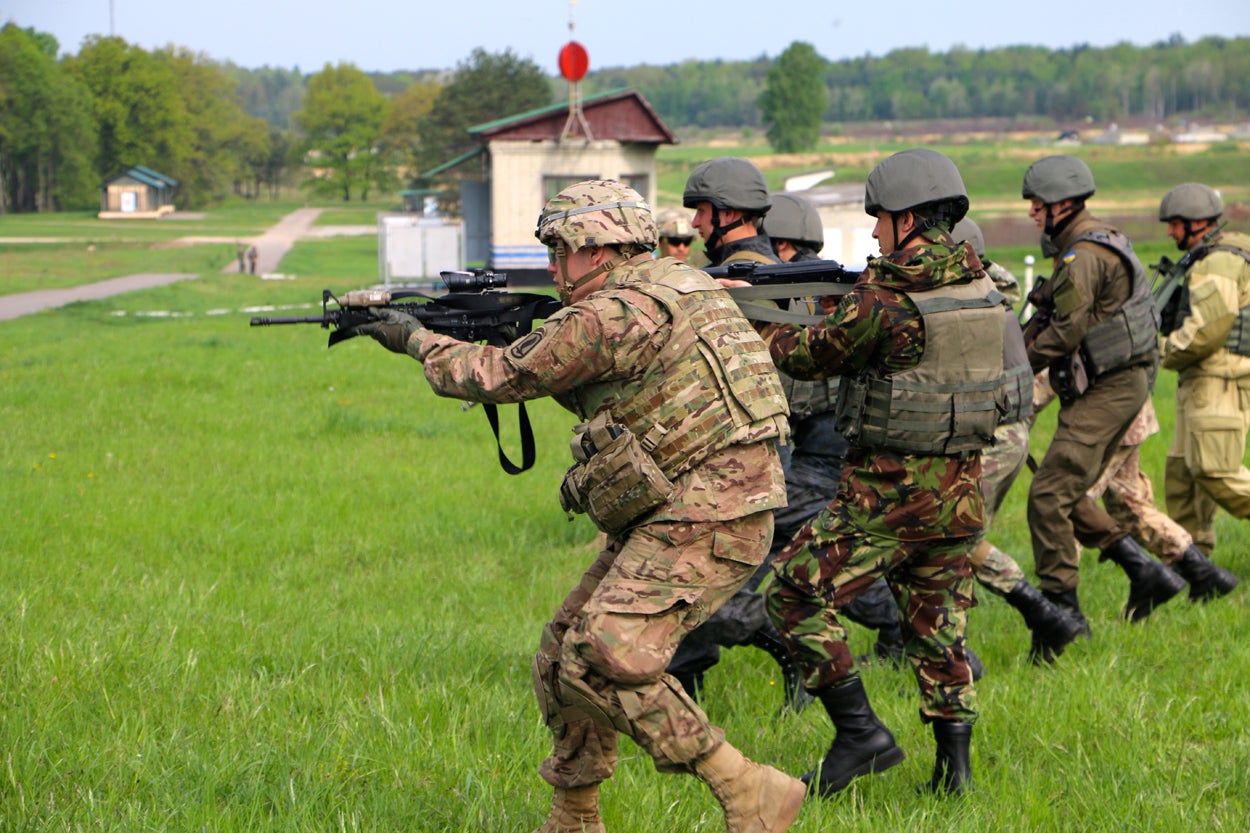 16 EU Nations Training Ukrainian Troops
(October 23, 2022) — Information published on the US State Department website earlier in October revealed that Washington has been involved in providing Kiev with military training-related assistance since 2014.
A year later, the UK military sent military instructors to eastern Ukraine, where local forces were taught first aid and defensive tactics.
Apart from the US and the UK, other countries which trained the Ukrainian Army include:
Canada
Germany
Denmark
The Netherlands
Spain
Portugal
Sweden
Finland
Norway
Iceland
Estonia
Lithuania
Latvia
New Zealand
Where Are Ukrainian Forces Being Trained?
Denmark
Finland
Estonia
Iceland
Latvia
Lithuania
The Netherland
Sweden
Norway
In one of the latest moves, EU countries agreed earlier in October to train 15,000 Ukrainian military personnel in the bloc's various member states as part of its so-called Military Assistance Mission. Its headquarters is to be located in Brussels, and Admiral Herve Blejean, the director of the EEAS' Military Planning and Conduct Capability, is set to be mission commander.
Similarly, French Armies Minister Sebastien Lecornu pledged that his country would provide training to about 2,000 Ukrainian troops. Hungary's Foreign Minister Peter Szijjarto, however, said that Budapest will "not participate in this training mission".
According to Russian media, there were up to 50 NATO instructors in Ukraine last year from the US, the UK, Canada, Denmark, Poland, Latvia and Lithuania, who also trained Ukrainian troops in previous years under the US-run program JMTG-U (Joint Multinational Training Group – Ukraine).
How Are Trainings Conducted?
Sputnik estimates that foreign "training programs" for Ukrainian soldiers, in particular, stipulate that troops are drilled in the implementation of the following tasks:
• Handling modern weapons
• Mining roads
• Blowing up cars
• Carrying out sabotage and terrorist attacks
Before Moscow started its operation in Ukraine, foreign instructors were involved in preparing sabotage groups and sappers there. They also trained Ukrainian soldiers to conduct sniper work and fire adjustment, specifically focusing on things like disguising explosive devices as household items.
As far as the US is concerned, Pentagon spokesman John Kirby told reporters in May about training sessions for Ukrainian troops that take place in Germany and other "key" areas. He declined to elaborate.
Kirby said that the US had begun teaching the Ukrainian Armed Forces to use "key weapons systems" at US military bases in Germany.
According to him, the training process includes the use of advanced artillery equipment, as well as new radar stations and armored vehicles that Washington supplies to Kiev.
The remarks were preceded by The Hill citing unnamed Pentagon sources as saying that 20 Ukrainian soldiers had completed a weeklong training course in the US in how to use Phoenix Ghost loitering ammunition.
In the UK, training sessions are conducted in line with Britain's basic infantry training and comprise a number of tasks, according to the country's Defense Ministry:
• weapons-handling
• battlefield first aid
• field craft
• patrol tactics
• trench and urban warfare
The course's advanced training includes:
• trench and urban warfare
• vehicle-mounted operations
• battlefield exercises in simulated combat environments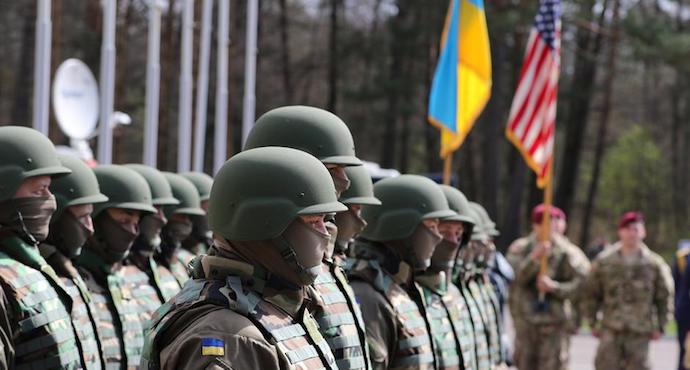 Who is Sending Troops to Ukraine?
Western countries continue to insist that they do not send their troops to Ukraine within the framework of the military assistance to Kiev.
At the same time, thousands of foreign mercenaries continue to fight Russian troops in Ukraine, with Russia's Defense Ministry warning that they are all subject to criminal liability.
Posted in accordance with Title 17, Section 107, US Code, for noncommercial, educational purposes.