ACTION ALERT:
No First-Use, No Any Use of Nuclear Weapons
Petition from: IPPNW international, Naturwissenschaftler innen Initiative" Verantwortung für Frieden und Zukunftsfähigkeit and the Science4Peace Forum
(November 2022) — In the war against Ukraine, which we condemn in strongest terms, too many people have been killed and too much hate and fear was created and amplified, too many war-crimes were committed. We urge for an immediate ceasefire and humanitarian aid for those who are suffering from the war. The escalation in words and military actions has brought us very close to the danger of the use of nuclear weapons.
In the face of a vast and hardly imaginable global destruction, we as scientists cannot stay silent: Any nuclear attack from any side will create responses and retaliations from the other side, and in a short time millions of people will be killed, huge areas on land and sea will be destroyed and contaminated.
The atmosphere will carry radioactive elements and soot, which could lead to nuclear winter and a global famine. Scientific studies demonstrate clearly and undoubtedly, once nuclear weapons are fired, there is no time left for decisions and there is no way back.
Being paralyzed by the nuclear threat, we are facing serious and dangerous crises, which need to be solved:
The climate crisis with storms, floods or droughts in many countries, with merely no chance for millions of people to survive.
The Food-, ecosystem-, social- and energy crises, will affect mostly poor countries. Instead of engaging in wars, we need to put all our effort and resources to resolve these issues.
As scientists we are committed to research for the benefit of humanity and to engage for a peaceful world in which every being has a future. We demand from all politicians and political leaders:
– Stop the verbal escalation, stop making any statements and decisions which will destroy the future of all of us, independent of nation, gender, race
– Take scientific advice as a guideline of your decisions, and make decisions which allow a future for of all of us.
– Remember the inferno of Hiroshima and Nagasaki and take historical considerations into account.
We demand from all governments, including those in the EU, Russia, US and Asia
– Urgently declare publicly, to subscribe to the no-first-use policy of nuclear weapons or other weapons of mass destruction, and declare there will be no-any-use of these weapons.
– Sign immediately the Treaty on the Prohibition of Nuclear Weapons launched by the United Nations.
ACTION: To sign the petition, click here.
This call is initiated by IPPNW international, Naturwissenschaftler innen Initiative, Verantwortung für Frieden und Zukunftsfähigkeit, and the Science4Peace Forum.
1 We support the "Open Letter From Nobel Peace Prize Laureates and Citizens of the World Against War and Nuclear Weapons"
2 https://www.ippnw.org/
3 http://natwiss.de/
4 https://science4peace.com/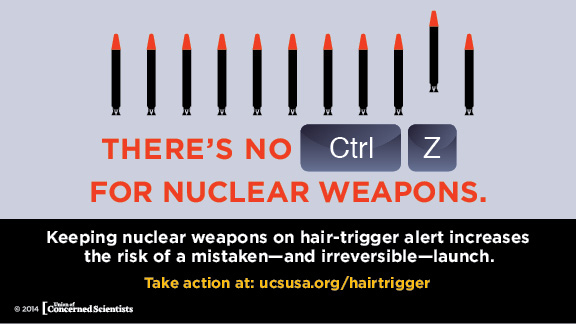 "We Reject War and Nuclear Weapons":
Join the Global Call for Nuclear Abolition
Avaaz Petition from Nobel Peace Prize Laureates
Open Letter From Nobel Peace Prize Laureates and
Citizens of the World Against War and Nuclear Weapons
We reject war and nuclear weapons.
We call on all our fellow citizens of the world to join us in protecting our planet, home for all of us, from those who threaten to destroy it.
The invasion of Ukraine has created a humanitarian disaster for its people. The entire world is facing the greatest threat in history: a large-scale nuclear war, capable of destroying our civilization and causing vast ecological damage across the Earth.
We call for an immediate ceasefire and the withdrawal of all Russian military forces from Ukraine, and for all possible efforts at dialogue to prevent this ultimate disaster.
We call on Russia and NATO to explicitly renounce any use of nuclear weapons in this conflict, and we call on all countries to support the Treaty on the Prohibition of Nuclear Weapons to ensure that we never again face a similar moment of nuclear danger.
The time to ban and eliminate nuclear weapons is now. It is the only way to guarantee that the inhabitants of the planet will be safe from this existential threat.
It is either the end of nuclear weapons, or the end of us. 
We reject governance through imposition and threats, and we advocate for dialogue, coexistence and justice.
A world without nuclear weapons is necessary and possible, and together we will build it. It is urgent that we give peace a chance.
ACTION: To join the other 1,076,973 signatories, click here.
Signatories List of Nobel Peace Prize Laureates: 
His Holiness The Dalai Lama (1989)
International Physicians for the Prevention of Nuclear War (1985) 
International Campaign to Abolish Nuclear Weapons (2017) 
Juan Manuel Santos (2016) 
Kailash Satyarthi (2014) 
Leymah Gbowee (2011) 
Tawakkul Karman (2011) 
Muhammad Yunus (2006) 
David Trimble (1998) 
Jody Williams (1997) 
Jose Ramos-Horta (1996) 
Pugwash Conference on Science and World Affairs (1995) 
Óscar Arias Sánchez (1987) 
Lech Walesa (1983) 
American Friends Service Committee (1947) 
International Peace Bureau (1910)