Anticipation Turns to Exasperation 
Taxpayers for Common Sense
WASHINGTON (November 18, 2022) — We knew it was just a matter of time but, as the Carly Simon lyrics say, anticipation was keeping us waiting. We knew it was just a matter of time before yet another emergency appropriations request was formulated by the Biden Administration.
And now, as the latest emergency supplemental funding request for Ukraine and COVID-19 response hits the public eye, anticipation turns to exasperation. Why are we exasperated? Well, for starters, there are some items that don't seem to meet the definition of an "emergency" — like research and development programs (often years in the making) at the Pentagon.
In addition, there is a request to use this COVID-19 funding request "to launch a new program" aimed at preventing and treating hepatitis C and HIV/AIDS. "Emergency" supplementals are seldom a good tool for creating and launching well-run programs.
And then there is the overall price tag for this request — $47.7 billion. We get that, since it's designated as emergency spending, it won't be counted against the federal deficit by scorekeepers. But…it will still add to the debt in reality.
Of that total, $21.7 billion is for the Pentagon and another $126.3 million is for "Defense Nuclear Nonproliferation" programs at the Department of Energy (DOE). Here's a breakdown of where, exactly, the Pentagon and DOE money is headed: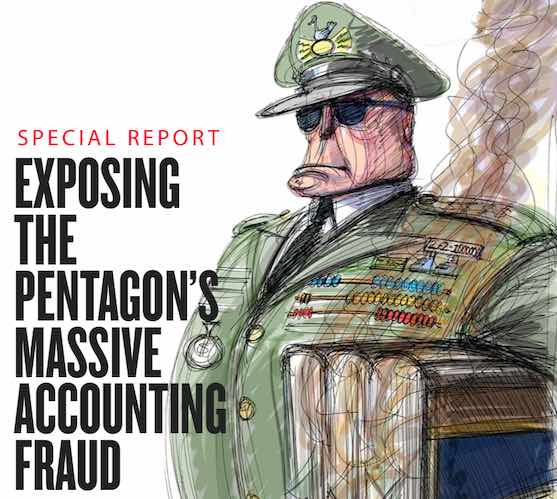 The description of the need for that money for the National Nuclear Security Administration will make you suck in your breath: "to prepare for and respond to potential nuclear and radiological incidents in Ukraine." Okay we'll admit calling that an emergency seems apt. 
We also firmly believe the US Government should continue providing aid to the Ukrainian government to push back against Russia's actions to take over Ukrainian territory. Closing our eyes, and wallets, to this criminal activity won't make it go away. We've called for greater oversight of this aid in the past, and still believe that every dollar should be scrutinized.
The biggest pot of money for the Pentagon, about two-thirds of the total, is $14.9 billion for Operations & Maintenance (O&M) in the so-called "Defense-wide" accounts. These budget lines cover items that are not specific to a particular military service – like Special Forces.
But the justification for this large tranche of money is that $7.7 billion will replace "defense articles" (read: weapon systems, but also things like military education and training) that were drawn down from Pentagon stocks in the rush to provide help to the Ukrainian military. That money will benefit all of the military services that provided weapons from their stockpiles.
Another $7 billion is for the Ukraine Security Assistance Initiative which started really ramping up in Fiscal Year 2016 to, "provide assistance, including training; equipment; lethal weapons of a defensive nature; logistics support, supplies and services; sustainment; and intelligence support…".
Back in FY16, the total appropriated for this initiative was $250 million and lethal, offensive, equipment was barred. As our fact sheet in 2019 pointed out, the total of unclassified funding for Ukraine in Fiscal Years 2015-2019, from both Pentagon and State Department accounts, was $2.9 billion. My how things have changed!
The next largest pot of Pentagon money is $3 billion in Army O&M for "personnel support" such as the cost of temporary duty away from home station, intelligence analysis, flying hours and maintenance.
The Navy receives just under a billion for the same items. The Air Force would receive $602.4 million for the same justification. Marine Corps $50.7 million and the brand-new Space Force gets into the act with a reimbursement of $8.7 million in O&M for the same reasons.
Research, Development, Test & Evaluation (RDT&E) accounts for the Army, Navy, Air Force, and Defense-wide receive a collective $316.7 million. Each individual pot of money has the same justification, "for munitions, anti-vehicle, and close combat technology development needed for European theater of operations."
We don't doubt this kind of research is needed, but we do have our doubts about it being "emergency" worthy – R&D programs take years to progress to being procurement programs of record. Perhaps the military services should shoehorn these ideas into their Fiscal Year 2024 budget request when it comes out in March!
Programs overseen by the State Department and the US Agency for International Development account for another $15.3 billion.
Of that total, the lion's share goes to the State Department's Economic Support Fund, with a whopping $13 billion of it slated to:
Direct Budget Support for the Ukrainian government ($9.9 billion)
Economic Stabilization and Early Recovery ($1.5 billion)
Energy Security ($1.1 billion)
Global Food Security ($300 million)
Smaller amounts go to providing critical information support, assessing cyber threats and Accountability/Transparency. Hallelujah! Although it is a relatively small $20 million, this money is directed at "the oversight and accountability of appropriated resources".
In particular, the money would maintain State Department efforts to work with the Ukrainian government on "monitoring, transparency, verification, and reporting related to their use of budget support." Money well spent! We called for exactly this kind of oversight in a letter with our friends at Project on Government Oversight, National Taxpayers Union, and R Street Institute.
Add a relatively teensy amount, $75,000 for the US Intelligence Community to study cyber techniques used by the Russians in Ukraine and you have roughly $37.1 billion in "national security" spending. So where does the other $10 billion and change go?
COVID-19
The administration has reupped its ask for additional spending to deal with COVID-19, in the US and abroad. Specifically, the administration is looking for $9 billion for the Public Health and Social Services Emergency Fund at the Department of Health and Human Services and another $1 billion for Global Health Programs managed by the Department of State.
Notably this is a significant reduction from the $22.5 billion in COVID-19 related funding the administration previously requested, but did not receive, in September's run-up to the continuing resolution/supplemental deal ($4 billion for State and $17 billion for domestically focused agencies).
In this reduced funding request $8.7 billion would go toward vaccination efforts for the uninsured, development of vaccines for multiple COVID variants, and other therapeutics. $925 million of the $1 billion request for the State Department would go to similar efforts on the global stage through the Global VAX program and related international efforts, with the remaining $75 million directed to vaccination and treatment efforts aimed specifically to vaccinating individuals with HIV/AIDS, an immunocompromised and thus highly at-risk population.
Interestingly, while the administration's letter states it is seeking funds "for critical assistance to Ukraine and critical response activities to address COVID-19" it includes $350 million to buy and distribute treatments hepatitis C and pre-exposure prophylaxis for HIV. Treating and preventing the spread of these diseases is a worthy endeavor. But using an emergency spending bill to create a new program on the fly, is not.
Whether any amount of funding in the supplemental ends up being directed to COVID-19 or other health efforts is in doubt. Such funding was not included in the supplemental spending package attached to the September 30th spending deal to avoid a government shutdown.
In addition, last March $15.6 billion in COVID-19 assistance was stripped from the final spending package for FY2022 after House lawmakers refused to cover part of the cost by clawing-back $7 billion in unspent American Rescue Plan.
Now it's over to Congress to decide how much of this request will be granted. And, if you haven't heard, things are a little discombobulated on Capitol Hill. Leadership seats and Committee chairs are not completely decided for the next Congress.
A laundry list of hot topics remain to be hashed out: Fiscal Year 2023 Appropriations bills (current funding for the federal government runs out in a month), what to do about the debt ceiling, whether to further extend certain tax breaks, confirming a host of political appointees before they turn into pumpkins at the end of this Congress and have to be renominated… it's… a lot! Add this emergency supplemental request to the pile.
Anticipation is making us wait.
Posted in accordance with Title 17, Section 107, US Code, for noncommercial, educational purposes.