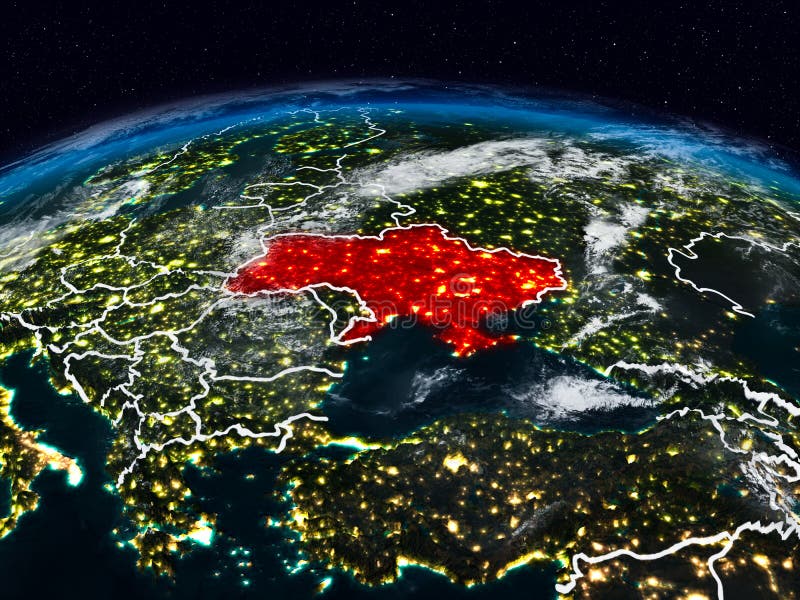 Satellite photo shows Ukraine before attacks on energy grid.
Ukraine: Lights Out,
No Water And Soon, No Heat 
Moon of Alabama
(November 23, 2022) — Earlier today the Russian military shut down the Ukrainian electricity network.
Previous attacks had limited the distribution capacity to some 50% of demand. Controlled blackouts over several hours per day allowed to give some electricity for a few hours to most parts of the country.
The attack today created a much larger problem. Not only were distribution networks attacked but also so the elements that connect Ukraine's electricity production facilities to the distribution network. All four nuclear power stations of Ukraine with their 15 reactors are now in shutdown mode.
Kiev along with most other cities of Ukraine no longer has electricity.
Moldavia is likewise effected as it received some 20% of its electricity from Ukraine. When the Ukrainian network shut down the only local thermal power plant shut down too. It is likely that it can be switched on again but that can be a complicate process.
Limited electricity imports from the European system into Ukraine may still be possible but that electricity would only be available in Ukraine's western cities.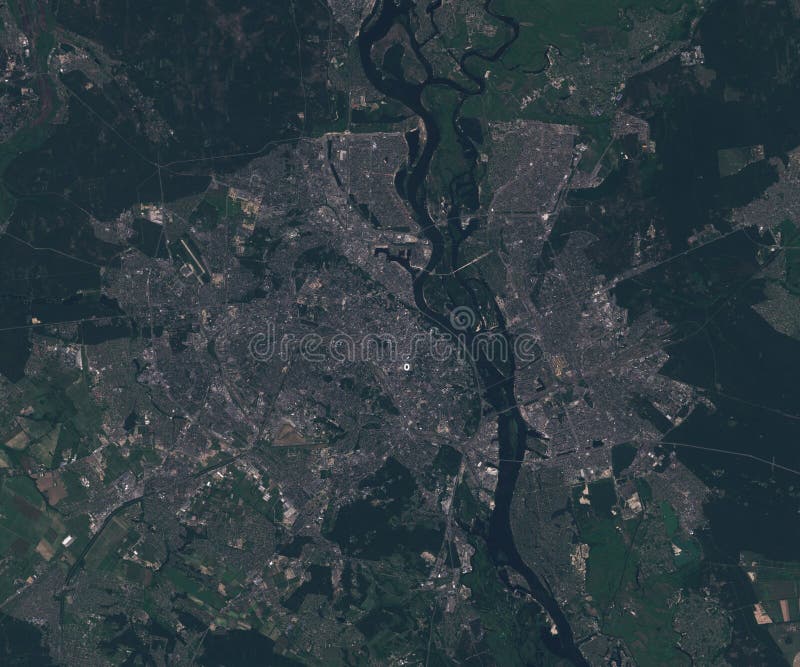 Satellite photo shows Ukraine without electric power.
Before today's attack the Washington Post reported of the difficulties in repairing the network. As we ad explained before the Russian attacks are hitting the transformers that connect the national 330 kilovolt backbone network. These are hard to replace:
As the scope of damage to Ukraine's energy systems has come into focus in recent days, Ukrainian and Western officials have begun sounding the alarm but are also realizing they have limited recourse. Ukraine's Soviet-era power system cannot be fixed quickly or easily. In some of the worst-hit cities, there is little officials can do other than to urge residents to flee — raising the risk of economic collapse in Ukraine and a spillover refugee crisis in neighboring European countries.
A country that is becoming 'uninhabitable'
has little chance to wage and win a war.
When there is no transport, no electricity,
no heat and no communication
everything becomes incredibly difficult.
Ukrainian Prime Minister Denys Shmyhal said that about half of the country's energy infrastructure was "out of order" following the bombardment.
…
For weeks, Russian missiles have targeted key components of Ukraine's electrical transmission system, knocking out vital transformers without which it is impossible to supply power to households, businesses, government offices, schools, hospitals and other critical facilities.
During a briefing for reporters on Tuesday, Volodymyr Kudrytskyi, the head of Ukrenergo, the state-run power grid operator, called the damage to the power system "colossal."
…
Russians, he said, were mainly targeting substations, nodes on the electrical grid where the current is redirected from power stations. The main components of these substations are autotransformers — "high-tech and high-cost equipment" that is difficult to replace.
…
A list of "urgent needs" from DTEK, the country's largest private energy company, circulating in Washington, lists dozens of transformers along with circuit breakers, bushings and transformer oil.
…
But it is the autotransformers — the "heart" of the substations, in the words of Kudrytskyi — that are at the top of the Ukrainians' list of needs and the key to keeping the country's electrical grid functioning.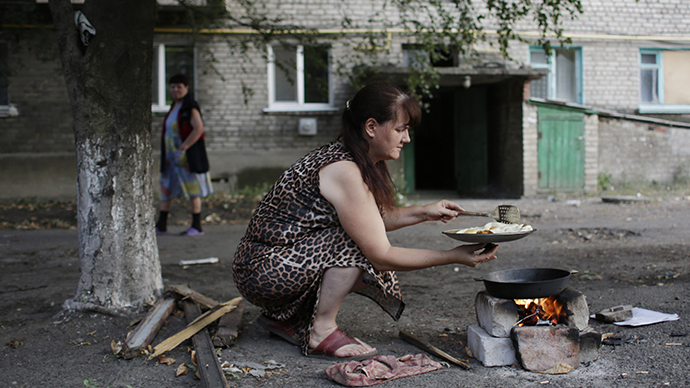 Calamity grows as Ukraine is left without power, water, heat.
The Ukrainians have tried to buy up every autotransformer they can find, going as far as South Korea to purchase them, but they still need to place orders for more to be built.
"We try to collect everything around the world that they have now, and order more," said Olena Zerkal, an adviser to Ukraine's Energy Ministry.
Any attempts to repair the network are useless as long as Russia continues to attack it.
To stop these attacks requires a political solution. Ukraine will have to give up and find some agreement with Russia.
Russia also attacked some of the natural gas sources Ukraine has:
Russia last week broadened its targets. Oleksiy Chernyshov, chief executive of Ukraine's state energy company Naftogaz, said in an interview that a "massive rocket attack" hit 10 gas production facilities in the Kharkiv and Poltava regions, including Shebelinka, one the largest production and drilling areas.
"Of course, we will do our best now to recover, but this will take time and resources and material," Chernyshov said. "Time is of the essence," he added. "Because winter is now."
The targeting of the gas supply was a critical development, said Victoria Voytsitska, a former member of parliament now working with civil society groups on getting Ukraine the equipment it needs. If Moscow takes out the gas system, she said, cities and villages across the country could become "uninhabitable."
"Energy terrorism" plunges millions into darkness.
The Russian gas provider Gazprom has announced that it will reduce the transport of gas through Ukraine to European customers as the Ukraine is stealing from it:
Gazprom says that it has noticed some of the gas intended for Moldova under a contract with the local gas firm is being diverted by Ukraine. If the imbalance in gas transit continues, Gazprom will start reducing gas flows via Ukraine on the morning of November 28, the Russian gas giant said today, as carried by Russian news agency TASS.
Without electricity there is no water flowing in the water distribution systems of the cities. Without water toilets can not be used. Public hygiene will suffer. The internet in Ukraine is also down.
A country that is becoming 'uninhabitable' has little chance to wage and win a war. When there is no transport, no electricity, no heat and no communication everything becomes incredibly difficult.
The refugee stream all this will cause will increase pressure on Europe to push Ukraine into negotiating for peace with Russia. Tough conditions will be applied but there is no other way out of this mess.
Posted in accordance with Title 17, Section 107, US Code, for noncommercial, educational purposes.