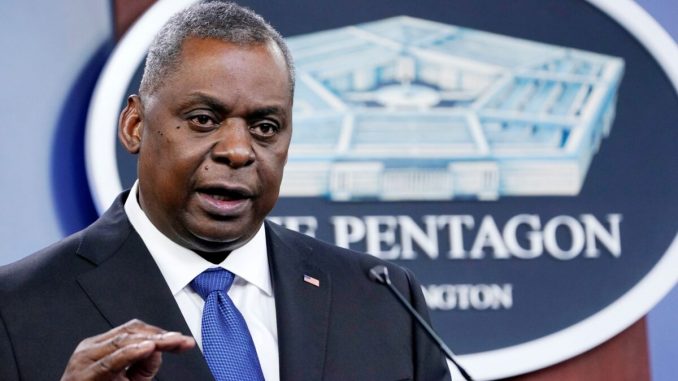 The Pentagon Has Seen a Precipitous Decline in Public Support
Kelley Beaucar Vlahos / The Quincy Institute for Responsible Statecraft
(December 1. 2022) — The Ronald Reagan Institute has released its annual poll on Americans' trust in its military, and not surprisingly, it's still in the dumps. While the organization says the free fall from 70 percent just five years ago is "stabilizing," the fact is that only 48 percent of respondents expressed "a great deal of trust and confidence" in the institution — just three points up from 2021.
I wrote about the possible reasons for this last year. The organization's head, Richard Zakheim, had acknowledged that the 2021 poll did not drill down on the reasons why respondents had lost faith in the one institution that up until then had still been held in high esteem by most Americans.
He speculated that it was due to over-politicization, like the National Guard being used to crack down on protesters during the George Floyd protests in 2020. I thought that was ignoring the role our 20-years of failed wars had played in the perception of the military's honesty and competence.
Well this year, the institute did ask the question, and the results are more mixed than either of us had anticipated.
According to the poll, 62 percent of respondents blame politicization. We don't know what that means exactly, but it is interesting that there is no real split here between Republicans (65 percent), Democrats (60 percent) or independents (60 percent).
Politicization appears to be the biggest culprit and could be blamed on politicization today under Biden, or yesterday, under Trump, or a culmination of recent administrations dating back through he Global War on Terror.
Next, nearly 60 percent said it was the performance/competence of the commander-in-chief that depressed their trust and confidence. Some 55 percent said it was the civilian leadership, and slightly fewer (52 percent) said it was the uniformed leaders.
What did run along party lines was the number that said "woke" policies in the military have degraded their trust (50 percent, mostly Republicans) versus those who blamed far-right extremism in the military (46 percent, mostly Democrats).
What about the failures of our wars in Afghanistan and Iraq? Some 47 percent said it was a reason for their decreased confidence. Not a majority, like I had argued, but it definitely played a big role in damaging perceptions of the institution. That's especially clear when you see that only 50 percent of those polled have great confidence in their military to keep them safe, down from 57 percent last year. As for whether the ability to win a future war is a reason for their lack of confidence, 52 percent said yes.
Perhaps even more damning is the question of whether the military is seen as able to perform in a "professional and non-political manner." This number took a nosedive year-over-year, from 40 percent to 35 percent.
Sadly, this hasn't been lost on the young. The institute also asked 18-29 year-olds about recruitment. Only 38 percent said they would be willing to join, along a range of very likely to somewhat likely.
The military used to be the most trusted institution in a culture that had already lost faith in its courts, its church, and its politicians. There needs to be a much deeper dive to explore where, when, and how things went so terribly wrong.
One theory is that the professional military — with its perverse promotional incentives; its co-dependency on private industry and Washington politics for survival; and its own rules and culture, disconnected from the rest of American society — has become corrupt and incompetent at the same time.
There is a lot to be done to right this ship, but until then, the American people seem more clear-eyed than ever about what the military can or cannot do. All the better reason for Washington to recognize its limits, de-militarize its foreign policy, and get its national defense back in order.
Posted in accordance with Title 17, Section 107, US Code, for noncommercial, educational purposes.