Robocops on the Horizon? The Snoopy Connection 
Gar Smith / Berkeley Daily Planet & EAW
(December 4, 2022) ‑— The SFPD has razed a bunch of hackles and a din of howls with its plan to fight crime by enlisting remote-controlled robots to lob bombs at members of the civilian population. The Chronicle was quick to reassure its readers that the SFPD "has no plans to outfit robots with a gun." No way! Instead, these cop-bots would only be "equipped with explosive charges… to incapacitate violent suspects" by tossing hand-grenades in their general direction.
When it came to providing background on using these military mini-tanks to tackle crime, the Chron revealed that the SFPD has possessed 17 if these weapons for more than a decade but only 12 of them "are functioning" today. This raises questions. Why did SF's PD amass 17 of these robobots? (Was the SFPD secretly staging robot soccer matches?) And why are only 12 of them working today? (Benched for tread-wear? Dead batteries?)
Another issue rë gunless bomb-bots: While a gun can be aimed; a bomb would destroy the bot and anything within a 20-foot radius. Another problem: the use of mechanical bomb-wielding cops would increase the likelihood of hostage-taking.
And then there was that embarrassing incident from the 1990s….
SF's 1993 Robobomb Fiasco
On August 28, 1993 the Associated Press ran the following report on a Robocop gone rogue in SF. According to the AP dispatch ("Robot Sent to Disarm Bomb Goes Wild in San Francisco"):
A hazardous-duty robot malfunctioned Wednesday night and spun out of control in an attempt to defuse an explosive situation.
"It was spinning around, just going wild," said Edward Ellestad, a member of the Police Department's bomb squad. "People were yelling, 'Shut it off!' So we pulled the plug.' "
The police robot, nicknamed "Snoopy," went out of control as officers tried to get it to grasp a pipe bomb found at the C & B Cafe during a raid . . . .
The 28-year-old, 1,000-pound robot had not quite grabbed the plastic bag containing the pipe bomb when it malfunctioned.
"It could've been a lot worse if it had picked up the device when it was doing 360's and banging off the walls," Officer Ellestad said.
Bomb squad officers had to remove the device by hand before placing it in a special container and taking it to a remote area to detonate it.
The Snoopy Connection
The New York Times also reported on the SFPD's bot-botched incident with the following sentence:
"Snoopy," the San Francisco Police Department's clunky old hazardous-duty robot, came close to causing a bomb blast instead of preventing one …
Snoopy?!
Yes, indeed. In a publicity ploy to promote the introduction of mechanical street cops, the Powers That Be decided to introduce the ominous devices by naming them after a beloved (and harmless) cartoon character.
And it wasn't just the SFPD.
Down the Peninsula, the San Jose Police Department's Explosive Control Unit had been trained to use remote mini-tanks as far back as the 1970s. In 1982, four SJPD officers—all graduating members of the Pentagon's Hazardous Devices School—posed for a photo that shows them standing next to their own "Snoopy," a "remote-controlled disposal robot." Like SF's "Snoopy," this device looked a lot like Pixar's WALL-E—but equipped with a bullhorn and a bomb-clutching mechanical claw.
When I first read the 1982 report on the near-disaster with SF's Snoopy, I was shocked by the attempt to Snoopy-coat the introduction of robot enforcement by expropriating the name of one of the most adorable characters in the world of cartooning.
I was so offended, in fact, that I sat down and wrote a letter to Charles Schultz, the creator of Charlie Brown, Snoopy, and all the beloved "Peanuts" characters. (Noted in passing: Charles "Sparky" Schultz would have turned 100 years old on November 26.)
To my delight, Schultz wrote back.
I just dug up that 30-year-old letter (mailed from Schultz' address, "Number One Snoopy Place, Santa Barbara, Calif. 95401").
Schultz was not the kind of fellow who would blow a gasket and file a copyright-infringement lawsuit. His reply read like a sorrowful, long-suffering sigh, trying to understand the misbehavior of others.
In his note, Schulz wrote:
"I agree with everything you said in your letter.
It was a total surprise when I saw the photograph in the paper, but I guess it's one of those things that just happen." 
With all due respect to Sparky, it may not "just happen"—not if "The People" have anything to say about it!
Here's an action response from Media Alliance and Oakland Privacy. As the two organizations note: "No legislative body in the Bay Area has yet explicitly permitted the use of robots outfitted with weapons (bombs or guns) against civilian populations."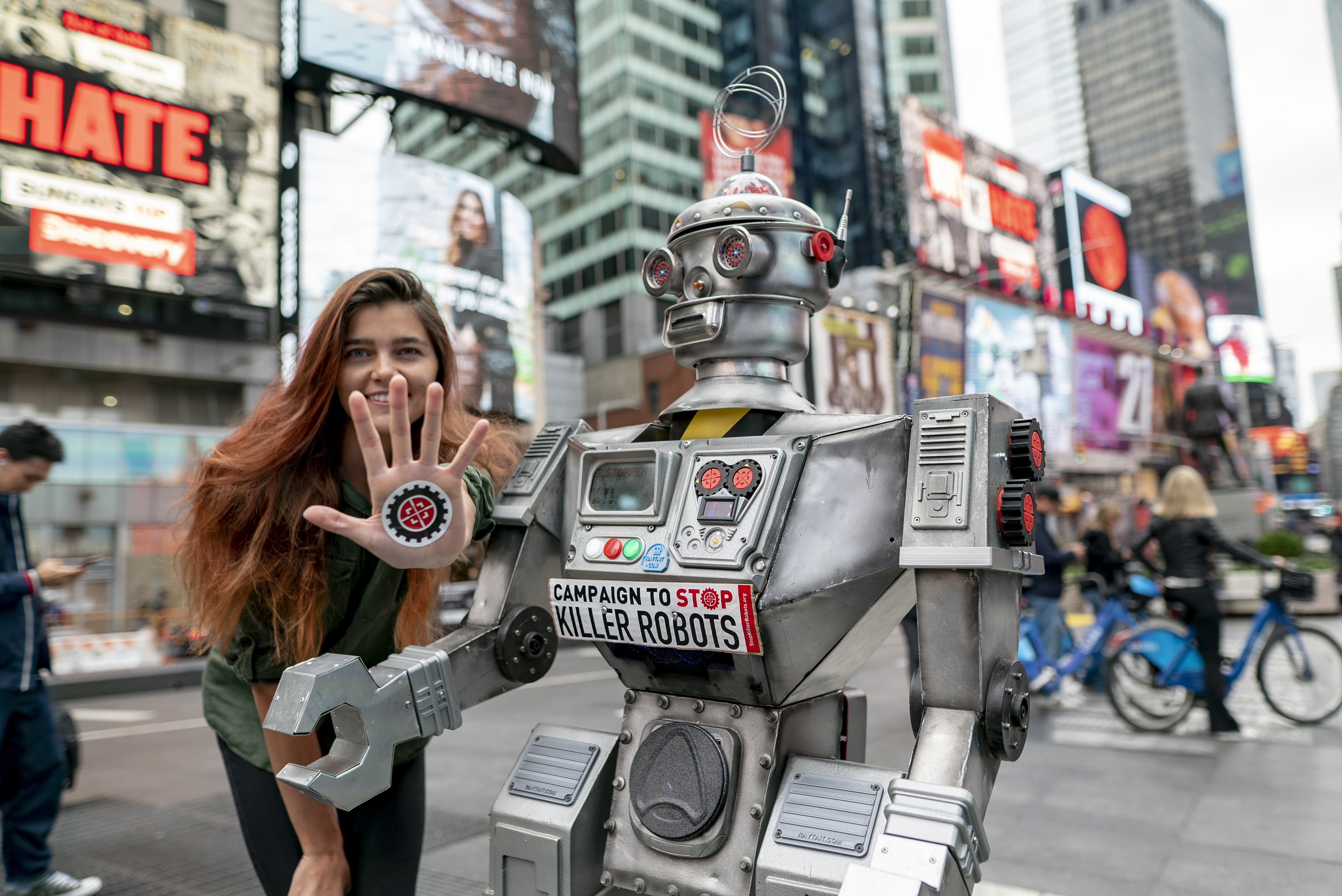 Are They Serious About Killer Robots?
In a surreal meeting last Tuesday, the San Francisco Board of Supervisors approved on first reading a military equipment use policy that explicitly allows the use of robots outfitted with bombs to blow people up. The policy allows 3 high-level command officers to employ robot bombs based on their "evaluation" that other things wouldn't work. The Robocop policy passed on an 8-3 vote….
The supervisors admit that virtually everyone who has written to them says no to the killer robots. The second vote is on Tuesday afternoon. It needs to come out differently. Here is what you can do to make this happen.
1) Come to a rally and press conference on Monday December 5th at 9:30am on the Polk Street steps of SF City Hall
2) Email the Board at Board.of.Supervisors@sfgov.org. (Several members of the board have taken umbrage at the term "killer robots" as hyperbole. Therefore, when you write to the Board, we suggest you use the term "robots that kill" instead). 
No legislative body in the Bay Area has yet explicitly permitted the use of robots outfitted with weapons (bombs or guns) against civilian populations.