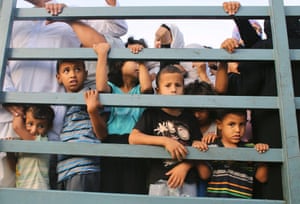 Israel tells trapped refugees to flee to the southern city of Khan Younis
US Says Israel Has 'Right' to Expand
Military Operations in South Gaza
Dave DeCamp / Antiwar.com
(November 19, 2023) — A US official said Sunday that Israel has the "right" to expand its military operations in southern Gaza but said the Biden administration is looking for a delay in the plan to account for the hundreds of thousands of civilians who have fled fighting from the north.
"In the event that we believe that Israel is likely to embark on combat operations, including in the south, we believe both that they have the right to do that, but that there is a real concern, because hundreds of thousands of residents of Gaza have fled now from the north to the south at Israel's request," US Deputy National Security Adviser Jon Finer told CBS News's "Face the Nation."
"We think that their operations should not go forward until those people — those additional civilians — have been accounted for in their military planning. And so, we will be conveying that directly to them and have been conveying that directly to them," Finer added.
Israel has been bombing southern Gaza throughout the war, even after telling Palestinians in the north to flee to the south. Now, Israeli officials are vowing to further expand the war in the south, and ground operations are expected. Reuters reported on Saturday that more civilian casualties are expected in a southern offensive but that Israel is not deterred by that fact.
While Finer and other US officials are saying publicly that they want Israel to limit civilian casualties, the US is not using any leverage it has over Israel and continues to provide military aid unconditionally. Gaza's Health Ministry said Sunday that the death toll in Israel's assault has exceeded 13,000 Palestinians, including over 5,500 children.
Israel dropped leaflets on the southern city of Khan Younis, telling civilians to evacuate to unspecified shelters. After the leaflets were dropped, Israeli strikes hit the city, killing 26 Palestinians, mostly children, according to the Palestinian news agency Wafa.
Norwegian Doctor Rejects Israeli Efforts to Portray
Al-Shifa Hospital as "Hamas' Military Center"
Anadolu English
(November 28,2023) — A November "Gaza Health Cluster Report" from the World Health Organization shows the number of operative hospitals in Gaza decreased from 36 to 9 in seven days (October 8-14). Lack of fuel and electricity, partial or total damage from Israeli attacks, and lack of equipment and supplies caused the closures.
152 Israeli attacks on health care in Gaza in the last month. In the West Bank, there have been 158 attacks.  In Gaza, attacks have damaged or destroyed 38 ambulances, in the West Bank, 129.  In Gaza, 198 health care workers have been killed,
This is completely illegal under the Geneva Convention.
Comments
Steven S — A primary purpose of the Israeli attack on Gaza is to make Gaza unlivable, so the 1.6 million Palestinians that have been driven from their homes in Northern Gaza will have nothing to return to (hence the destruction of homes, schools, the university, hospitals, water purification — all the civilian infrastructure).
The 1.6 million Palestinians who have been driven from their homes in Northern Gaza were told that if they did not leave, they would be killed; as of November 14, 46,000 had been killed, wounded, or were missing. When Israel begins leveling Southern Gaza, the expectation is that the Palestinians will be driven into the Sinai desert in Egypt.
That will not end the conflict, as the Zionists running Israel have plans for a "Greater Israel", which they believe is their God-given right. Israel is already bombing 40 kilometers inside Lebanon.
The US is fully complicit in this genocide and ethnic cleansing. The world is watching and will not forget.
Coleen R — It doesn't hurt to pursue both avenues, both the ICC (even though it has indeed been corrupted to the point of only prosecuting poor African countries thus far) and the ICJ.  AND maybe ask international lawyers Francis Boyle and/or Marjorie Cohn if universal jurisdiction applies, if more lawsuits couldn't be filed in some of the 110 (or so) U.S. district courts to add to the one already filed in California by the Center for Constitutional Rights.
Erich K — The South African government has called on the International Crime Court (ICC) to issue an arrest warrant for Prime Minister Benjamin Netanyahu by mid-December.   t.me/africaintel/7339
Israeli Soldier Eran Efrati — on Abby Martin's Empire Files —